Chicago Cubs Trade for Anthony Rizzo: Reviewing and Previewing Cubs Winter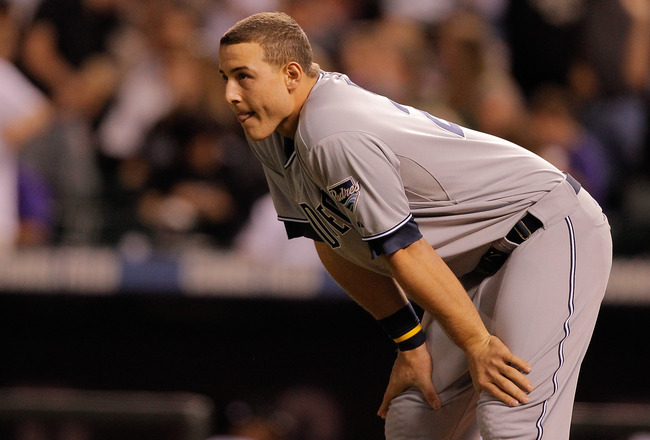 Justin Edmonds/Getty Images
Theo Epstein, Jed Hoyer and Jason McLeod have been Anthony Rizzo's biggest fans since before Rizzo became a professional baseball player. After Friday, the Chicago Cubs executives and their long-time protege will be reunited for the long haul.
A trade in December brought Yonder Alonso to the San Diego Padres, making Rizzo an expendable commodity for that organization. He's a top-shelf power hitter from the left side of the plate and has plus potential with the glove at first base. Yet, he was ill-suited to PETCO Park and its cavernous right field. Rizzo should get a big boost from the cozy dimensions from right-center field around to left-center in Wrigley Field.
It's part of a singularly busy winter for the Cubs, under new management and headed in an utterly new direction. Here is a recap of their major moves thus far and a look at what may be still to come before Spring Training.
Those Let Go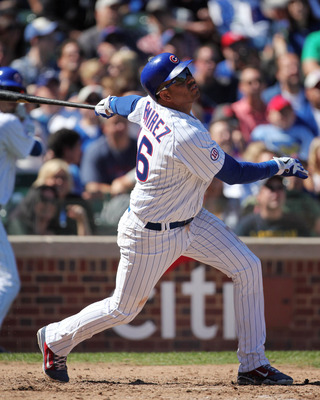 Tasos Katopodis/Getty Images
Call it addition by subtraction, or simply a dose of fiscal realism, but the new front office wasted no time before bidding adieu to a fistful of players who had been fixtures on the 2011 Cubs. They cut ties quickly with free agents Aramis Ramirez and Carlos Pena, though they took the necessary steps to ensure receipt of draft picks when those guys sign elsewhere.
In a far less heralded move, they also non-tendered Koyie Hill. After three (four? more? the exact number is not important; the agony is) seasons as the team's backup backstop, Hill (arguably the worst player to keep a big-league job the past half-decade) finally got the boot. That was only the beginning of an aggressive rebuild.
A New Kind of Right Fielder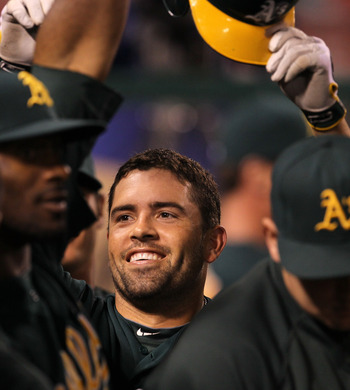 Stephen Dunn/Getty Images
Andre Dawson, George Bell, Sammy Sosa, Jeromy Burnitz, Jacques Jones, Cliff Floyd, Kosuke Fukudome and Milton Bradley all represented major investments for the Cubs in right field. Each, though, heavily emphasized offense.
That's folly at Wrigley Field. A right fielder there has to be better than about any other right fielder in baseball when it comes to the glove. Understanding that, Theo Epstein and company went in a new direction with their first substantial addition.
A two-year deal worth $10 million, plus a team option, is a coup for the Cubs. David DeJesus has terrific range and plus on-base skills. He should provide solid, steady production at below-market cost for the next two or three years, and even if the Cubs are still rebuilding by then, this move demonstrated good progress.
Rule V Losses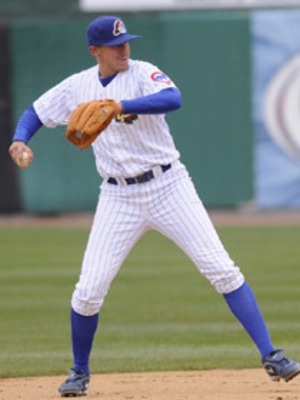 There were decent cases to be made this fall that the Cubs should create space on the big-league roster for both Marwin Gonzalez and Ryan Flaherty. Each provided versatility and potential depth, with Gonzalez's glove and Flaherty's bat being possible assets in the absence of Aramis Ramirez.
The best argument for that might have been that Jim Hendry and his front-office underlings thought highly of each player. Immediately, Epstein and his fellows made it clear they felt differently. They did not protect either Flaherty or Gonzalez from the Rule V draft at the end of the Winter Meetings.
In doing so, they underlined a point that was really made well enough when Epstein and Hoyer brought Jason McLeod along to head scouting and player development: the Cubs' farm system was in sorry shape, and getting rid of some of its less controllable semi-assets would not cost any of the new head honchos any sleep.
Change of Scenery Trade, Act I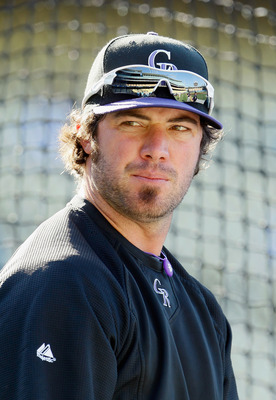 Jeff Gross/Getty Images
Just after the Winter Meetings officially wrapped up, the Cubs ramped up their winter activity. It began with a trade set to fill the void left by Ramirez's imminent departure, one that involved four players all taken within the top 80 picks of the respective drafts in which they were taken.
The Cubs sent away D.J. LeMahieu and Tyler Colvin—two more prototypical Jim Hendry/Tim Wilken cheese balls—and received Ian Stewart and Casey Weathers in return. Stewart, 27 this spring, came to Chicago on the heels of an atrocious season in Colorado, one in which he was demoted twice to the minor leagues. He has power and an average glove at third base, but his recent track record, his difficulty making contact and his injury history all work against him. He will get a chance to prove he still has 25-homer upside, though, as the Cubs' regular third baseman in 2012.
In sending away Colvin and LeMahieu, Epstein and Hoyer continued to indict the Cubs' long-standing preference for hyper-aggressive hackers and low-ceiling contact hitters. The deal reminded everyone that while rebuilding was under way, it would be done according to the philosophies and instincts of this regime, not any holdovers (like Wilken or Oneri Fleita) of the last one.
Marshall Move Pays off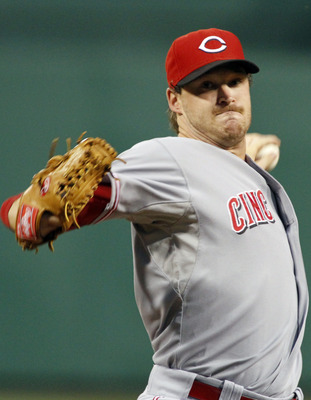 Justin K. Aller/Getty Images
When the former stewards of the Cubs elected to move Sean Marshall into a full-time bullpen role, they breathed new life into his career. Marshall went 16-26 as a starting pitcher from 2006-09, with 43 of his 59 starting nods coming prior to 2008. He struggled to create enough spin or velocity to get batters out in long stints, yet because of his athletic, repeatable delivery and his starter's repertoire, they left him there awhile.
In 2008, Marshall really began to shine as a swing man. In 2009, he solidified that value, though it was becoming ever clearer that he would never flourish as a starter. Therefore, prior to the 2010 season, Jim Hendry and Lou Piniella asked Marshall to make a change.
He did it. In two years since becoming a full-time left-handed set-up man, Marshall has racked up 150 innings pitched, struck out 169 batters against 42 walks, allowed only four home runs, and posted a sparkling 2.45 ERA.
All that said, as a reliever, his value to a rebuilding team would have been grossly diminished. Marshall had just one year left on his contract when Epstein and Hoyer shipped him to Cincinnati last month for, among others, Travis Wood.
Wood offers five years of team control, the stuff to succeed in the starting rotation and some left-handedness for a rotation that has lacked it since trading Ted Lilly in July 2010. Wood compares well, in some senses, to Lilly. Both leverage good command, understated athleticism and the ability to change speeds into success despite subpar velocity.
The Cubs also landed two mid-level prospects in the trade, making Marshall's years-old move to the bullpen a very valuable choice.
Adding Pitching Depth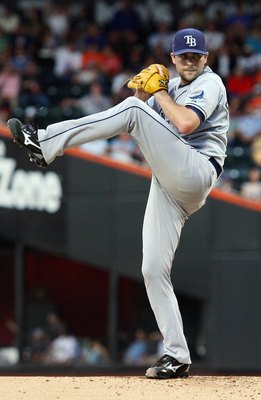 Jim McIsaac/Getty Images
Rarely in recent years have the Cubs truly lacked pitching talent. Rather, they have usually fallen victim to lacking depth. Casey Coleman, Rodrigo Lopez and Ramon Ortiz have no business all being on one MLB roster at once, yet at multiple points in 2011, there they were.
Wood's addition added expected innings to the team's 2012 ledger, but they still needed more reliable arms who could, if nothing more, fill voids created by injuries (or Carlos Zambrano tirades) at or slightly above replacement level. The front office set themselves to that task in earnest after the Marshall-Wood exchange and immediately grabbed two under-the-radar pitchers with a bit of upside.
Andy Sonnanstine, cut by the Tampa Bay Rays after a few good years and a few very bad ones, will pitch from the Cubs' bullpen while he awaits a chance to make a spot start or two. Manny Corpas, fresh off Tommy John surgery that cost him all of 2011, should reliably fill a seventh-inning hole in that group.
Their acquisitions were and are relatively uninteresting, on their own merits, but they did lend the Cubs some extra versatility. Jeff Samardzija could conceivably contend for a starting rotation spot in 2012 after these two arrivals.
Re-Sign Reed!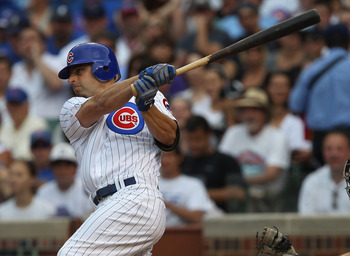 Jonathan Daniel/Getty Images
With Colvin gone, the Cubs' outfield offered a chance to add some depth. David DeJesus, Marlon Byrd and Alfonso Soriano all were under contract, but the team would need more than Sappelt and Tony Campana behind that trio of injury-prone athletes.
Therefore, wanting a proven right-handed bat, the front office agreed to bring back Reed Johnson. Johnson was a Cub in 2011, too, mashing southpaw pitching and playing fine defense out there. His deal was small and his role well could be, too, but after also adding Joe Mather on a minor-league deal, the team's executives look to be in the process of trading either Byrd or Soriano, and perhaps both.
Change of Scenery Trade, Act II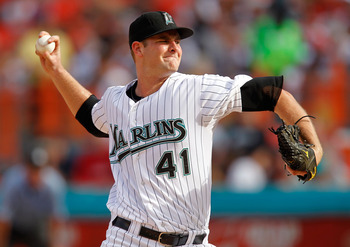 Mike Ehrmann/Getty Images
The Cubs knew they wanted to trade Carlos Zambrano; so did the rest of the league. Therefore, Epstein and Hoyer did a very good job to acquire a pitcher with some upside for Zambrano, in the person of erstwhile Marlin Chris Volstad.
Volstad is huge, at least 6'8", and uses his long levers to get good downward plane on his sinker. He should fit well into Wrigley Field, and the team will have three years to get a good season out of him, which is more chance than Zambrano's contract offered. By landing Volstad, the Cubs not only got a younger and longer-term asset, but they also likely got the more durable and reliable pitcher.
A Deal a Long Time Coming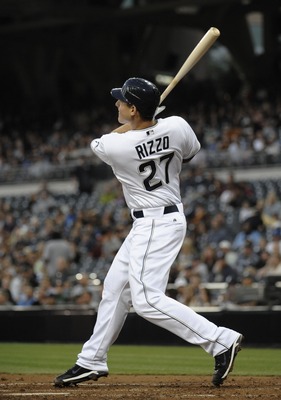 Denis Poroy/Getty Images
Since the moment last month when the Cincinnati Reds dealt (among others) Yonder Alonso to the San Diego Padres for Mat Latos, this deal felt inevitable. The Cubs' top triad drafted Rizzo as Red Sox decision-makers, and Hoyer and McLeod later traded for him when they were in San Diego. With all three now under one red marquee, having Rizzo available was too good an opportunity to pass up.
Rizzo becomes one of the three or four top prospects in the Cubs' system and should help rejuvenate an offense that could really struggle out of the gate in 2012. The trade cost the Cubs Andrew Cashner, but the days of dreaming on Cashner as starting pitcher are over. He's a reliever and always will be, and in that sense, it was a major victory to get Rizzo in return for him. Each team got a non-impact prospect to sweeten the deal.
What Remains to Be Done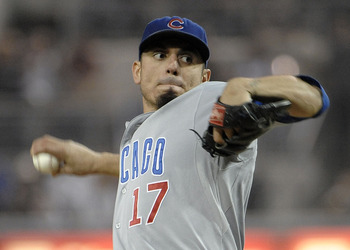 Denis Poroy/Getty Images
With Zambrano, Marshall and Cashner gone, the Cubs have traded away about half of their salable assets this winter. Some of the guys still there, though, could make as big an impact on the Cubs' long-term prognosis as any of the ones already sent packing.
Matt Garza is the prime example. He should net "an elite prospect, and two more good ones," according to Kevin Goldstein of Baseball Prospectus. Such a haul would complete a reshaping of the system as it stood when the current troika took over.
The Cubs continue to look to deal an outfielder. They would probably prefer to trade Soriano, and if forced to deal Marlon Byrd instead, they may wait until Brett Jackson supplants Byrd in center field this summer. In the meantime, they could also explore trades of Geovany Soto or Jeff Baker.
It sounds as though the highest remaining priority for Hoyer and friends is to bolster the pitching depth. Garza remains for now, and along with Wood, Volstad, Ryan Dempster and Randy Wells, makes up an okay rotation. Still, the team clearly wants more. Paul Maholm could be on their radar; so could lower-profile options like Jon Garland, Rich Harden or Ross Ohlendorf.
To this point, it's been wildly entertaining to watch a sabermetric rebuilding process in action. The Cubs have added a regular right fielder coming off a sub-.700 OPS at age 31, two pitchers demoted mid-season in 2011 to rediscover ways to get batters out, a third baseman with fewer homers in 2011 than one of those pitchers (Wood, who had one) and who was also shuttled to Triple-A, a non-tendered swing man, a set-up man who didn't pitch in 2011, and two prospects who royally flopped in their first tastes of MLB last year.
It's all been done to general acclaim. Epstein and Hoyer can only hope to convince Chicagoans to trust the process this thoroughly at all times.
Keep Reading

Chicago Cubs: Like this team?