WWE: Does Heath Slater Really Have a Chance on SmackDown?
January 14, 2012

Every new year, I like to pick a superstar that is lower on the card than he should be and predict something big from them in the coming 12 months. This year, that superstar is not Heath Slater. Well, at least not yet. For those who wish to refer to Slater as a waste of a roster spot, however, I beg to differ.
Slater came to WWE through the developmental territory of Florida Championship Wrestling. There, Slater was a Florida Heavyweight Champion, the promotion's top honor. All but two of the 13 men who have ever held that title are still with WWE, with most of them being on the main roster or touring with the brands at the moment.
Slater was then announced as one of the eight rookies taking part in the first-ever season of NXT. He was matched with Christian, and the two got along very well. Slater was the first rookie to defeat a pro on the show, when he defeated Carlito. He would also score a huge upset victory over Chris Jericho. However, Slater's unpolished mic skills and a gimmick that seemed incomplete led to him finishing fourth in the competition. With all that was said, Slater still finished just one episode shy of the finale.
After NXT, The Nexus debuted on an episode of RAW. Slater stuck around until CM Punk took over, prompting him to follow Wade Barrett into The Corre on SmackDown. Between stints with the two factions, Slater won multiple tag team championships with Justin Gabriel. Now the two are current enemies.
Since the summer, when he turned on his former partner, Heath Slater has seemed to not quite get himself on track. Slater was in Smackdown's Money in the Bank ladder match, but has not been close to another pay-per-view since. Slater seemed to fall on bad times in 2011.
Slater set the mark for the longest TV/pay-per-view losing streak in 2011, losing 18 matches in a row. That streak went from July 28 directly through the rest of the year. Just for some perspective, Slater was the winner in only 14 matches on TV or pay-per-view for the entire year.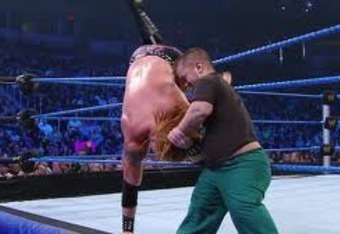 Some of that bad luck is all from Slater's doing. Slater was suspended on October 17 for violating the Wellness Policy. Slater would only return to television on November 25th. In the seven weeks since coming back, Slater has continued his losing ways, even losing to Hornswoggle in an over-the-top challenge.
It hasn't all been terrible for the One Man Southern Rock Band. Slater lasted until the final three in a battle royal on SmackDown's Holiday Special. The only two men remaining after Slater was Sheamus and Hornswoggle, who won the match to gain the ability to speak. Even if it was a silly match leading to a useless gimmick change, it was still a strong showing.
The small victories for Slater are just that—small ones. However, Slater does still garner some heat from the crowd and still has the ability to put on a good match. Sure, Slater's winning percentage is very low, but it isn't always about who wins and who loses, especially when you are in your late twenties. At 28 years old, Slater doesn't need to get a big push right now. All that is needed at the moment is to gain that experience and paying dues.
Slater is one of the best men to sell a move on the entire SmackDown brand, which was probably why he made the Money in the Bank match to begin with. The hardest thing to teach a young wrestler is how to sell a move properly, which is what Slater seems to be mastering.
It isn't a glorious place, but Slater has a job and a good one at that. He could be deemed a glorified jobber at this point in his career, but Slater is paying dues in a great way. Slater has gotten the blessing from the creative staff in the past, both in FCW and WWE. It is the thankless job that Slater has which has launched those before him into prominent roles. Doesn't anyone else getting a slight vibe of a young Edge when you see Slater in the ring?
There's a lot of polishing needed to be done to Slater before he can be considered for the next level. For now, working as a singles competitor, Slater is serving his purpose just fine. In fact, considering the amount of young stars that need to go over with the crowd (the Justin Gabriels of the world), Slater's job is invaluable. He is one of those thankless men who work under the radar to make the rest of the roster look better.
I have enough faith in Slater to endorse him one of these days. For now, Slater needs to stay exactly where he is: getting other talent over on SmackDown. Slater's time to rock will come soon enough.