New York Knicks vs Washington Wizards: TV Schedule, Live Stream, Spread Info
January 6, 2012
Jeff Gross/Getty Images
Two teams that are desperate for a win play tonight in our nation's capital, as the New York Knicks (2-4) travel take on the winless Washington Wizards (0-6). 
Will the struggling Knicks get a much needed win, to end a two-game losing streak? Or, can the Wizards take advantage of this struggling Knicks team by gaining their first win of the season? 
Either way, one of these teams will gain a victory, that will hopefully start a long winning streak. 
Where: Verizon Center, Washington, D.C. 
When: Friday, Jan. 6, 7:30 PM
Watch: MSG New York
Live Stream: NBA League Pass: 
Betting Line: According to SBG Global, the Knicks are a six point favorite to defeat the Wizards. With how bad the Wizards have been playing this year, it is hard to put any faith in the Wizards pulling off the upset. You should feel comfortable in thinking the Knicks, behind their deep frontcourt of Carmelo Anthony, Amar'e Stoudemire and Tyson Chandler. 
Key Injuries According to USA Today.com
New York: G Mike Bibby is probable with a foot injury. Bibby has a sore foot, but is expected to play.
G Iman Shumpert is probable with leg cramps. It caused him to leave Wednesday's game in the fourth quarter, but it should not keep him out of tonight's game.
F Jared Jeffries is questionable with a calf injury. The injury has kept him out of action since the home opener against the Celtics.
Washington: G Maurice Evans is questionable with a knee injury. Evans is dealing with soreness and swelling in his knee and he has missed the past five games because of this injury.
F Jan Vesely is questionable with a hip injury and the flu. The injury and sickness has kept the forward out of play this year. 
What's At Stake?
Both teams need a win before their losing streaks overtake their season. Another loss for either the Knicks or Wizards would send either one of these teams further away from landing a spot in the Eastern Conference Playoffs. 
What They're Saying
New York: From the Daily News
D'Antoni had toyed with the idea of starting Iman Shumpert — at either guard position — on Friday against the Wizards but instead D'Antoni is sticking with point guard Toney Douglas and shooting guard Landry Fields …for now.

"You have to be careful grasping at straws," D'Antoni said Friday morning in Washington. "There is no evidence that that would work. We're going to hold steady and get better at what we need to get better at and then worry about the other fluff stuff later."
Washington: From the Washington Post
Veteran guard-forward Maurice Evans organized the meeting that took place between a film session and practice at Verizon Center one day after the Wizards lost to Orlando, 103-85, to drop to 0-6. The meeting lasted 15 to 20 minutes, according to forward Andray Blatche, who invited criticism following a season-opening 90-84 loss to New Jersey in which he called for the ball in the post after the team blew a 21-point lead at home.

"The sense of entitlement that's here sometimes, I've never seen before," said Evans, who came to Washington last year in a trade with Atlanta. "We have to start earning things. Earn your way into the rotation. Earn your way onto the floor, and then you earn your minutes by being productive, and when you're not in the rotation, you be supportive and make guys better in practice."
New York Player to Watch: Carmelo Anthony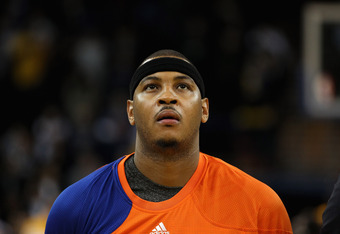 Ezra Shaw/Getty Images
Carmelo has been the best player on the Knicks this season. His 27.8 points per game has helped the Knicks in two of their victories this year, as Anthony scored 37 and 23 points in those games. 
The Knicks have to get a big performance from Anthony tonight if they want to bounce back after losing four of their last five games. 
Anthony should have no problem scoring over 30 points tonight against the Wizards, as Washington is allowing teams to score 98 points per game against them.
Washington Player to Watch: John Wall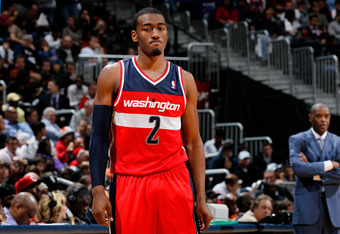 Kevin C. Cox/Getty Images
Wall is the best player on this Wizards team. He leads the club in steals and assists per game, while coming in a close second in points per game with 13.8, which is only 0.4 behind first place Nick Young's 14.2 PPG. 
Wall not only leads in those two categories, but leads the team in minutes per game, free throws attempted per game and two-point field goals attempted.
However, as good as Wall has been, it has led to six losses in their first six games. He has to get his team involved tonight if the Wizards want to get their first win of the season. 
Key Matchup: John Wall vs. the Knicks Frontcourt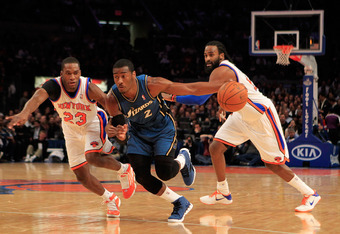 Chris Trotman/Getty Images
The Knicks may have a great front court that will dominate Washington in the paint. However, their backcourt is banged up, with a hurt Bibby and Baron Davis still out because of a back injury.
Wall can use his quickness to get past the Knicks guards, which will make for other Knicks defenders to leave their assignments, and result in leaving Wizard players open.
Prediction
Wall is a good player, and could lead the Wizards to a huge victory tonight at home. However, because of Anthony, Chandler and Stoudemire dominating on the score sheet and in the paint, it will result in a Knicks double-digit victory.
Knicks 107 - Wizards 94