NFL Playoff Bracket 2012: Green Bay Packers and Teams We Cannot Wait to See Play
January 6, 2012
Jonathan Daniel/Getty Images
The NFL playoffs showcase the best teams in the league. They make it great to watch their games because of their punishing defense, or their high-powered offense. These three teams will make their divisional round playoff games, and any other games they may play in, extremely enjoyable to watch. 
We have to wait two weeks until we get to watch this dynamic offense go up against either Atlanta or the New York Giants.
Against both of these teams this year, the Packers were able to win by a combined score of 63-49. However, both of these games were road games for the Packers, instead of playing at home, where they played their best football this year.
In the divisional round, the Packers will be led by quarterback Aaron Rodgers, who will light up the scoreboard against the Giants or Falcons. At home this year, Rodgers dominated defenses, throwing for 2,149 yards and 24 touchdowns.  
Rodgers and the Packers will play some exciting football in the divisional round, and in their following playoff games.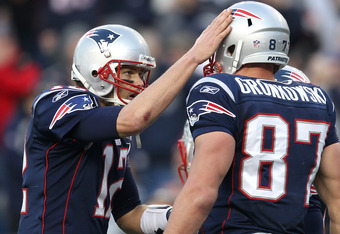 Jim Rogash/Getty Images
New England has one of the best offenses in the NFL, ranking third this year by averaging 32 points per game. They are led by Tom Brady, who had one of his best passing seasons this year, throwing for 5,235 yards with 39 touchdown passes and a 105.6 passer rating.  
However, while the Patriots offense can put up 32 points per game, the defense ranks near the bottom in the NFL. Their passing defense is one of the worst in the NFL, allowing opposing quarterbacks 294 passing yards per game and 26 touchdowns.
The Patriots explosive offense, plus porous defense, makes their games wild shootouts that are entertaining to watch. If they meet up with the Pittsburgh Steelers in the divisional round, it will be great to see if the Patriots offense can find a way to be successful against the No. 1-ranked defense in the AFC.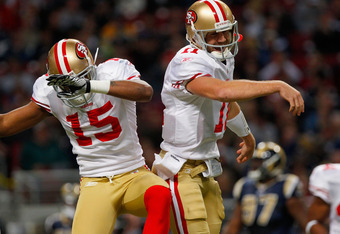 Whitney Curtis/Getty Images
The 49ers have a punishing defense, that ranked No. 1 in defending the run, led by one of the best linebackers in the game, Patrick Willis. Willis and this 49ers defense has made their games entertaining to watch because of their bone-crushing hits to running backs and their relentless attack on quarterbacks. 
However, the offense led by Alex Smith is always fun to watch to see if Smith is going to make a bad throw that results in an interception that is returned for a touchdown. Before this year, Smith never had a season where his passer rating was above 90, and he didn't throw just as many interceptions as touchdowns.  
Smith has been smart in his throws, only having five interceptions to 17 touchdowns, but, with his history of making bad throws, he is a high risk to have a game where he throws two or more interceptions. 
These three teams all have a bye week, and we will have to wait until the divisional round before watching these teams play. However, when they do line up on the field, it will make for an amazing game to watch.