Seattle Mariners: Is Jack Zduriencik Acting Too Slowly?
January 12, 2012

Otto Greule Jr/Getty Images
The Seattle Mariners have passed the halfway point of the crucial 2011-2012 offseason. General manager Jack Zduriencik has made a few moves and addressed some needs, but is he acting too slowly?
To answer this question, the rift in the Mariners' support base must first be identified. One camp insists that with playoff contention unlikely in 2012 (for various reasons, including, and especially, divisional competition), the plan for this offseason should be to make a few small moves that reflect keen foresight. 
The other side claims that if Jack Z was able to sign a top-tier power hitter (since offense is the most urgent need) to a multiple-year contract, the Mariners would be on the brink of success as soon as 2012. This argument heavily relies on both continued excellence from players like Felix Hernandez and significant development in players like Dustin Ackley and Justin Smoak.
In my opinion, the second course of action is more likely to produce wins and championships in the foreseeable future, whether it's as early as next year or as late as 2014. I have faith in the younger players with the club, and I don't want to see the team remain stuck in the rebuilding phase for too much longer.
Obviously, the first player who comes to mind as an available top-tier power hitter is Prince Fielder. He is universally ranked as the top free agent currently on the market. Such being, he has received what some would call undue and excess attention from the media, but that is also largely because of his devious agent, Scott Boras.
Unfortunately for fans like me, Boras has demanded inane amounts of cash for the ownership of his vegetarian client's bat. Fortunately, it doesn't seem like there is any team that is particularly willing to offer up a contract of similar magnitude to the Albert Pujols deal.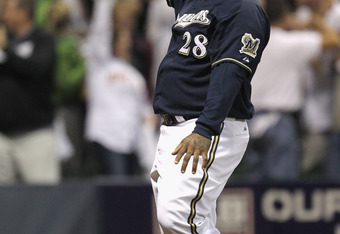 Jonathan Daniel/Getty Images
The latest consensus of pundits, bloggers and analysts has the Washington Nationals as the favorite for a deal with Fielder for a number of reasons, but it's hard to argue, given Boras is in Washington DC right now talking with the owners.
However, the fact that the Nationals are currently the favorite must be taken with a grain of salt. The leader in the Prince Fielder Sweepstakes is a position just about as volatile as the leader of the GOP polls.
Without any personal influence on Jack Z, though, we just have to sit back and wait for things to play out.
But this offseason hasn't been entirely about Fielder. The Mariners have also acquired catcher John Jaso from the Tampa Bay Rays, pitcher George Sherrill from free agency and both pitcher Hisashi Iwakuma and shortstop Munenori Kawasaki from Japan.
Jaso will likely platoon at the catcher spot with veteran Miguel Olivo. Sherrill will be a guiding force in the young, inexperienced bullpen. Iwakuma will compete during spring training for a spot in the rotation. And Kawasaki will battle Luis Rodriguez for the backup shortstop position on the major league roster with Brendan Ryan the purported starter.
All of those moves seem to be prudent and beneficial, but will they make much of a difference? Two of those players are pitchers, Jaso has 10 career home runs and Kawasaki is known more for his defense than anything else. That means that none of the four biggest moves made so far have addressed the power problem.
The rest of the league is quickly snatching up the top power hitters on the market. Michael Cuddyer, Aramis Ramirez, Jose Reyes, Albert Pujols and too many other offensive game-changers have already gone off the market, leaving a much less appealing array.
I don't think it's too late for Jack Z to make one or two more signings that can really benefit the team, but it will be soon, and I honestly don't think I can watch our Mariners finish off another season with the worst offense in the majors.
Like I said earlier, I do have faith in the younger players like Ackley, Carp and Smoak, but a 26th-ranked offense isn't what I'm looking for either. If Jack Z can bolster the offense to a strength closer to the pitching, a winning season becomes tangible.
I will consider this offseason a success if, going into Opening Day, the sights are set higher than 3.4 runs per game.
Right now, the team isn't there.
Jack Z, you are moving too slowly. And please don't pull a LeBron and take the fourth quarter off—think more along the lines of Tim Tebow.