New York Rangers: Timeline for Cup Run Accelerated Due to Many Factors
January 6, 2012
Bruce Bennett/Getty Images
If there was one certainty heading into the 2011-2012 season, it was that this New York Rangers team coached by John Tortorella was going to work hard. It has been their blueprint for several seasons now.
This lunch-pail approach, manifested in their choice of Ryan Callahan as captain, brought the club to the point where they were capable of competing with any opponent on any night.
What the team lacked, though, in almost direct proportion to the amount of grit it possessed, was talent. Not the kind of expected talent that's required to play in the NHL, but rather the kind of talent that separates the good from the great, and the great from the world-class.
It could even be said that the expectation for this year would be that the Rangers would continue relying primarily on trench work to get the job done. The offseason brought in Brad Richards, but Richards himself was known more for his workmanlike approach to playmaking than he was for flash and dash.
There really weren't any players on the radar who could be penciled in to provide the kind of separating talent is needed to not just compete but to consistently win.
Now, no one will confuse this Rangers team with the Edmonton Oilers of the 1980s. This group is still quite reliant on bettering the opposition in the more brutal, punishing aspects of the game such as finishing checks, blocking shots and generating a consistent down-low cycle.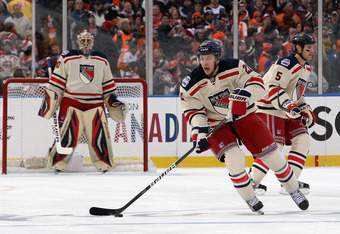 Bruce Bennett/Getty Images
Simply put, if these aspects of their game go away, then the team will see a drastic decline in their winning percentage.
With that said, make no mistake that it is the talent level now on display that is allowing the team to truly establish itself as a legitimate force in the league.
It's no surprise that Marian Gaborik is playing like the world-class talent he is. While Gaborik has lost time to injuries over his career, he has nonetheless produced offensive numbers on par with what you'd expect from someone with his skills.
That he has produced while always being the central—and often only—offensive threat on the team's he's played for is an indication of just how special he is.
It is the emergence of players like Derek Stepan, Michael Del Zotto, Ryan McDonagh, Artem Anisimov, and more recently Carl Hagelin, however, that has pushed the Rangers to the top of the standings and made them such a consistent threat game in and game out.
The maturation and leadership of Ryan Callahan and Dan Girardi are also huge considerations, of course, and it hasn't hurt that the goaltending provided by both Henrik Lundqvist and Marty Biron has been exceptional from the start. Without the contributions of the young, talented core mentioned above, however, this Rangers' team would now be the also-ran it has customarily been the past few season.
Stepan, for his part, has made it clear not simply that he can play with the big boys but that he himself is a big boy, or at least one in the making. That Gaborik began potting goal after goal when paired with Stepan is no small coincidence, and Stepan has also shown the ability to beat defenders one on one with both his speed and puck-handling capabilities. He is a potential 90-100 point player in the years to come, and in today's NHL that is a rare breed indeed.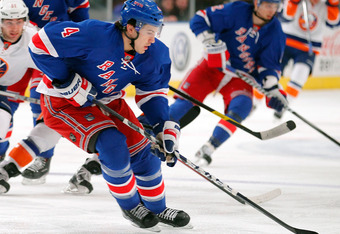 Paul Bereswill/Getty Images
Del Zotto and McDonagh, as young defenseman in the league, have developed into the kinds of players that earn 20-25 minutes per night. That's no small feat, especially considering that there have been older, more established defenseman on the roster all season that have never sniffed those kind of minutes. That they've earned those minutes on a John Tortorella coached team tells you all need to know about just how special they are.
Earlier this season, we made a prediction that the Rangers' franchise would win the Stanley Cup within three years. That prediction did not include this season, so essentially the idea was that it would reasonable to expect the team to clinch a title by 2014-2015.
Considering that the Rangers had been ousted by Washington in five games in the 2010-2011 playoffs, and that they hadn't even made the playoffs the season before, this prediction may have seemed either incredibly bold or hopelessly misplaced.
Based on the performance of the Rangers thus far this season, in addition to the talent in the pipeline coupled with Glen Sather's rediscovered ability to source and sign talent, however, it could be said that the timeline specified might even be a bit pessimistic.
There will be many challenges along the way, and it is likely that the team will need one more scorer who can be counted on to produce the way Marian Gaborik can be counted on. That scorer might be Chris Kreider as early as next year or Bobby Ryan before this season is out, at least if trade rumors involving Ryan, including a rumor from Yahoo Sports, are accurate.
For Rangers fans, that the team can be in the discussion as Cup contenders at all is a development almost beyond comprehension. They're not commonly associated with the elites of the league. However, there is no doubt that the team is positioned to be considered as such for many years to come. Regardless of how things shake out, it is sure to be quite a ride.