Dallas Mavericks: Why It's Way Too Early to Write Defending NBA Champions Off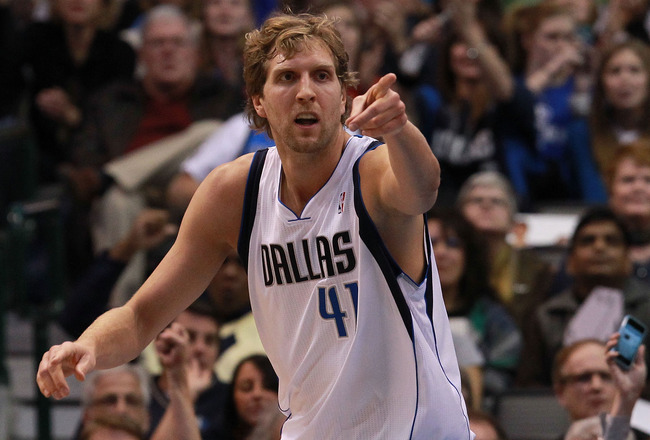 Ronald Martinez/Getty Images
The defending champion Dallas Mavericks have gotten off to a rocky start so far this season. After an offseason full of transactions that saw the departure of Tyson Chandler and Jose Barea, as well as the arrival of Vince Carter and Lamar Odom, Dallas has won only three of its first eight games.
They've looked pretty sloppy along the way. Just last night the Mavericks lost to their rival, the San Antonio Spurs, 93-71. Against a bitter Miami Heat team on Christmas Day, Dallas lost 105-94, at one point trailing by 35 points.
Nevertheless, it's still much too early in the regular season to begin to count out Dirk Nowitzki and his team, and here's a few reasons why.
Ian Mahinmi Is Beginning to Come into His Own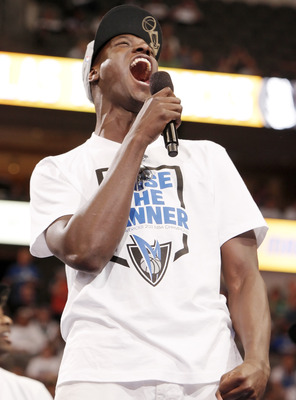 Brandon Wade/Getty Images
The loss of Tyson Chandler to the New York Knicks put a lot of pressure on the Mavericks' frontcourt, especially defensively. After Chandler left, the pressure fell onto the shoulders of former Washington Wizard big man Brendan Haywood.
Haywood's career has been on a steady decline since arriving in Dallas two seasons ago. Last season Haywood was considered by many as the best backup center in the league, however he is by no means the quality big man that Chandler is.
The Mavericks definitely needed to do something to get Haywood some help in the paint. They picked up two former first round picks; Sean Williams and Brandan Wright, to add some depth to their frontcourt.
Both Williams and Wright have been underachievers to say the least so far, but another Dallas big man has definitely stepped his game up.
Enter Frenchman Ian Mahinmi.
Last season was Mahinmi's first in Dallas, where he saw around eight minutes of floor time a game, averaging three points and two rebounds per game.
Now a spot higher on the depth chart, Mahinmi now sees about 20 minutes of playing time per game, and has seen definite improvement in his scoring, rebounding, and shot blocking abilities.
In a game against the Toronto Raptors on Dec. 30, Mahinmi put up a career-high 19 points.
It's great to finally see some legitimate improvement in Mahinmi's game. Considered a "project" since his arrival in the league in 2005, this would be as good a year as any to see him come into his own. Nowitzki isn't necessarily known for his defense, and Brendan Haywood can not be a team's sole option down low.
If Mahinmi continues to show some steady improvement throughout the course of this season, he could fill the whole that was left empty by Chandler, and give the Mavericks the depth they need to make another great playoff run.
The Lockout Didn't Give the New-Look Mavericks' a Chance to Get Acquainted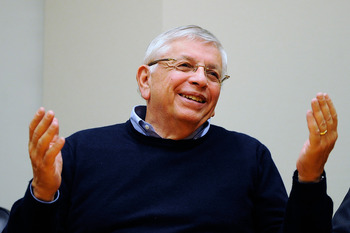 Patrick McDermott/Getty Images
The 2011 NBA lockout shortened the preseason to just two games. Once Vince Carter, Lamar Odom, and the other new additions arrived in Dallas, it was more or less time to start the regular season. Carter and Odom are both starters, so its crucial that they know what is happening on the floor as much as Kidd, Haywood, or Dirk.
Upon their arrival in Big D, The new players only had so much time to adapt to their new surroundings. They had to learn the offense, get used to coach Rick Carlisle, and begin to build team chemistry.
On opening day, all of the teams that played looked pretty sloppy. There were ridiculous turnovers, stupid fouls, and miscommunications all across the board.
As Odom, Carter, and Delonte West spend more time with the Mavericks throughout the year, expect to see the entire team show improvement in their game.
Three New Additions to the Team Want Their Own Championship Rings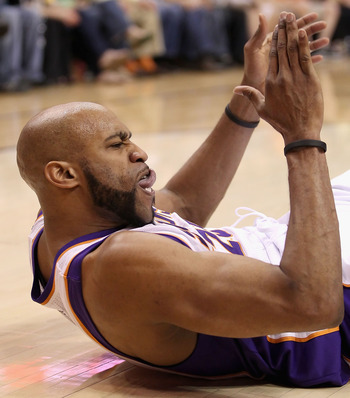 Christian Petersen/Getty Images
The acquisitions of Vince Carter, Lamar Odom, and Delonte West could prove to be key in getting the Mavs back to the NBA Finals.
Delonte West provides Dallas with a true point guard to back up the aging Jason Kidd. Last season, Jose Barea and Rodrigue Beaubois came off of the bench in relief of Kidd, but both are more high-energy scorers than all-around point guards. West has years of playoff experience under his belt also, and all one had to do was watch last season's Dallas team to understand what an asset that is.
Last season Deshawn Stevenson started at shooting guard for the Mavs in the playoffs. He played hard, and hit a few three-pointers along the way, but Vince Carter is an obvious improvement. Even at his age, he is a threat to score both inside and out, and can still throw down some electrifying dunks. Now 34 years-old, Carter is hungry to get his first taste of championship glory. He missed out in his days in New Jersey alongside Kidd, but the two have a chance to win one together once again.
Lamar Odom has the most Finals experience of anybody on the Mavericks now, so he will be looked to as a leader down the stretch. Odom brings to Dallas the size and athleticism to play both the small and power forward positions. He's got a tremendous arsenal of ways in which he can score, so expect Odom to be the high-point man in many games down the stretch. If he can keep his head on straight and not cause any drama, Odom has the capability to have a tremendous year for the Mavericks.
In the coming months, look for these three players to be a large part of the Mavericks' success.
Rodrigue Beaubois' Return Could Mean Great Things for the Mavericks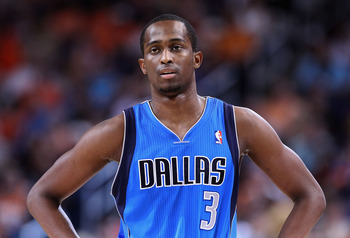 Christian Petersen/Getty Images
During last season's historical playoff run, Dallas was without both Caron Butler and Rodrigue Beaubois. The two were some of Dallas's better scorers, and the Mavericks definitely were affected by having them in a suit on the bench.
Butler is now a member of the new-look Los Angeles Clippers, but Beaubois is back, healthy and ready for a breakout season.
Near the end of last year's regular season, Beaubois replaced Deshawn Stevenson in the starting lineup, but unfortunately sprained his foot right before the playoffs began, and didn't see a minute of playoff action.
Beaubois is still young, and he's still a project, but he's got tremendous upside and a lot of potential.
In March of 2010, Beaubois put on a dazzling performance against the Golden State warriors, lighting them up for 40 points, hitting nine three-pointers along the way. He made rookie history that night, becoming the first in NBA history to shoot 50 percent from the floor, 40 percent from 3-point range and 80 percent from the free throw line.
If Beaubois can become the scoring threat that Dallas knows he can be, he will be a huge factor in the team's return to playoff glory, and down the road could ease fans woes once fan-favorite Jason Terry decides to call it a career.
When Dirk Nowitzki Is on Your Team, Nobody Can Write You off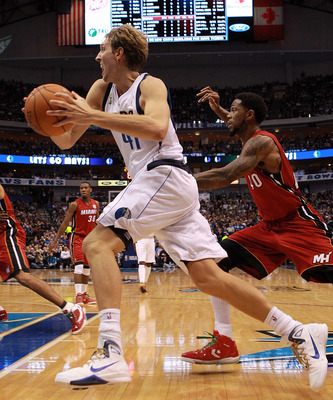 Ronald Martinez/Getty Images
During the playoffs, the whole world watched as Dirk Nowitzki carried his team through the playoffs, sinking ridiculous shot after ridiculous shot. He also proved what a dominant player he is in the fourth quarter, rallying his team through a number of fourth quarter comebacks.
After winning his first title, Dirk took some time away from the game of basketball, and that was apparent in the first few games of this season. Yet don't expect Dirk to see any sort of legitimate decline this season.
He's 33 years old now, but he's still got that famous fade-away down, as we've already seen a number of times this year. Nowitzki is still the offensive nightmare that he was last season, and as far as we know he's as healthy as ever.
The only question about Nowitzki this season is his hunger to win another championship, but from what we have seen out of the seven-foot German, that should not be a problem.
Look to see Dirk Nowitzki continue to put the team on his back this season, and don't expect anything less from him come playoff time.
Keep Reading

Dallas Mavericks: Like this team?