Meet Andrelton Simmons, the Atlanta Braves' Future at Shortstop
January 6, 2012
Andrelton Simmons has been described as many things through his first full professional season. Everything from a defensive wizard with an upper 90s fastball on the mound, to a batting champion with limited offensive upside. The one description those who have seen him play the middle of the diamond can agree upon is that Simmons will be the future shortstop in Atlanta.
There's no denying Simmons is a first division shortstop with a plus-plus arm, defensively he could be MLB-ready today. He has a great feel for the position which allows him to reach balls most shortstops cannot, but the confidence that comes with that ability has led to errors that he will not make as he matures.
Offensively, there will always be detractors because of his perceived lack of potential at the plate. It helps that he plays a premium position where, outside Colorado Rockies Troy Tulowitzki, the days of the .300/25+ HR/100+ RBI shortstops who play solid defense are gone. So the value of a defender like Simmons, who will likely produce unspectacular offense, goes unnoticed by some.
He is more of an aggressive hitter with very good contact skills, and it shows in his 45:57 BB/SO in 756 career MiLB at-bats. Also, the lack of difference in the AVG to BABIP numbers (2010: .276 to .282 and 2011: .311 to .334) combined with his low strikeout rates (2010: 5.2 percent and 2011: 7.5 percent) indicates the potential to maintain a solid batting average as he moves up in levels. 
Another positive sign in his progression as a hitter came last season when he hit both RH and LH pitchers equally well; vs. LH .316/.361/.428 and vs. RH .309/.346/.397. On the bases he is quicker than he is fast which helps his range defensively, but is partly why the caught stealing total (18 CS in 44 attempts) was high in 2011. As with his errors, a better approach to stealing bases should come with experience.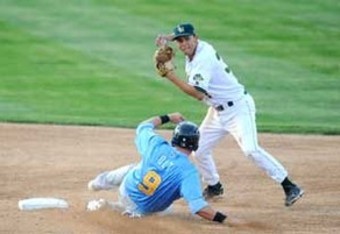 A native of Curacao, Simmons played his college ball at Western Oklahoma State JC. He was selected 70th overall by the Braves in the 2010 MLB June Amateur Draft after only playing one season of junior college. Although he was the best defensive shortstop from that draft class, some scouts liked him as a pitcher because of a fastball that could touch 98 mph.
Getting his first taste of professional baseball for the rookie level Danville Braves, he managed to hit .276/.340/.356 in 62 games. As a 20-year-old in the APPY league, his offensive production increased in each month eventually leading to an All-Star selection.
To begin the 2011 season, the Braves decided to jump him past their Low-A Rome affiliate to Hi-A Lynchburg of the Carolina League. The promotion didn't seem to bother Simmons, who went on to win the league batting title (.311) and was the only qualifying hitter to surpass the .300 mark. As a top-of-the-order bat for the Hillcats, he led the league in hits (161), was second to teammate Joe Terdoslavich in doubles (35) and the only Braves player selected as a Topps 2011 Class A All-Star. After encouraging signs at the plate last season, expect Simmons to start 2012 in AA Mississippi.
Even though Tyler Pastornicky is penciled in as Atlanta's starter at shortstop for Opening Day, it is clear that Simmons is the best positional player in the organization, and his Gold Glove potential gives him an edge over the competition as the future shortstop in Atlanta.