NFL Draft 2012: 5 Underclassmen Who Should Stay in School
January 6, 2012
Jeff Zelevansky/Getty Images
The NFL can make a young football player accomplish their dream of being a professional football player. However, for these five players, they have to make the smart move by staying in school for one more year, instead of entering the draft, and killing their chances at having a successful career in the NFL. 
Arkansas Razorbacks Quarterback: Tyler Wilson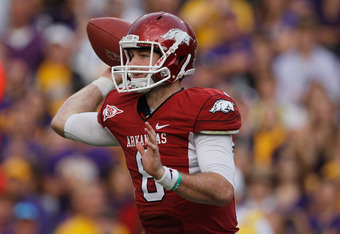 Chris Graythen/Getty Images
Wilson had a great junior year at Arkansas with 3,422 passing yards and 22 touchdowns. He was able to lead the Razorbacks to be the best passing offense in the SEC.  
Wilson could declare for the draft this year, however, he would be better suited to wait another year where he could be one of the top three quarterbacks in the 2013 draft.  
With another year where Wilson throws for over 3,000 passing yards and 20 touchdowns, he will make himself either a late first-round, or early second-round draft pick. 
Michigan Wolverines Quarterback: Denard Robinson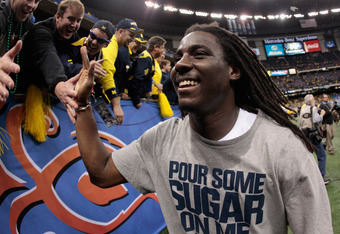 Chris Graythen/Getty Images
The man they call, "Shoelace" has been electrifying for the last two years as the starting quarterback. He could declare for the draft, and has reportedly  filed paper work for the NFL. 
However, he should come back for another year to improve his draft stock, by putting up better passing numbers in his senior year. His 20 touchdown passes and 15 interceptions will turn potential NFL teams away from drafting him as a quarterback.  
He is an phenomenal athlete, however, he just needs another year to become a better quarterback. 
LSU Tigers Wide Receiver: Rueben Randle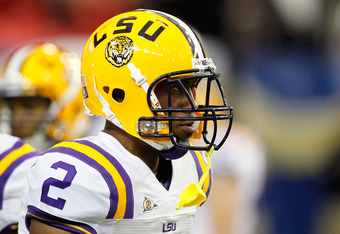 Kevin C. Cox/Getty Images
Randle had a great junior season, despite playing with a subpar LSU passing game that ranked 105th in college football, catching 50 passes, with 904 yards and eight touchdowns. 
Randle has been rumored to be entering the draft after the BCS national championship game. However, he would be smart to return to school for his senior year. 
If he would enter the draft, he would be stuck behind a deep crop of receivers like: Oklahoma State's Justin Blackmon, Notre Dame's Michael Floyd, Baylor's Kendall Wright and South Carolina's Alshon Jeffery.  
If Randle waits for another year, he can enter the 2013 draft as one of the top receiving prospects in the draft, instead of being lost in the crowd. 
Texas Longhorns Defensive End: Alex Okafor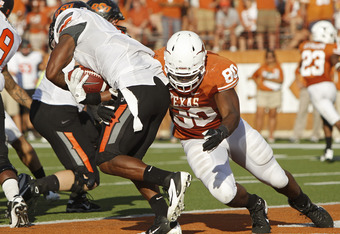 Erich Schlegel/Getty Images
Okafor had a great junior year, anchoring a Longhorns defense that only gave up 22 points per game. He had career highs this year with 50 tackles, and seven sacks. Those stats would be good enough to get Okafor drafted, however, it wouldn't be until the second to third round. 
If he would come out for the 2013 draft, he would be the best defensive end in the draft, and would be one of the top picks. 
Florida State Kicker: Dustin Hopkins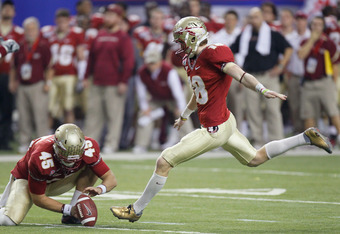 Kevin C. Cox/Getty Images
Hopkins has been a solid kicker for the Seminoles in his three years with the team. He's seen his field goal percentage increase every year, going from 70 percent in his freshman year, to 81.5 percent this year.  
Hopkins could get drafted this year, if he would come out, but if he waits until 2013 he will be the top kicker to enter the draft. He can wait another year, while he improves his field goal percentage in his senior season. 
These five players all could be lured away by the NFL. However, the smart decision is to stay another year in college, and wait so they can improve their draft position.