NFL Playoff Picks: Spread Breakdown and Predictions for Each Wild Card Game
January 6, 2012
Chris Graythen/Getty Images
Wild Card Weekend begins on Saturday, ends on Sunday and certainly shouldn't disappoint the fans. The favorites may seem like locks to win, but that doesn't mean they will all cover the spread. 
The NFL playoffs are a time to forget how you did during the year with your picks and focus on winning big. There are less opportunities to win, which means you have to be smart in making your picks. 
With that said, here are the lines for each game this Wild Card Weekend and my predictions for who will win. 
New Orleans (-10.5)
The Saints are 12-4 against the spread this year, whereas the Lions are only 7-8-1. While New Orleans crushed Detroit 31-17 in Week 13, things will be much closer this time around. 
Detroit will have Ndamukong Suh back in the lineup, which will greatly help the Lions. He's a beast up front that will halt the run game and put a lot of pressure on Drew Brees. 
Calvin Johnson and Matthew Stafford have also been red-hot in recent weeks, which gives them great confidence in this game. 
The line is too much here, and that's why you should take the Lions. Expect this to be a high-scoring affair that ends with a winning drive by Brees, but just because the Saints are the better team, it doesn't mean the Lions won't compete. 
Prediction: Saints 34, Lions 28
Houston (-3)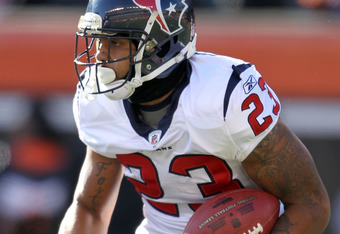 Andy Lyons/Getty Images
The Texans are 10-5-1 against the spread this year, whereas the Cincinnati Bengals are only 8-6-2. Houston is coming off a three-game losing streak, and they're down to subpar quarterbacks, which doesn't look good for them. 
The Bengals have played better than anyone expected this season, barely making it into the playoffs at 9-7. It's mainly due to a strong defense and stellar offensive play from rookies Andy Dalton and A.J. Green. 
Having played each other once before this year, it will benefit this young Bengals team. They know they're capable of scoring on Houston, shutting down Arian Foster and winning this game. 
And that is exactly what will happen. The Texans are too depleted, and they won't live up to the pressure. 
Prediction: Bengals 24, Texans 17 
New York (-3)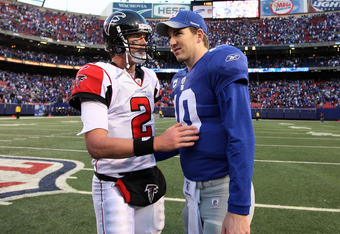 Jim McIsaac/Getty Images
The Giants are 8-7-1 against the spread this season, and the Falcons are 7-7-2, which makes this hard to pick. 
Since it's a home game for New York, it will help them in the early going, but in the end, the Falcons offense will be too much. 
Matt Ryan has never won a playoff game, and the third time will be the charm. This Falcons team is frustrated after being thrashed by the Saints, and they know now is the time to show the league that they should be feared. 
Atlanta has the better offensive talent, and that will be the difference-maker in Sunday's matchup, helping them pull the upset.  
Prediction: Falcons 30, Giants 24 
Pittsburgh (-9) 
The Steelers are 7-9 against the spread, and the Denver Broncos are 7-8-1, which is one of the reasons this should be a good matchup. 
Pittsburgh is banged up, and that doesn't help them. Fortunately for the Steelers, their defense is stout, and they're up against Tim Tebow, who has struggled in recent weeks. 
The Broncos have lost three games in a row, and even though Tebow has won big games this year, he still struggled to put points on the board. 
Without Rashard Mendenhall though, the Steelers will be forced to air it out a bunch, and that will be their downfall. They will still win, but they won't cover. 
Prediction: Steelers 20, Broncos 17