10 Worst Coaching Decisions of 2011 NFL Season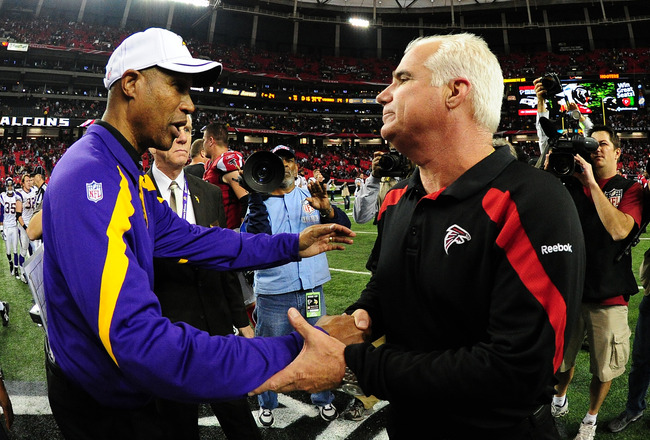 Scott Cunningham/Getty Images
It seems as if each NFL game has a situation in which the head coach makes a call that will either be praised or badly scrutinized depending on the outcome.
But there are some decisions that, no matter what perspective you look at it, have far more negative consequences. Thus, they are considered unwise.
These are the 10 coaching moves that were proven to be the worst over the course of this season.
10. Benching Rex Grossman
Patrick McDermott/Getty Images
Interchanging between Rex Grossman and John Beck at quarterback for the Redskins was simply rearranging the deck chairs on the Titanic.
Grossman's 21 interceptions in 2011 (a new career high) was proof that there needs to be new leadership behind center in Washington.
But the answer was not Beck. The former Dolphin, who had just five pro appearances prior to this season, threw two TDs and four picks in his four games (all losses) in the burgundy and gold.
It wouldn't have any effect on the Redskins' ultimate fate of missing out on the postseason, but Grossman was a far more suitable signal-caller than Beck.
9. Norv Turner Keeps It Grounded
Jeff Gross/Getty Images
It's really hard to believe that Norv Turner is still employed as the San Diego Chargers head coach and will be in 2012, considering that his club has underachieved in recent times.
That is partially due to the players but also due to Turner's lack of inspiration. He may be a nice guy, but he isn't exactly someone who can rally the troops.
His most glaring mistake in 2011 came in an overtime contest against the Broncos in Week 12. As the Chargers offense got into the outer reaches of field-goal range, Turner decided to call three straight run plays, rather than let Philip Rivers try to throw the ball and potentially get closer.
The result was a 53-yard field-goal attempt that missed. Denver went on to win on the next possession.
8. Broncos' QB Situation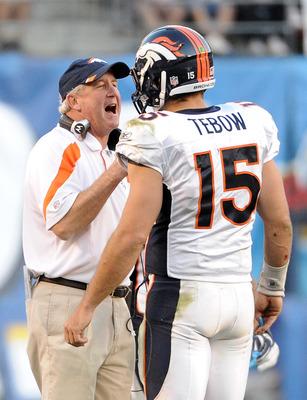 Harry How/Getty Images
At the start of the season, Broncos fans clamored for Tim Tebow.
In the end, they had a point.
In what appeared to be a move that simply satisfied the masses, John Fox replaced Kyle Orton with the former Heisman Trophy winner and the most polarizing figure in the NFL.
Denver won seven of its first eight with Tebow at QB, and the second-year player appeared to show significant growth with his playoff victory over Pittsburgh.
However, Broncos coaches (including head man John Fox) appeared to be tepid in assuring that Tebow was the permanent starter, mainly due to his less-than-conventional statistics.
Maybe advancing to the AFC divisional round will change their minds.
7. Starting Donovan McNabb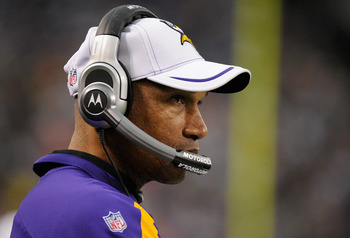 Hannah Foslien/Getty Images
When the Washington Redskins made Donovan McNabb available for other clubs, the Minnesota Vikings figured they could revive the veteran's career.
Instead of going forth with first-round pick Christian Ponder, head coach Leslie Frazier believed McNabb was the answer. That possibility was shot down with No. 5's poor showings over the course of the first five games.
McNabb and the Vikes went 1-4, a record that could have easily been equaled if the rookie had been behind center.
6. Harbaugh vs. Schwartz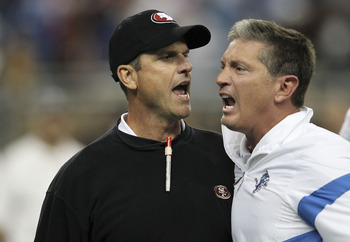 Leon Halip/Getty Images
One of the most unusual moments of the 2011 season came at the conclusion of a matchup between Jim Schwartz's Detroit Lions and Jim Harbaugh's San Francisco 49ers.
Schwartz wasn't pleased with the hard postgame handshake (plus the slap on the back) from Harbaugh, prompting the Lions' leader to ignite a shouting match.
Both teams got involved in breaking up the fracas. Schwartz continued to fume in the press conference.
Blame should be showered upon both head coaches. Still, it seems a bit hypocritical for the demonstrative Schwartz to be upset about another coach's exuberance.
5. Palko Instead of Orton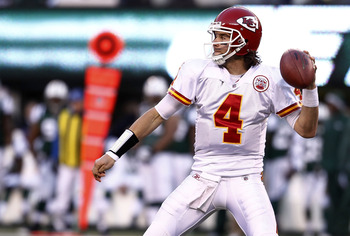 Jeff Zelevansky/Getty Images
The 2011 campaign for the Kansas City Chiefs started as a disaster. First came the 41-0 loss to the Buffalo Bills. Then came a 48-3 drubbing by the Detroit Lions. During those embarrassing defeats, they lost key players.
A few weeks later, quarterback Matt Cassel went down for the season. That left it up to backup Tyler Palko, who was less than qualified.
On Nov. 23, K.C. claimed Kyle Orton off waivers, but head coach Todd Haley didn't utilize the former Bronco starter.
In fact, it wasn't until Dec. 18 against Green Bay (when Romeo Crennel was the interim coach) that Orton was at the top of the depth chart.
4. Letting David Garrard Go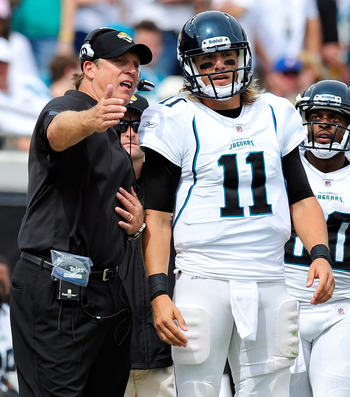 Grant Halverson/Getty Images
The Jacksonville Jaguars traded a first- and second-round pick in order to move up to the 10th overall pick in the 2011 NFL draft. For that selection, they took Missouri quarterback Blaine Gabbert.
It was a given that the Jags were looking to the future and planning to have Gabbert be their QB for years to come.
Gabbert would have greatly benefited from having a capable veteran like David Garrard show him the ropes. Instead, head coach Jack Del Rio and the club's brass decided on cutting ties with Garrard just days prior to the start of the regular season.
Without much guidance from a player who has had quality experience, Gabbert (who took the starting role in Week 3) struggled mightily through his first pro season, and Del Rio was fired in late November.
3. Juan Castillo as Eagles Defensive Coordinator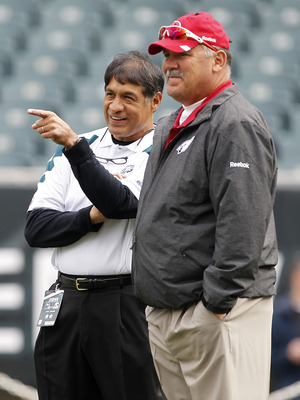 Rich Schultz/Getty Images
Juan Castillo has been a member of the Philadelphia Eagles' coaching staff since 1995. He was the club's offensive line coach from 1998 until 2010.
With the firing of Sean McDermott as defensive coordinator in Feb. 2011, Andy Reid was searching for someone to fill that all-important slot.
He went for the less-than-natural choice: Castillo, a man who had not coached that side of the football since doing so at Kingsville High School in 1989.
This unconventional move has appeared to be an absurd idea after one season. The Eagles were ranked 16th against the run and appeared vulnerable against the Patriots, Bills and Falcons.
2. Jason Garrett Ices Own Kicker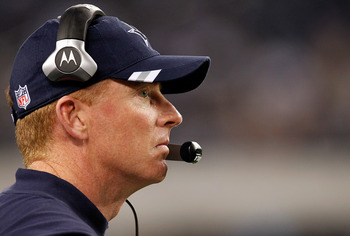 Tom Pennington/Getty Images
In recent years, coaches have made a habit of calling a timeout just prior to the opposing kicker getting ready to attempt a crucial field goal.
Jason Garrett tried a different, more dubious method.
In Arizona, with eight seconds left and the clock stopped, the Cowboys were at the Cardinal 31 in a 13-13 affair. As the play clock ran down and his field-goal kicker Dan Bailey was lining up for a potentially game-winning try, Garrett called a timeout.
Yes, he iced his own kicker.
Bailey continued to follow through and made the faux field goal.
On take two, Bailey missed. The Cardinals won in overtime, and the Cowboys eventually missed out on the postseason by a single game.
1. Mike Smith's Fourth-Down Gamble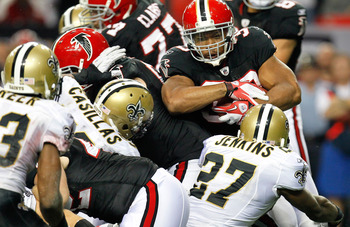 Kevin C. Cox/Getty Images
The NFC South (and the fate of both teams) may have been decided on this play.
After his Atlanta Falcons rallied from a 10-point deficit to send their Week 10 contest with the New Orleans Saints into overtime, head coach Mike Smith's club received the ball first in the extra session.
Three plays yielded just nine yards. At their own 29, Smith risked scrutiny and went for it on fourth down.
Running back Michael Turner was stonewalled by the Saints defense, and Atlanta turned the ball over. It also all but ended the game.
John Kasay officially concluded it by kicking a 26-yard field goal to hand the Falcons a defeat that likely affected the playoff picture.
Keep Reading