Why LaVar Arrington, PSU Alums Need to Chill and Give Bill O'Brien a Chance
January 6, 2012
Handout/Getty Images
LaVar Arrington was one of the best linebackers ever to play at Penn State. However, with the hiring of Bill O'Brien, you will not see or hear Arrington, and other former Penn State players, support his former school any time soon, which is unfair to the new head coach.
LaVar and the rest of the former PSU players, who wanted to see interim head coach Tom Bradley get the vacant head coaching job, need to relax and let O'Brien do his job before they come to judge the hiring.
Arrington talked with Blue White Illustrated and went off on the hiring, saying that he is done with his alma mater, saying: 
"I will put my Butkus (Award) in storage. I will put my Alamo Bowl MVP trophy in storage," Arrington said. "Jerseys, anything Penn State, in storage. Wherever Tom Bradley goes, that's the school I will start to put memorabilia up in my home. I'm done. I'm done with Penn State. If they're done with us, I'm done with them." 

"By these people making the decisions the way that they are making them, basically coinciding with everything that's being written about our university, if they get rid of Tom Bradley, that means they in essence have accepted the fact that we are all guilty," Arrington said. "You might as well call it all the same thing.  

"What we stood for and what we represented for so long, what we have been taught, what we have been trained to know and the values that I raise my own children with, you're basically telling me it's good, only as long as times are good."
Penn State had a vacancy at their head coaching position and the selection committee felt that O'Brien was the best person to fill the position.  
They thought that with O'Brien, they can move away from the "Black Eye" of the Jerry Sandusky scandal, that would have been connected with Bradley, since he worked under Sandusky.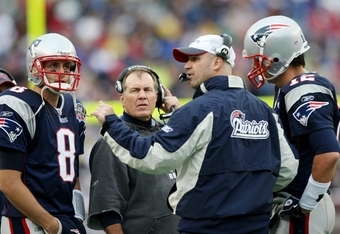 Elsa/Getty Images
With O'Brien, they finally have a head coach who will not center his game plan around the defense. O'Brien is coming into Penn State after coaching the New England Patriots to be the No. 3 scoring offense in the NFL, averaging 32 points per game.  
However, leading a dominating offense isn't O'Brien's best attribute. He has been influential in leading Patriots quarterback Tom Brady to have some of his best statistical years. 
Since O'Brien took over as the quarterbacks coach in 2009, Brady has had two years in which he threw for over 4,300 passing yards. Before 2009, Brady only had one season in which he accomplished that feat.  
These former players need to take a moment and wait to see what O'Brien can do before they rush to judgment. Change is never easy, but sometimes it has to be made.  
Sometimes the right decision isn't the most popular decision, however, when you take a step back and look at what O'Brien has done with the Patriots, it looks like the hiring of O'Brien was the smart move for the program.  
Once he starts winning, Arrington and the rest of the alumni will come back and admit that he was the right person for the job.