Dine on 9!! Boston Bruins Douse the Calgary Flames in 9-0 Shutout
January 6, 2012
Elsa/Getty Images
The Boston Bruins let loose on the Calgary Flames after just soundly defeating the New Jersey Devils 6-1 the night before.
After Boston defeated the Devils, they had to make a short trip back home to a waiting Calgary Flames the very next night and fatigue did not seem to be a factor to the black-and-gold as they faced one of many upcoming back-to-back games.
16 Bruins earned points on the night with 11 earning a multi-point game.
The B's first line is getting back on track with each member getting three points and getting a combined four goals on the night. The second line of Patrice Bergeron got two goals and a helper while Tyler Seguin mirrored the stat sheet with a goal and two assists.  
Brad Marchand was a no-show on the ice with flu-like symptoms.
The Bruins showed a balanced attack against the Flames who are reeling with a 4-5-1 record in their last 10 games. This was Calgary's third loss in a row.
The Flames hoped to keep Miikka Kiprusoff out for the night as they will be playing their divisional opponent Minnesota Wild on Saturday, but after the B's got six goals past Leland Irving, coach Brent Sutter saw enough and pulled the mercy hook on the young netminder to try and stop the bleeding.
Kiprusoff allowed three more in to cap the night with a 9-0 loss.
Flames Captain Jerome Iginla was not to join Mike Bossy, Jari Kurri or Ron Francis to score his 500th goal against the Bruins this night as the Flames did not register a single goal.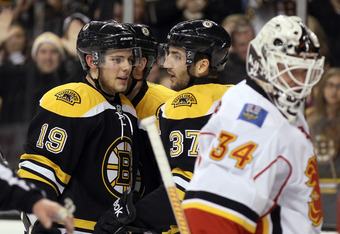 Elsa/Getty Images
Tuukka Rask got his third shutout of the season and has allowed only one goal in his last four starts— further solidifying the best goalie tandem in the league with Tim Thomas.With the win, the Bruins are currently second in the league standings, edging out the Vancouver Canucks by virtue of earning 53 points in less games.
Next up are the Vancouver Canucks on Saturday in Boston. This will be the first time that Van City play the Bruins since the fateful night in Vancouver when the Bruins hoisted the Stanley Cup on June 15th, 2011.
While the game means nothing to these two teams standings-wise, it will undoubtedly be a grudge match for these teams developed some bad blood when they faced each other for a full seven-game series that involved injuries and chippy play that left bad tastes in the mouths on both sides.
This is Cory Ducey saying "Hit Hard, But Keep It Clean"