Strikeforce: Which Fighter on the Card Saturday Has the Most to Gain?
January 6, 2012
It is 2012 and somehow Strikeforce has been able to stay alive and keep breathing.
Now fans get to see the first event of after the new year and predict where the company will end up.
The first card of the year is still strong, though lacking a few names, which means some unknown fighters are getting the chance to square off against more established fighters.
If any upsets occur it could introduce fans to some fighters whom they might want to keep tabs on.
So the question is, who could gain the most from a win this Saturday?
A great case could be made for Lorenz Larkin, who is going to be facing Muhammed "King Mo" Lawal.  After all, Lawal is a former Strikeforce champion and is coming off a win against Roger Gracie.
Up until now Larkin has only fought on Strikeforce Challenger cards against limited opposition.  A win against Lawal, who is very vocal and has made himself a name in MMA, would get him instant exposure and get fans buzzing.
And if Strikeforce still had most of it's champions he would be the fighter with the most to gain.
As Strikeforce has lost a bunch of marquee talent to the UFC recently, there is one fighter who could benefit more from a dominant win.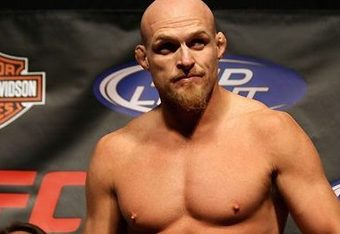 If Jardine can beat Luke Rockhold for the Strikeforce title it would send a message to his employers that he deserves to be back in the UFC.
He was cut after getting four losses in a row.  That says a lot as most fighters get two to three losses in a row before getting the ax. Dana White, the head of the UFC, is a fan of Jardine's and that saved Jardine from getting his pink slip so quickly.
White has also pulled almost every single Strikeforce champion into the UFC fold within a short time after buying the company.  White is a fan of Jardine, and though he might be coming off a draw against Gegard Mousasi that many thought he lost, it might be enough to get him another shot in the company.
Jardine just has to beat Rockhold and do it in a manner that leaves few disputing the decision.
It is Jardine's last real chance to get into the UFC again as a loss would send him to the end of the line.  At 36 years old it might be too late for him to give it one last go if he doesn't win this fight.
So not only does Keith Jardine have the most to gain if he wins his match, he has the most to lose.
In the end, that might add more pressure than fighting for the title does.