2012 NFL Draft: 10 Teams That Need Help on the Offensive Line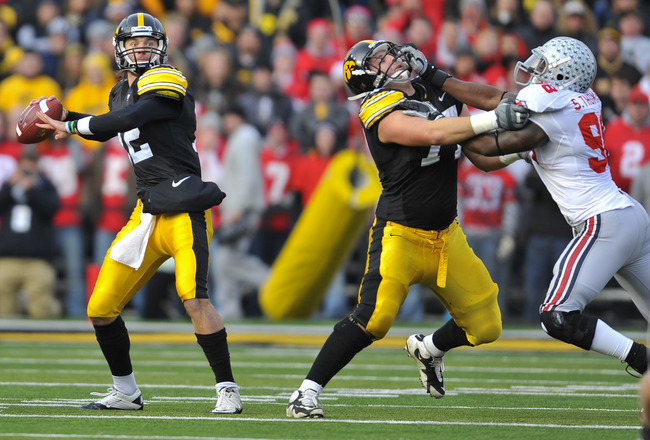 Iowa left tackle Riley Reiff protecting his quarterback
David Purdy/Getty Images
While the quarterbacks, running backs, wide receivers and tight ends get most of the attention, good blocking up front by the offensive line is key to the success of any football offense. This is especially true at the National Football League level, where poor blocking means quick sacks and tackles for loss by the defense.

One time of year when offensive linemen do receive the attention they deserve is during NFL draft season. In the 2011 NFL Draft, eight of the 32 first-round picks were offensive linemen.

The 2012 NFL Draft features a very strong class of offensive linemen, so expect an emphasis to be placed upon blockers early once again. Three sure-fire first-round offensive tackles—USC's Matt Kalil, Stanford's Jonathan Martin and Iowa's Riley Reiff—have declared as juniors for the upcoming draft, and all are likely to be selected within the top10 draft picks. Martin's Stanford teammate, David DeCastro, has also declared for the upcoming draft, and is also a sure-fire first-round pick.

Who will select Kalil, Martin, Reiff, DeCastro and many other offensive linemen throughout the 2012 NFL draft? These are the 10 teams that most need offensive line help this offseason.
1. Pittsburgh Steelers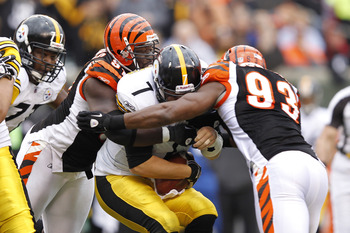 Joe Robbins/Getty Images
While the Steelers have been one of the NFL's elite teams in recent years—two Super Bowl championships in the past six seasons—they have been plagued by one of the NFL's worst offensive lines.

The Steelers hit a home run in the 2010 NFL Draft with the first-round selection of Maurkice Pouncey, who is already one of the NFL's best centers. However, the Steelers have struggled to find the right personnel on the rest of the offensive line, especially at the offensive tackle spots.

As a result of the Steelers' poor offensive line play, quarterback Ben Roethlisberger takes a heavy amount of hits every season, which has resulted in injuries. Roethlisberger's career is already unlikely to be long given his multitude of injuries and his physical style of play.
As he gets older, his tolerance to big hits will continue to decrease, so the Steelers need to make the proper investments in the offensive line to protect their star signal-caller.
2. Indianapolis Colts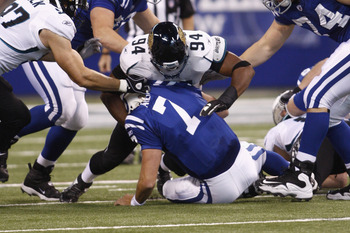 John Grieshop/Getty Images
The Indianapolis Colts found bookend offensive tackles for the long term in the 2011 NFL Draft with the selections of Anthony Castonzo and Ben Ijalana in the first two rounds of the Draft. In the 2012 NFL Draft, it is time for the Colts to overhaul their interior offensive line.

Jeff Saturday has been a terrific center in the National Football League, but he is contemplating retirement. Even if he decides to continue playing, the Colts should move in a new direction. Saturday is a free agent, and he is 37 years old. The Colts are in rebuilding mode, and need to find a long-term option at center.

Guard play for the Colts, led by starters Joe Reitz and Ryan Diem, has also been very subpar, so they look to upgrade those spots. The Colts have many needs in the 2012 NFL draft, but fixing their interior offensive line needs to be one focal point.
3. Minnesota Vikings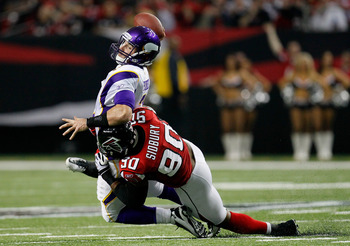 Kevin C. Cox/Getty Images
The Minnesota Vikings cut Bryant McKinnie prior to last season and brought in Charlie Johnson as his replacement at left tackle. Johnson is a high-motor offensive lineman who is a solid player, but simply not a starting-caliber left tackle. The Vikings need to find a franchise left tackle in the 2012 NFL draft.

The Vikings hold the third overall selection in the 2012 NFL draft, and could use that selection to draft Matt Kalil or Jonathan Martin to be the long-term fix at the left tackle position. If not, they should use at least one of their Day Two draft selections on an offensive tackle.

The Vikings have a fairly solid offensive line other than their hole at left tackle, but considering that the left tackle position is the most important position on the entire front line, that makes offensive line upgrade a major priority for them.
4. Washington Redskins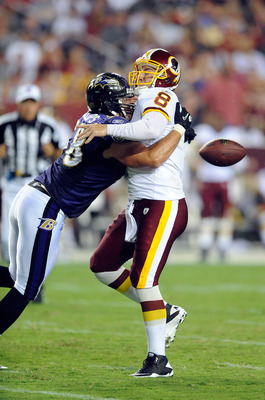 Greg Fiume/Getty Images
The Redskins have a tremendous duo of offensive tackles in Trent Williams and Jammal Brown, but have serious concerns on the interior line. None of this year's three starters—guards Chris Chester and Maurice Hurt and center Will Montgomery—are truly starting-caliber.

Montgomery is the best of the three interior linemen, but they are at risk of losing him as an unrestricted free agent. The Redskins really need to focus on upgrading their interior line before too late in the 2012 NFL draft, although the offensive line is just one of many holes the Redskins need to fix.
5. Chicago Bears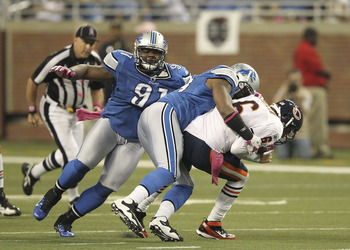 Leon Halip/Getty Images
The Chicago Bears had some serious troubles up front this season. They allowed the most tackles for loss this season.

A big factor in the Bears' offensive line struggles were the knee injuries that ended rookie right tackle Gabe Carimi's season early. That said, this offensive line had a bad season altogether—they never recovered from the departure of longtime Bears center Olin Kreutz.

Right guard Chris Spencer turned out to be a great addition, but the entire left side of the offensive line—left tackle J'Marcus Webb, left guard Lance Louis, center Roberto Garza—struggled, and there is serious room for upgrade at all three positions.
Carimi could be their left tackle of the future, but nonetheless, the Bears need to draft offensive linemen early in the 2012 NFL draft to upgrade a struggling group.
6. St. Louis Rams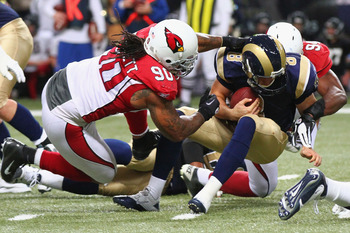 Dilip Vishwanat/Getty Images
The St. Louis Rams offensive line has carried so much promise, but has completely failed to play up to that promise.

2009 NFL Draft second overall pick Jason Smith has been a complete bust, and 2010 second-round pick Rodger Saffold has not been great either. The interior line, featuring talented players in Jason Brown and Jacob Bell, has also been a disappointment.

The Rams' previous efforts to build an offensive line appear to have failed, but with a new head coach and general manager coming in, they will likely, and should, look to find offensive help early in the 2012 NFL draft.

The Rams tied for the most sacks allowed in the NFL this season with 52. Young quarterback Sam Bradford has struggled with injuries, so the Rams must have better protection up front to protect their investment and give Bradford a chance to flourish.

My current projection for the Rams is that they will select USC left tackle Matt Kalil with the second overall selection in the 2012 NFL Draft, in an effort to finally find the franchise left tackle that has eluded them.
7. Miami Dolphins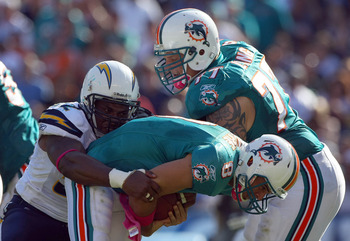 Donald Miralle/Getty Images
The Miami Dolphins offensive line tied with the St. Louis Rams for most sacks allowed this season with 52.

A big reason for the Dolphins problems up front were with left tackle Jake Long, who battled injuries throughout the season. When Long is healthy, he is among the NFL's best left tackles, but even with Long, the Dolphins face even more problems up front. Both starters on the right side of the offensive line, Vernon Carey and Marc Colombo, are unrestricted free agents.

Aside from potential starting-caliber guard John Jerry, there is little depth for the Dolphins up front. They should definitely be focused on drafting offensive linemen at some point in the 2012 NFL Draft.
8. Arizona Cardinals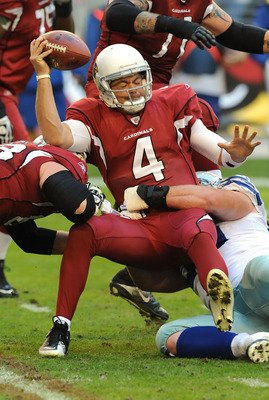 Norm Hall/Getty Images
Levi Brown is a solid offensive tackle who was the fifth overall draft pick in the 2007 NFL Draft, but he has always been better suited to play right tackle, a position where the Cardinals need a significant upgrade over Brandon Keith.

The Cardinals had one of the worst offensive lines in the NFL this season. If the Cardinals are fortunate enough to have Jonathan Martin or Riley Reiff fall to the 13th overall selection, they should snap them up to be their left tackle.

The Cardinals could also look to upgrade over Rex Hadnot at right guard, in an effort to improve a struggling offensive line unit.
9. New York Giants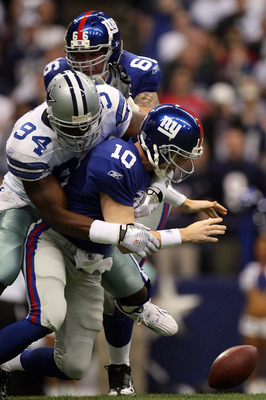 Ronald Martinez/Getty Images
The New York Giants offensive line has struggled considerably this season, a year in which the Giants replaced two former starters up front. The Giants have a good pair of guards in David Diehl and Chris Snee, but their offensive tackle play has been subpar.

This has been partially due to the season-ending eye injury suffered by left tackle William Beatty in Week 10, but right tackle Kareem McKenzie has not been great, and he is an unrestricted free agent.
If the Giants have a chance to get a top offensive tackle in the first round of the 2012 NFL draft, that would be a great choice.
10. Philadelphia Eagles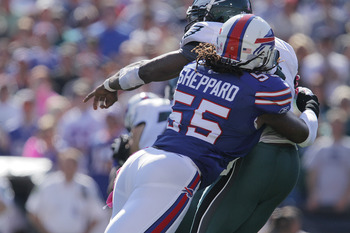 Brody Wheeler/Getty Images
The Eagles have two rookies, guard Danny Watkins and center Jason Kelce, who started this season and appear to be long-term cogs for their offensive line. The Eagles also have a solid left tackle in Jason Peters.

The Eagles' other starting guard, however, is unrestricted free agent Evan Mathis, and the Eagles should look to upgrade over him. An upgrade at right tackle over Todd Herremans would also be beneficial.

The Eagles offensive line did a decent job in a tough season for the team, but there is certain room for improvement, and an area that should be addressed in the 2012 NFL draft.
---
Thanks for reading!

For more coverage of the 2012 NFL Draft, follow me on Twitter @Dan_Hope.

Keep Reading