Alabama Football: Tide Lands Landon Collins and Another No. 1 Recruiting Rank
January 6, 2012
Landon Collins, the nation's No. 1 safety prospect, committed to Alabama during the Under Armour All-America game tonight, and Nick Saban has hauled in yet another No. 1 recruiting class.
ESPN confirmed the decision during the live broadcast.  
It would seem that any recruit that Saban wants that is in his geographical range (sometimes farther, as Cyrus and Arie Kouandjio are examples of, both of whom are from Maryland) is destined to play at the Capstone.
Landon Collins hails from New Orleans.  Though Baton Rouge is the home of the LSU Tigers, NOLA is the pride and joy of the state, and the same town Tyrann "Honey Badger" Mathieu is from.  
But Nick Saban don't care.  Nick Saban take what he wants, and he wants Landon Collins.  
He committed to Saban and the Tide, much to the dismay of his mother.  Even before he said the words, "Roll Tide Roll" you could see the look on his mother's face.  
After the announcement, she said this:
"I feel as if LSU is the better place for him to be.  LSU Tigers, number one.  Go Tigers!"
If Saban can land a recruit in the heart of LSU territory, who's mother is also a hardened LSU fan, is he really the monster critics claim him to be?  Yeah, probably so.  He basically did the impossible with getting Collins.  
But Collins' commitment can't be written in stone until February and the National Signing Day.  It will be a verbal until then, with no binding contract.  The outcome of this year's national championship could certainly sway his decision.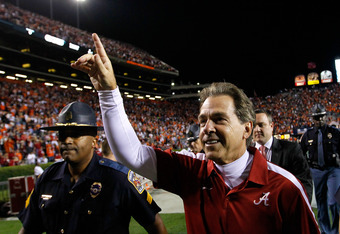 Kevin C. Cox/Getty Images
He would not be the first youngster to change his verbal commitment at the last moment, and certainly not the first to be dazed by the limelight of the BCS National Champions.  That will be either his verbal commitment or the favored team of his homeland—and his mother.  
That just makes the game more important for Nick Saban and the Tide.  They already have a verbal commitment, and winning the title on January 9th will only cement it, but a loss could change all that. 
As big of a catch as Collins is, he's simply an exclamation point on the Tide's recruiting class that lacks everything but wide receiver Dorial Green-Beckham, the overall top recruit in the nation.
Here's a look at Alabama's recruiting rankings by Rivals since Nick Saban arrived:
2007:  10th
2008:  1st
2009:  1st
2010:  5th
2011:  1st
2012:  1st
Most schools and coaches would love a top-10 recruiting finish once every few decades.  But that isn't enough for Nick Saban.  Taking the No. 1 recruiting rank four out of six years might not even be enough for him.  Critics will assume it is his hubris that drives him to these goals, but 'Bama fans adore the dedication and success.  
To top it all off, highly-touted athlete Cyrus Jones also committed.  He's from Baltimore, which is not too far from where Cyrus Kouandjio came from.  He is almost certain to play wide receiver at the Capstone.  
For non-Alabama fans, that is a scary prospect.  Why?  I'll tell you.
In a previous article, Preview of the 2012 Passing Game, I offered a glimpse at the future of A.J. McCarron and his receivers.  
You can add Cyrus Jones and Eddie Williams to that receiver corps now.  Williams could play both safety and receiver, but the depth at safety was already plentiful before Collins verbally committed.  
Now, the receiver squad looks to become the most dangerous in the entire country, especially with Duron Carter finally achieving eligibility next year.  
The Tide's opponent's once asked, "How do we stop Julio Jones?"  But what do you do when there is more than one Julio?  That could very well be the case in 2012 as they may have to account for three or four top-tier receivers.  
The departure of running back Trent Richardson to the NFL seems like a mighty blow, but with the slew of high-potential receivers already on the roster—as well as the ones about to sign—it could be a moot point.  I dare say losing Richardson is irrelevant.  
The defense may have some hiccups in 2012, though it isn't likely to be as rough as the 2010 season, and the offense could easily make up for the personnel changes.
Add in a seasoned quarterback in A.J. McCarron (who did better in his rookie season that Greg McElroy did) and an army of dangerous receivers, and people may mistake the Crimson Tide for the New England Patriots.  
A.J. McCarron is my dark horse Heisman Trophy candidate in 2012, but I'll get to that soon enough.  Stay tuned!