Chicago Bulls: Can Luol Deng Make 2012 All-Star Team?
January 10, 2012
Gregory Shamus/Getty Images
I said in my bold prediction piece before the season that Derrick Rose would have some company in Orlando during the All-Star weekend.
After ten games, I think I have a pretty good feeling who that player might be.
I know it is going to be tough with LeBron James and Carmelo Anthony at his position, but I think this is the year Luol Deng finally gets the call.
Unlike other sports—like the NHL—the NBA All-Star teams are usually pretty easy to predict.
I would assume Deron Williams and Rajon Rando at the point guard spot would join Rose. At shooting guard, I would expect Dwyane Wade and Joe Johnson. At center there is only really one, Dwight Howard, and then at power forward I would expect Chris Bosh and Amar'e Stoudemire.
Along with James and Anthony, that makes 10 players with two wild cards still be to picked.
Some of the guys Deng will be competing with are Danny Granger of the Pacers and Paul Pierce of the Celtics. It may also be hard for coaches to keep Kevin Garnett and Andrea Bargani off the team as well. Bargani is averaging over 20 points currently and Boston will probably get a second All-Star in either Pierce or Garnett.
However, even with all that said, there is no reason that Deng doesn't deserve to make the team this season.
The Bulls had the best record in the league last season, and this season Deng is proving to be the second most important player on the team.  Night in and night out he fills up the box score while playing terrific defense on the opposing team's best perimeter player.
After the first ten games, he is currently averaging over 38 minutes, 14.1 points, 6.3 rebounds, 2.5 assists and nearly a steal and block a game. He may not blow you away with his numbers, but remember he has only scored six points in two games against Pistons this season, which brings down his average.
If you take away those two games against Detroit, he is averaging close to 17 points per game.
His averages in points and rebounds are good enough for third at the small forward position behind only James and Anthony, and he also logs the most minutes in the league.
Coach Tom Thibodeau tends to leave Deng in for the first 15 minutes or so of every game to help ease the transition from the starters to the bench. He then only comes out for a few minutes in the middle of the second quarter before returning to end the half.
Deng is playing a very similar role to what Scottie Pippen used to play for the dynasty teams. He might not be playing near the same level as Pippen did, but he is doing everything this team needs him to do on a given night.
If the coaches have their pick, I think their pick will be Deng this year. Yet, if Carlos Boozer continues his good play, he might give his fellow Duke Blue Devil a run for his money. It should be interesting to see which 6'9" forward from Duke joins Rose in Orlando for the All-Star game.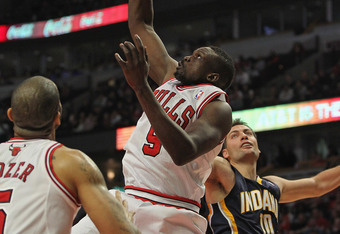 Jonathan Daniel/Getty Images
Playing Time
Deng and Rose had an easy night on Monday, playing only 34 and 33 minutes, respectively. It could have been even less for Rose, but coach Thibodeau inserted him back into the game with seven minutes left. Thibodeau took him out three minutes later, but with a 13-point lead it leaves me second-guessing him.
Jimmy Butler and Brian Scalabrine got three minutes of playing time and each scored a bucket. The only Bull who failed to score was Omer Asik of the 11 players who entered the game.
Injury Update
Neither C.J. Watson nor Richard "Rip" Hamilton played in Monday's game. Both remain day-to-day and neither is expected back until fully healthy.
Zero
Joakim Noah attempted zero field goals but went 4-4 from the free throw line.  In 25 minutes of action, he tallied four points, eight rebounds and two blocks.
It was the first time since the 2008-2009 season that Noah failed to attempt a field goal in a game he played in. He accomplished the feat three times that season, with the last coming on January 23 against Toronto.
Tough Schedule
Monday's game was the start of the Bulls' series of three games in three nights and five games in six nights. When asked about the schedule, Carlos Boozer had this to say: 
It's more like AAU except it's in the NBA. So [it] gives you a chance to flash back then get back to work. Honestly, we would rather play the games than the alternative.
The Bulls play Tuesday in Minnesota before hosting the Wizards on Wednesday. They then play in Boston on Friday before wrapping up the stretch Saturday against Toronto at home. Over the first 28 days of the season, the Bulls will have played 18 games. 
By February 1, the Bulls will have 23 games in the books, which leaves only 43 games over the next three months of the season. If they can survive this first brutal month, it will almost be like a normal NBA schedule the rest of the way.