Miami Heat: Does Anyone Still Question Their Depth?
January 6, 2012
Kevin C. Cox/Getty Images
No Wade? No LeBron? No problem. The Heat still have enough to win.
You would have been forgiven for betting on the Heat to lose against the Atlanta Hawks in their second meeting of the season at Atlanta.
Everything seemed to be going Atlanta's way prior to the game: The Hawks were feeling fairly confident after beating the Miami Heat 100-92 in Miami, using a zone defense that halted Miami's offense cold.
The Hawks expected to have similar success using the same strategy. The Heat were also playing the second game of a back-to-back. 
Miami was also playing without its two best players, Dwyane Wade and LeBron James.
If you were to tell the average NBA fan of these dire circumstances before the game, they would probably wager that the Heat would barely break 55 points in the game.
This Heat team was supposed to be a team without depth. This team was supposed to be just three All-Stars with a weak supporting cast, no bench and a horrid point guard. This was a team ripe for the picking.
But the Heat somehow survived and won 116-109, led by Chris Bosh, who now has this game to point to whenever his detractors want to label him just a coattail rider.
Bosh netted 33 points to go along with 12 rebounds and five assists.
By his side was Mario Chalmers, who had his best game of the season with 29 points, eight assists and seven rebounds.
The Miami Heat played a spirited first half against the Hawks, leading 54-49 at halftime. But everyone in the building expected the Heat to eventually succumb to their depth problem and be overwhelmed by Atlanta's talented front court, led by Al Horford.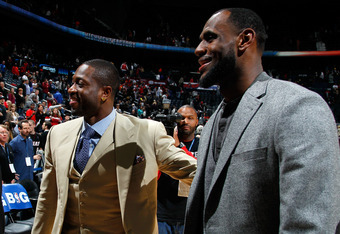 Kevin C. Cox/Getty Images
After all, the Hawks had just beaten them with Wade and James, plus nearly won against a full-strength Bulls team a few nights earlier. There was no reason to believe the Hawks weren't going to dominate the Heat in the second half.
But the Heat kept on fighting. They were down by four with less than a minute to go in regulation, and managed to force overtime.
Although the Heat would eventually need three overtimes to put the game away, they never trailed after regulation.
Aside from the great performances by Bosh and Chalmers, Udonis Haslem had 14 points and 11 rebounds, Norris Cole had nine points and five rebounds, and even Dexter Pittman got playing time and chipped in five points and three rebounds.
It was a truly inspiring performance by a team no one would have pegged to win.
Perhaps with this incredible team effort, the Heat can finally put the ridiculous charges of their lack of depth to bed at last.