Green Bay Packers Mock Draft 2012: Projecting 7 Rounds with Compensation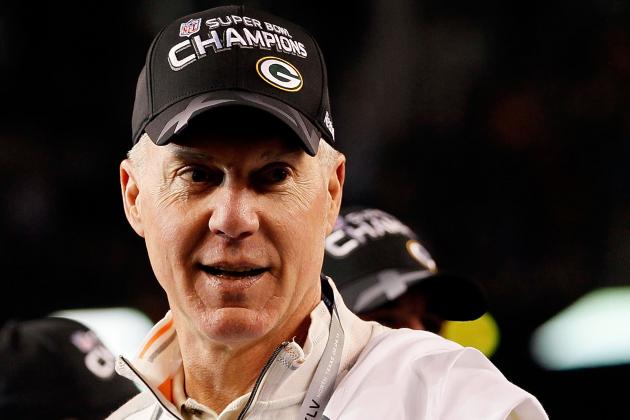 Kevin C. Cox/Getty Images

After an early exit in the 2011-12 NFL playoffs, Ted Thompson will be looking to add quality young players on both sides of the ball in hopes of returning to the Super Bowl in 2013.
Throughout the 2011 season, the defense was suspect. Subsequently, the Packers allowed a league record amount of yards and finished near the bottom in sacks, ultimately leading to their atrocious showing against the New York Giants.
On the offensive side of the ball, things are more stable, but not without question marks. Pro-Bowl center Scott Wells, tight end Jermichael Finley and starting running back Ryan Grant are all free agents, while Donald Driver is approaching the end of his career.
In order for the Packers to make another playoff run next season, there will need to be an influx of quality players from the 2012 draft.
Begin Slideshow

»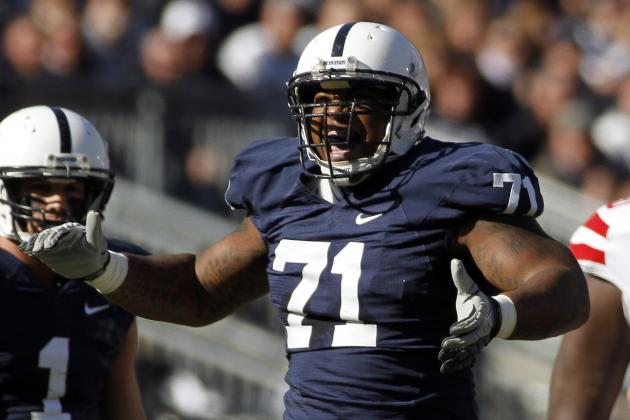 Justin K. Aller/Getty Images

With Ted Thompson trying to add quality depth to his defensive line after the departure of Cullen Jenkins, the underwhelming and limited play by Mike Neal and the aging of Ryan Pickett, Devon Still is an excellent value pick at 28. Many mock drafts have him going higher because he had an excellent year at Penn State in 2011, but at the next level, Still may have trouble getting to the quarterback, and also has durability questions after tearing his ACL in 2007 and breaking an ankle in 2008.
I see him slipping to the bottom of Round 1 to the Packers. He is an excellent fit for the 3-4 scheme as a defensive end where his primary role would be to stop the run and occupy blockers in order to spring linebackers rushing the quarterback. He has excellent size at 6'5", 300 lbs. and could make an immediate impact on a defensive line that was underwhelming in 2011.
He lacks the ability to get to the quarterback like Jenkins, but is comparable to Pickett in his ability to stop the run. He is lighter on his feet than Pickett and may be able to develop as a pass-rusher given development and time.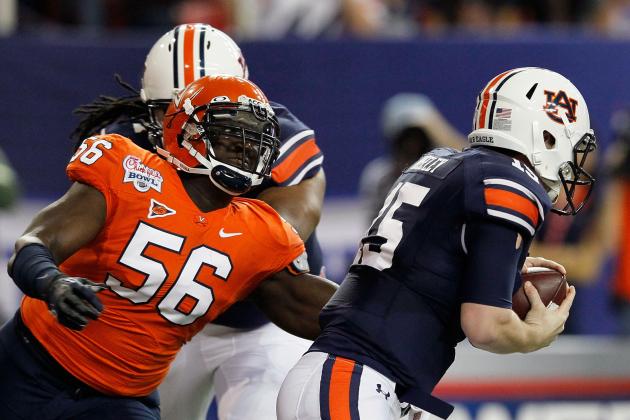 Kevin C. Cox/Getty Images

With Thompson's second pick in the draft, I see him selecting a pass-rushing OLB that can play opposite Clay Matthews in Caper's 3-4 defense. Cam Johnson is a perfect fit for the Packers, is good value at No. 60 and fills a need on the defensive side of the ball.
Johnson began his college career as an OLB in Virginia's 3-4 scheme and converted to DE after switching to a new 4-3 scheme. He is a very versatile player that takes coaching well and is proven both as a pass rusher and run stopper. He would be a significant upgrade at OLB for the Packers, and with the coaching of Kevin Greene, could be a steal at the end of round two.
He also has very good measurables at 6'4", 260-plus lbs. without sacrificing much speed and burst. I would not be opposed to Thompson trading up in Round 2 in order to secure Cam Johnson. I am that high on him.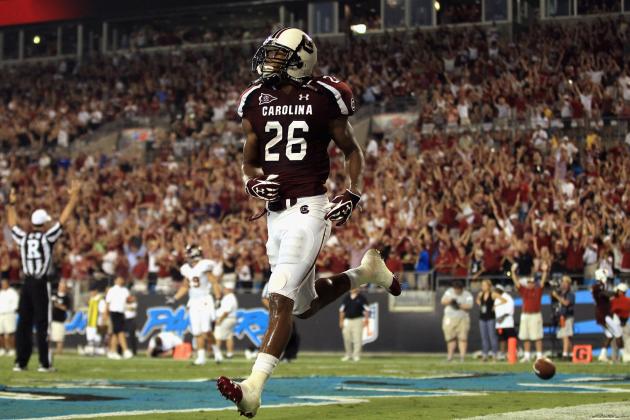 Streeter Lecka/Getty Images

Continuing with the trend of adding depth to a defense that underperformed in 2011, Antonio Allen would be a perfect fit for Green Bay. Nick Collins' career is in question after a scary neck injury in Week 2 against the Carolina Panthers. Morgan Burnett played admirably in his stead, playing half the season with a club cast, and even made a few impact plays down the stretch.
However, the Packers secondary struggled with communicating effectively. Charlie Peprah was serviceable next to Burnett, but would be better suited as a special teams/spot duty role player. Antonio Allen would be an excellent player to add depth and competition at the safety position. He is a physical player with decent measurables for the position at 6'2", 210 lbs. and has room to grow physically.
He did not earn the title "ballhawk" in college, but gradually improved each year and was able to force four fumbles and record three interceptions in 2011. With good coaching and an NFL workout regiment, Allen could prove to be a solid pick at the end of Round 3.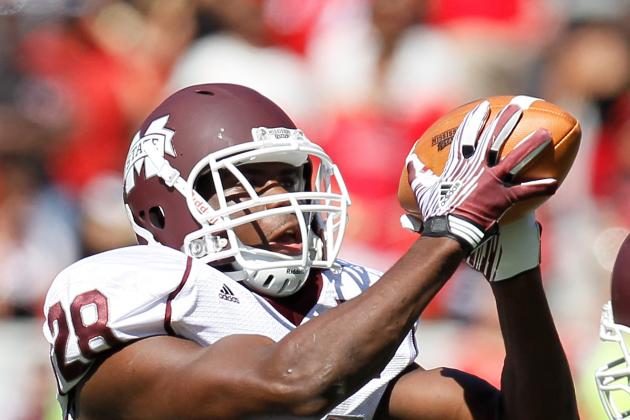 Kevin C. Cox/Getty Images

With Green Bay's fourth-round pick, I see Thompson making his first selection on the offensive side of the ball. James Starks and Ryan Grant shared time at RB in the Packers offense last season, each having their moments. Starks was hampered by an ankle injury down the stretch, and Grant may be leaving via free agency in 2012.
Alex Green was the Packers' third-round selection in the 2011 draft, but tore his ACL midseason. Brandon Saine emerged at the end of the season as a viable third-down back, but remains a relative unknown.
Given these question marks, that leaves the selection of Vick Ballard. He is a prototypical RB for the Green Bay offensive scheme at 5'10", 217 lbs. He does not do any one thing particularly great, but he does have above-average hands to catch the ball out of the backfield and can pass protect. He also is a decent runner with good vision and the ability to make a defender miss. He is an excellent value at the end of Round 4.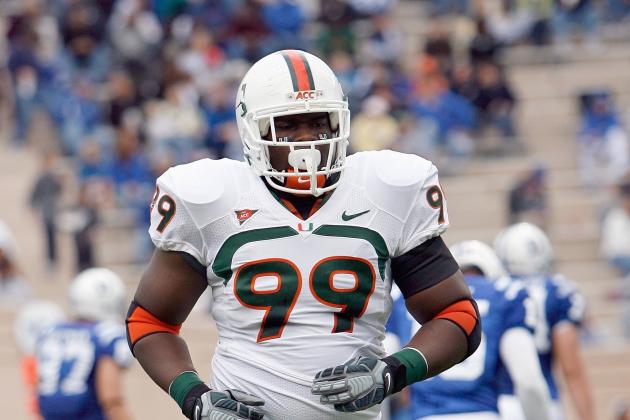 Kevin C. Cox/Getty Images

With the departure of Green Bay's notable 2011 free agents, Daryn Colledge and Cullen Jenkins, the Packers are likely to receive a compensation selection at the end of Round 4.
With that selection, I see Thompson adding more youth to his defensive line. I believe Marcus Forston is an underrated prospect coming out of Miami. He has good size at 6'3", 300 lbs., but his quickness is what stands out for such a big man. At times, he was able to blow past interior linemen because of his quickness, allowing him to make plays in the backfield.
If he can develop the ability to shed blockers using his hands and leverage, I think he could be a very similar player to Cullen Jenkins and make solid contributions on the Green Bay defensive line.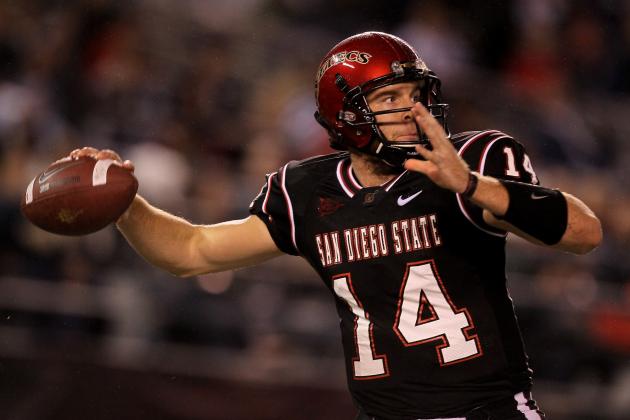 Stephen Dunn/Getty Images

The 2012 offseason will mark the departure of Matt Flynn in free agency for greener pastures as a starting quarterback. With his departure, Thompson will be on the lookout for more QB depth behind Rodgers as his backup.
Ryan Lindley would be an excellent project for McCarthy and new QB coach Ben McAdoo. Lindley was a productive three-year starter at San Diego State and has exceptional size for the position at nearly 6'4", 230 lbs. He also boasts above-average, if not elite, arm strength and ability to throw the deep ball.
His problems in college were related to accuracy issues. His completion percentages were below average, and often times, he overthrew receivers. He is an overall tough kid who possesses intangibles.
Given Green Bay's ability to develop quarterbacks, Lindley would be a perfect fit in Green Bay, where he can work on his mechanics and accuracy issues as an apprentice to the NFL's Most Valuable Player.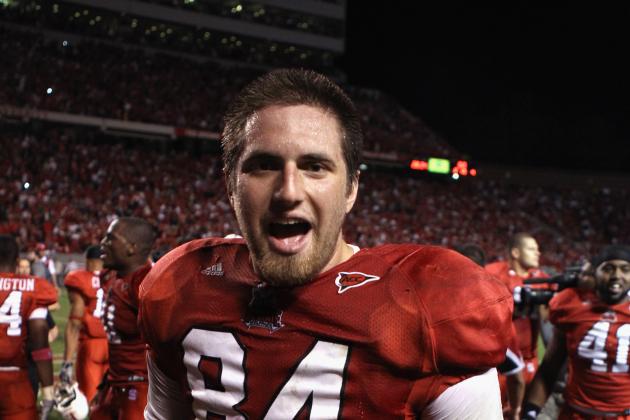 Streeter Lecka/Getty Images

Ted Thompson and Mike McCarthy love their tight ends. If they are able to draft Bryan in the sixth round, he would be an absolute steal. I fully anticipate Jermichael Finley to be back as a Packer next season, so being a playmaking TE in the Green Bay offense is unlikely.
When I say Bryan would be a steal, I mean because of the little things he can do. He has very good size at 6'5", 265 lbs. and is an exceptional blocker both in the run and pass. He may be the best blocking tight end in the class. He is also an experienced special teams guy who will contribute to the team in any way possible and has been heralded as an excellent locker room presence.
After Andrew Quarless tore his ACL in 2011, having someone else who can fill his niche on offense and possibly excel in other areas may be a valuable upgrade.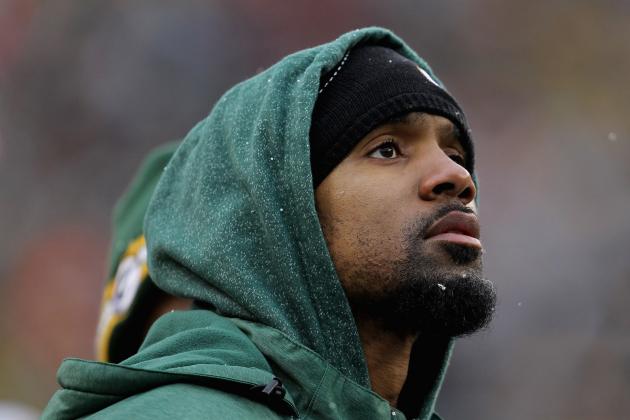 Jonathan Daniel/Getty Images

Charles Woodson is set to turn 36 in 2012 and may not have many years left in the tank. The Packers need to be on the lookout for quality players to follow the future Hall of Famer at cornerback.
At the end of Round 7, it may be impossible for the Packers to succeed in finding Woodson's replacement, but I do believe Micah Pellerin has the ability to compete in the NFL. He has above-average size and speed for the position at nearly 6'1", but comes from a relatively small program at Hampton, where he never played against elite competition.
He has plenty of room for improvement physically and in his coverage skills. Why not learn from one of the best?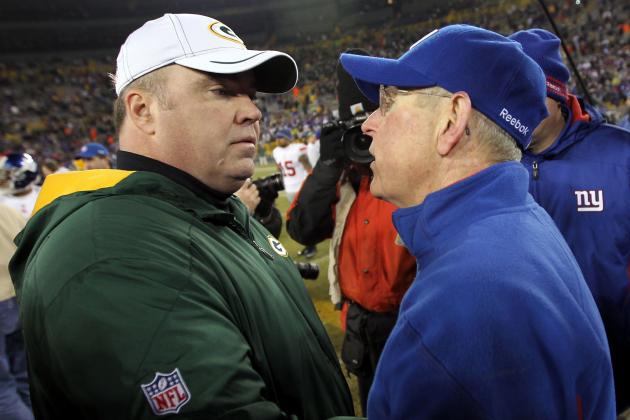 Jamie Squire/Getty Images

After a disappointing playoff loss to the eventual 2012 Super Bowl champions and a number of expected departures in free agency lingering, it is important for Ted Thompson to retool the Green Bay defense with an influx of young, quality depth. With the April 26 New York City event approaching quickly, 2012 draft speculation and predictions are flying. Let the draft madness continue.