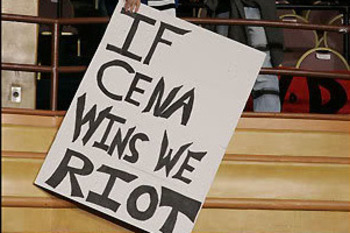 An integral part of any wrestling show is of course the fans. Besides cheering and booing, one way said fans can make an impact is to hold up a clever sign.
With the right idea and hopefully the correct spelling, a fan can turn a piece of poster board and a magic marker into art.
Many thanks to F-Yeah Wrestling Signs, a blog dedicated to appreciation the art of wrestling signage. I found images of many of the signs I was looking for on their site.
10. Can We Flair an Escalator?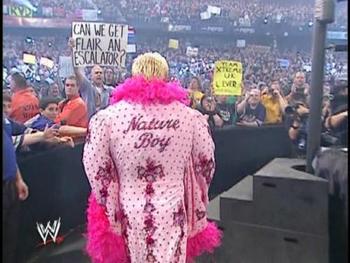 Little did this fan know that Ric Flair would retire from WWE, but continue to wrestle both abroad and for TNA.
The sign gets more appropriate every year Flair decides to keep wrestling.
As slow and creaky as he got, it might have actually been a nice break for his knees to ride a small escalator up to the ring apron.
It might be a good idea for him to put that in his next contract.
9. Bret Hart Humps Cows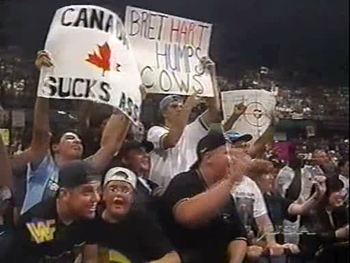 Either this fan knows Bret Hart better than all of his friends or simply went juvenile in his attack on the Excellence of Execution.
Who would have thought a fake Canada versus America rivalry perpetrated by the WWE would have gotten such a rise out of the fans?
It's the simple yet dumb humor here that carries this sign. Had he chosen one of the many synonyms of "hump" he likely would have gotten his sign confiscated.
Going with that word choice makes it even funnier anyway.
8. Fozzy Played My Jr. Prom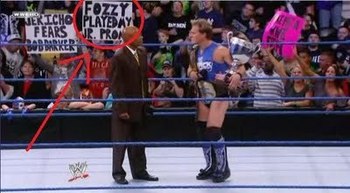 The "Fozzy played my prom" joke is well used, but with good reason. It's funny, simple and in much better taste than plenty of the signs fans try to carry into arenas.
Jericho would likely laugh at it himself.
It's not exactly inside information that Chris Jericho plays in a rock band, but it's a reference some casual fans won't get.
Making it a junior prom is icing on the cake.
7. Edge Has Tiger Blood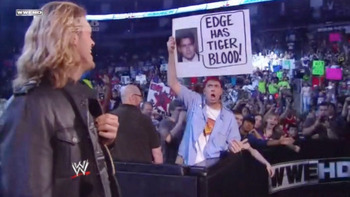 The now famous Sign Guy has been acknowledged by WWE and even given air time.
This sign, though so topical it doesn't have much lasting power, is his finest work so far. It doesn't make the most sense, but its strength lies in its randomness and how odd it is.
Usually his stuff is meaner and often off-putting. This is a tame poke at Charlie Sheen tossed haphazardly into the whole of wrestling.
Look at Edge's reaction. He is thoroughly amused.
6. Face/Heel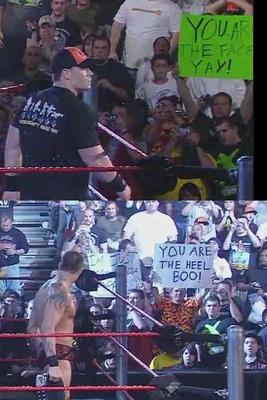 Ultimately WWE wants this reaction, but ideally with far less sarcasm.
These two buddies teamed up to make what may seem like a vanilla sign, but in the end is refreshingly straightforward.
Some signs are too specific to use throughout a whole show, while these two beauties could be used at any show, at any match.
5. Randy Orton Headlock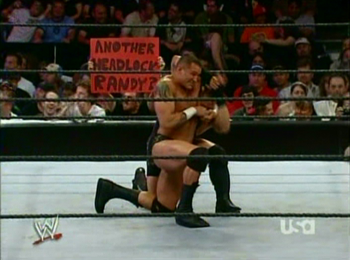 Randy Orton does a lot of things well, but some folks take issue with his propensity for a good old headlock.
The sign shows off a bit of knowledge while maybe inspiring Randy to lay off the headlocking. This photo catches the Viper in the act with the sign in question prominently displayed.
How long into the match do you think this fan had to wait to gleefully use this? Two, three minutes?
4. Fruity Pebbles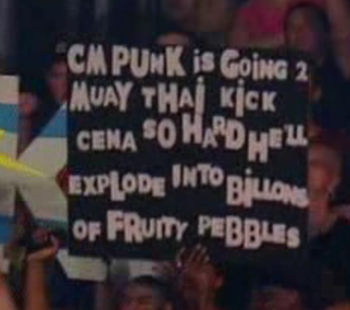 The summer of 2011 will be remembered for CM Punk's momentous promo and his red-hot feud with Cena. Fans were fired up, hoping to see Cena get crushed.
This fan summed up that feeling incredibly well.
Referencing the Rock's insult of the Marine himself, he imagines just how Cena might go down.
Kudos for squeezing such a long sentence into a sign and have it still look good.
3. In a Van Down by the Rio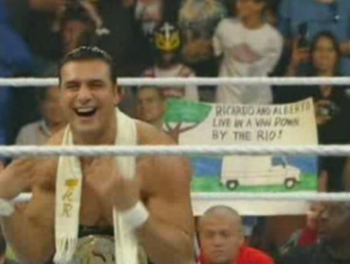 Whenever you can tie in a Chris Farley "Saturday Night Live" skit to a current wrestler, you've done something awesome.
The writing was too small for the wonderful sign to be enjoyed when the camera pans too far out, but this shot of it is perfect.
The creation of this sign required a minimal knowledge of Spanish, some decent art skills, but mostly one clever idea. Will everyone get the wordplay here?
No, but it's infinitely better than a "Del Rio Sucks" sign or something equally easy.
2. Pale Skin Is a Defense Mechanism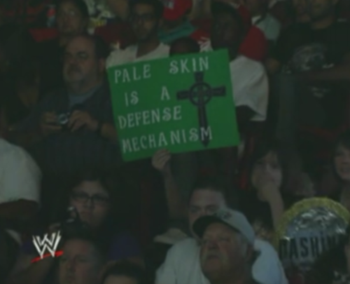 Just when you think you've heard every imaginable "Sheamus is pale" joke, someone comes along and delivers a superb piece of comedy like this.
How exactly the science of it would work is beyond me, but that's beside the point. It's nicely designed and one of the most original signs around.
Neither pro or anti-Sheamus, it is just brilliant.
1. If Cena Wins We Riot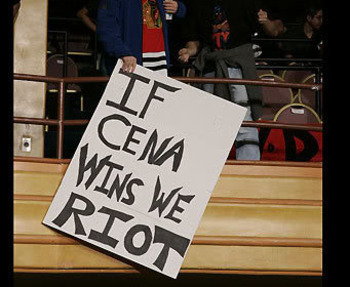 When John Cena stepped into the ring to face Rob Van Dam at One Night Stand 2006, he faced one of the most hate-filled anti-Cena audiences he's ever seen.
This fan succinctly captured the thoughts of that audience.
Other signs have referenced or attempted to recreate the magic, but this is the best. It remains a memorable visual of that match.
I am curious to what would have actually happened had Cena beaten Van Dam. Luckily for him and for the fans sure to have been arrested, ECW's favorite son, RVD, came out on top and no riot had to happen.
Keep Reading