11 MLB Players You Didn't Know Had Played Overseas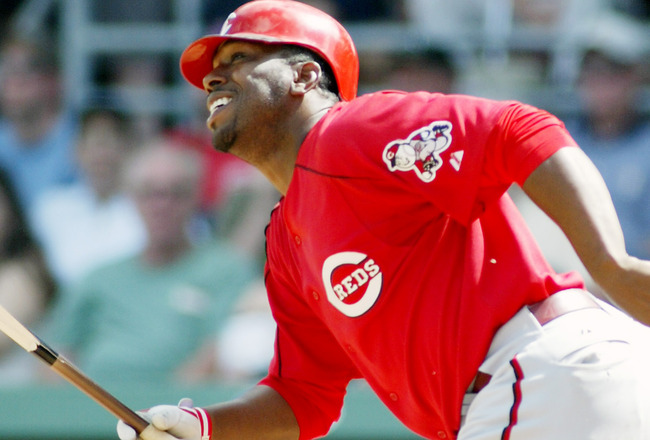 Rick Stewart/Getty Images
When it comes to Major League Baseball, most fans are aware of the Japanese stars that come from the Far East to see if they can succeed on the grandest of stages against the world's finest baseball players.
From Daisuke Matsuzaka to Ichiro Suzuki and all the way back to Hideo Nomo, many of these "foreign imports" are household names, even to casual baseball fans.
But how about the former big league stars who traveled east to see if they could resuscitate their careers in hopes that US teams might take notice and offer one more big league contract?
Sometimes it works out for these former big league studs (or duds) that have career-extending aspirations.
Other times it doesn't work out at all.
Regardless, most of these men mentioned in this article are players we've all grown up admiring, following, or maybe even envying as they tore their way through the big leagues with varying levels of success.
It's only fair that their names be known—not just as former Major League Baseball players, but as men who did what it took to prolong their career, or wanted just one final taste of professional glory; the chance to wow a group of spectators one final time.
Thus, I give you 11 former big leaguers that you may not have known played in the Nippon Professional Baseball League; some for one season, some for a few more.
Enjoy.
Tuffy Rhodes—CF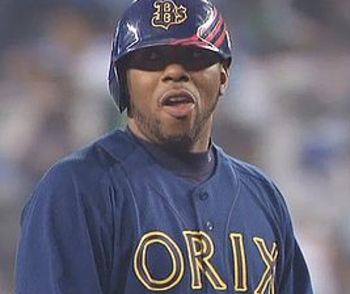 Teams played for: Kintetsu Buffaloes, Yomiuri Giants, Orix Buffaloes.
The thing with Karl "Tuffy" Rhodes is that not only do most fans not know that he played in Japan, few know he ever played in the major leagues.
And that's too bad.
Because when it came to playing ball (in Japan at least) Tuffy was outstanding.
Rhodes is one of the (if not the) most successful former major leaguer to cross the Atlantic and play in Japan.
He is tied for 10th overall in home runs in Japan with 474. His career BA is .286 there, and just .224 in the U.S.
In 2001 Rhodes tied Sadahara Oh's single season record of 55 home runs, which was tied by Alex "I'm not Miguel" Cabrera the following season.
He is an 11-year veteran of the Japanese leagues and has earned the distinction of free agency, essentially enabling him to be treated as a "Japanese Player," an honor only awarded to three other non-Japanese players in the league's history.
Cecil "Wild Bear" Fielder—1B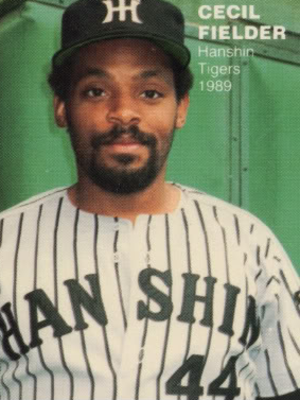 Team Played For: Hanshin Tigers
Prince Fielder's father, Cecil, is best remembered as the rotund slugger who crushed the ball during his time with the Blue Jays, Tigers and Yankees.
Yet, had it not been for the Japanese League, Fielder might not have ever had the chance to truly succeed in the big leagues.
Although Cecil Fielder played just one year (1989) in Japan, he made the most of it.
Fielder smashed 38 home runs on his way to earning one of the coolest nicknames of all time: "Wild Bear."
Fielder used his solid season in '89 as a springboard for reaching his full potential back in the United States.
In 1990, this time playing for the Detroit Tigers, Fielder became just the second player in the previous 25 years to hit 50 or more home runs.
Fielder finished the year with 51 round-trippers and 132 RBI. Fielder retired following the 1998 season with 319 career home runs.
Gabe Kapler—LF/OF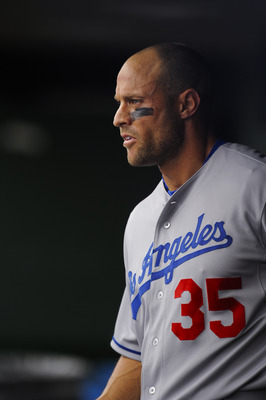 Rob Tringali/Getty Images
Team Played For: Yomiuri Giants
Gabe Kapler—like Fielder hence—once played for the Detroit Tigers. Also in tune with Fielder, Kapler left the U.S. to play baseball in Japan for a HUGE pay increase at the time.
Kapler had been on the Boston Red Sox in 2004—what a great year to be in Boston—and had earned $750K (not exactly a king's ransom in big league terms.)
The Yomiuri Giants offered hime a salary of $2M with a $700K signing bonus, and Kapler quickly said "sayonara" to the United States.
Unlike Fielder, Kapler struggled mightily in Japan, and by the midpoint of the 2005 season, the Giants relegated him to the bench.
Kapler was placed on waivers in July of '05, without being claimed, setting the stage for his return to the Boston Red Sox.
Although I don't speak Japanese, I'm willing to bet that Kapler's nickname isn't "Wild Bear," but perhaps "Wild Effing Waste of Money."
Chan Ho Park—RHP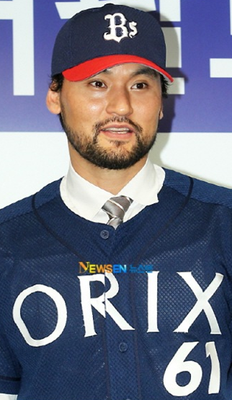 Team Played For: Orix Buffaloes
Chan Ho Park, a name not associated with anything even remotely pleasant to Texas Rangers fans, pitched all of last year in the Japanese league.
Park didn't do much to wow the fans of the Nippon Professional Baseball League. He compiled a very "Texas Rangers' stint-like" 1-5 record, with a 4.29 ERA in only seven games.
In 2012, Park will pitch in his native Korea for the Hanwha Eagles, of the Korea Professional Baseball League.
Chad Tracy—3B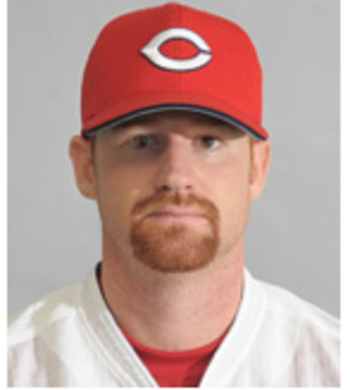 It looks like a Cincinnati Reds cap, but that's actually a Hiroshima Toyo Carp cap.
Team Plays For: Hiroshima Toyo Carp
Chad Tracy looked to be a rising star after posting back-to-back solid major league seasons with the Arizona Diamondbacks in 2005 (.308 BA 27 HR 72 RBI) and 2006 (.281 BA 20 HR 80 RBI).
Unfortunately for Tracy, it would all be downhill from there as he eventually was optioned back to the minors in '10 to make room for short stop Starlin Castro on the Cubs roster.
In 2011, Tracy signed with the Hiroshima Toyo Carp of the NPB, and struggled mightily, posting a .235/.336/.293 slash line.
Bobby Thigpen—Closer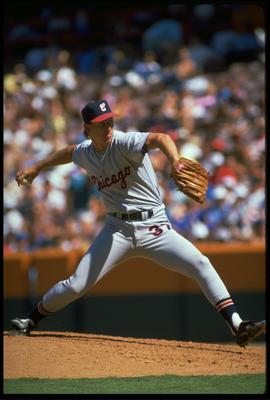 Stephen Dunn/Getty Images
Team Played for: Fukuoka Daiei Hawks
Most people remember Thigpen as the closer for the Chicago White Sox who set the then record for saves in a season with 57, in 1990.
However, back issues that started following his outstanding '90 campaign (and hampered him from '91-'93), caused Thigpen to take off for Japan to see if he had anything left in the tank.
Released almost as quickly as he was signed by the Seattle Mariners on April 29 of 1994, he signed on with the Fukuoka Daiei Hawks for the remainder of that season.
Thigpen pitched for the Hawks in 1995 as well, before calling it a career after additional lower-back issues thwarted his attempts at a return to the big leagues prior to the 1996 season.
Glenn Davis—1B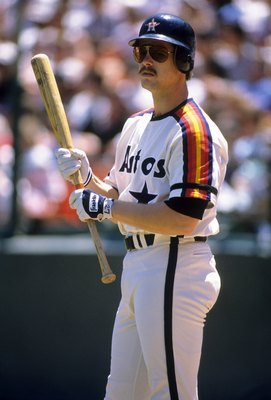 Otto Greule Jr/Getty Images
Team played for: Hanshin Tigers
Davis, the powerful right-handed slugger who came to prominence with the Houston Astros, played two seasons in Japan for the Hanshin Tigers from 1994-95.
Just 33 years old at the start of the '94 season, Davis figured he could resurrect his flailing MLB career by putting up a few good years overseas.
It wasn't to be though, as after two seasons with Hanshin, Davis would never play another big league game.
Pete Incaviglia—Outfielder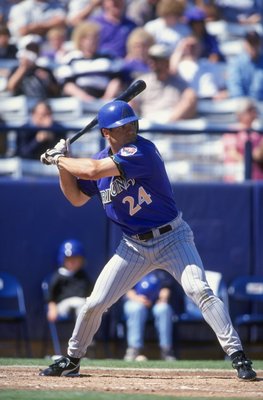 Todd Warshaw/Getty Images
Team Played for: Chiba Lotte Marines
The man affectionately known as "Inky"—one of just a handful of major leaguers to debut in the bigs without the benefit of one solitary minor league game—hit a bump in the road in his career following the 1994 season.
A one-year deal with the Chiba Lotte Marines enticed Incaviglia enough to give it a shot.
Incaviglia, at the time just 30 years old, would prove he had plenty left in the tank.
Inky played an additional four more years of big league ball for four different teams, before retiring to a coaching career following the 1998 season.
Goose Gossage—RHP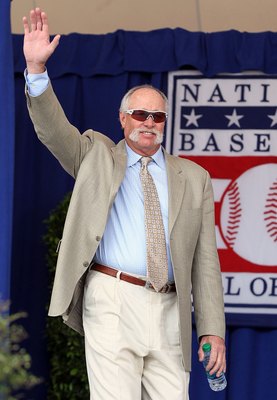 Jim McIsaac/Getty Images
Team played for: Fukuoka Daiei Hawks
Rich "Goose" Gossage is the lone member of the Major League Baseball Hall of Fame on this list.
It's interesting to note that not only do big league scrubs seek the potential career-extending stay in Japan, but so do the superstars.
Following a one-year deal with the New York Yankees, Goose decided to take another one-year deal, but this time with the Fukuoka Daiei Hawks in Japan.
Much like it worked for the aforementioned Pete Incaviglia, Goose proved he had enough for another four big league seasons.
For Gossage, it was a farewell tour towards the Hall of Fame via the AL West.
In 1991, Gossage pitched for the Texas Rangers, then played from '92-'93 with the Oakland Athletics, before his swan song with the Seattle Mariners during the 1994 season.
The chances are better that good that Goose Gossage will never pitch for the Los Angeles Angels of Anaheim.
After receiving 85.8% of the votes, Goose Gossage became a Hall of Famer, punching his ticket to Cooperstown in 2008.
Mike Greenwell—3B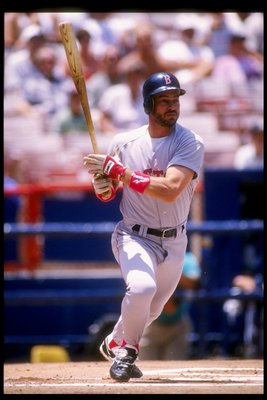 Stephen Dunn/Getty Images
Team played for: Hanshin Tigers
After an 11-year big league career—all played with the Boston Red Sox—Greenwell took his career MLB .301 batting average over to Japan for one final season with the Hanshin Tigers.
Prior to the 1997 season, Greenwell signed on with the Tigers for $2.5MM dollars, but backed out of spring training—stating that he had an injury—and returned to the US, presumably to rehab his injury.
Back to full strength, Greenwell debuted with the Tigers in May and contributed 2 RBI.
Just as Japanese fans were beginning to get excited about the potential that Greenwell flashed, he injured himself fouling a ball off of his left foot, and eight days later announced his retirement, never to return to Japan—or baseball—again.
Julio Franco—2B/INF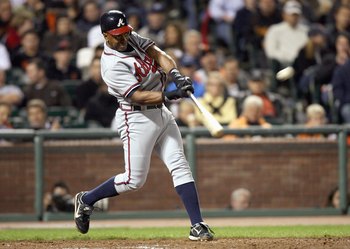 Otto Greule Jr/Getty Images
Team played for: Chiba Lotte Marines (1995 & 1998)
Of course Julio Franco played in Japan. It just makes sense. He played professional baseball long enough to play for any country on planet Earth—with plenty of time for Winter Ball to boot.
Franco debuted in the major leagues in 1982, and took his final big league cuts in 2007.
In between his 25-year career—one that would see him bat .298 with over 2,500 hits—Franco also found time to play one season for the Samsung Lions in the Korea Professional Baseball League.
Follow Timothy on Twitter @TMurrayHowell—he follows back, but not in a creepy way. Or hit him up on Facebook—you know you have an account.
Keep Reading