Chicago Blackhawks: Is Jimmy Hayes This Year's Ben Smith?
January 6, 2012
Al Bello/Getty Images
Jimmy Hayes has had an impressive start to his NHL career.
In his first game he nearly scored against the Detroit Red Wings. His second game he tallied his first career goal and then against the Flyers in his third game he added his second.
Could Jimmy Hayes be exactly what coach Joel Quenneville has been looking for?
Hayes, 22, is 6'6" and 221 pounds and has provided a spark on the fourth line skating with Jamal Mayers and Michael Frolik.
I know it is a small sample size, but Hayes has done more than both Jeremy Morin and Ben Smith did earlier this season. Hayes even has as many regular season goals as playoff hero Smith.
He has scored his two goals on seven shots. He also has added six hits in his about 20 minutes of ice time. 
While Smith and Morin did well last season, they benefitted from playing on the top lines while Hayes is doing while on the fourth line. Imagine what he could do if he gets some time with Jonathan Toews or Patrick Kane.
We were able to see against Edmonton that coach Joel Quenneville is gaining more trust in Hayes as he rewarded him by putting him on a power play unit late in that game.
As long as Dan Carcillo and Marcus Kruger remain out with injuries, it is safe to say Jimmy Hayes isn't going anywhere. Now, if he is able to keep this level of play up it will give the Hawks a nice problem deciding who plays and who doesn't on a nightly basis once everyone is healthy.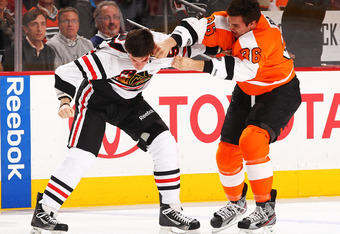 Al Bello/Getty Images
Unfortunately, the Blackhawks are 0-2 in games he scores but I don't think we can hold that against him.
Other Rookies
Rookie Andrew Shaw sure made an impression as well. After Hayes scored the first goal of the game Shaw dropped the gloves against Zac Rinaldo on the faceoff, which left him requiring stitches. Then in the second period he gave the Hawks a 2-1 lead that only lasted for 17 seconds. Shaw was an assist shy of having the Gordie Howe hat trick of a goal, fight and assist. Not a bad debut for someone who was only drafted this past June.
The other rookie who made a debut Thursday was defenseman Dylan Olsen. He played about 10 minutes and was on the third pairing with Sean O'Donnell. Chris Boden and Steve Konroyd said it perfect during the first intermission saying, "If you aren't hearing Olsen's name, it probably means he isn't making any mistakes."
Power Play
The Blackhawks were unable to draw a penalty and therefore didn't receive a power play opportunity. In return the Hawks gave the Flyers four power play chances, which had a lot to do with the 46 to 34 shot advantage the Flyers had.