Dead in Durham: Is the Sky Falling at Duke?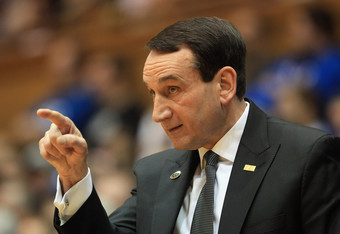 Streeter Lecka/Getty Images
Duke is destined to fail, Austin Rivers is overrated and Coach K can't win with this bunch.
All things that the mass media is saying the day after a surprising upset at the hands of the Temple Owls. In the loss, the Duke Blue Devils lacked the typical Devil toughness and could never match the intensity of the Owls.
Last night's loss had an eerie feel to it. It reminds us all of the typical Duke Sweet 16 loss of the past. You know, the ones where leaders such as JJ Redick and Gerald Henderson failed to step up against teams with more athletic and aggressive upperclass guards.
The loss wasn't nearly as bad as the Ohio State L, but it certainly puts a terror into each and every Cameron Crazy. What was supposed to be a growing team that was peaking at the right time now seems like a very vulnerable team which isn't a guarantee for anything.
In the loss, we can note several key things:
1. Duke is Not This Year's Point Guard U
From an institution that is known for the likes of Bobby Hurley and Jay Williams, this team is in dire need of a point guard. You can't blame Coach K for recruiting one and dones. If Kyrie Irving wasn't leading the NBA's Rookie of The Year Race, then this would be a completely different team.
Tyler Thornton and Quinn Cook are not the answer for this team. They need someone to push the pace but having the skill set to dribble with their head up. Someone that can distribute the ball and drive, but not be out of control. Neither Cook or Thornton have that in their basket of tricks, and they will not be learning it over the next month.
The scariest part is the growing amount of turnovers this team has. They simply don't have a single player that can carry to offense without being in danger of giving away the ball.
Streeter Lecka/Getty Images
2. Duke's Defense is Suspect
Everyone knows that Duke struggles against athletic guards. As this game wound down, Temple spread the floor, giving their guards the chance to isolate and control the court. This game plan wreaked havoc for the Devils, as the Owls shot 56.4 percent from the floor and 50 percent from long range.
As the time wound down, the Devils had trouble making the stops they needed to give them a shot to win the game.
Temple's Khalif Wyatt all but single handily made sure the Devils never made a signature run by nailing two straight three-point daggers around the four-minute mark. It was a perfect depiction of how the game went for both sides. The ball just seemed to bounce Temple's way.
3. Austin Rivers is Human
Who would have thought that the son of Doc Rivers and proclaimed future NBA star would be normal? Turns out, Austin Rivers is a freshman, and at times, he is going to play like it.
Lesson one, young buck, don't put your head down and drive to the basket.
Lesson two: If you make up your mind to drive before you do, then more often than not, your result will be negative. Both are things that Rivers did last night.
In a game where the Plumlees were playing great, Rivers could have drove and dished to an open shooter or an on-fire Plumlee.
So is the sky really falling?
The quick answer is no. This team has lost two games all year and is still a team that can beat anyone on any night. They still have the best coach in the game and arguably the best group of shooters in the country. Duke needs to improve but they can grow. If they can fix a few holes, then they will be able to make a run. I won't sale fools gold. This team will not be a No. 1 seed and will not be favored to the title, but they are still dangerous.
In a Duke world, anything less than competing for the ACC and an NCAA title is a let down. Duke may not have a POY candidate, but they have talent. At the end of the day, the name on the jersey is still Duke. They are going to be just fine. They will compete with UNC for the ACC and will be a tough team come tourney time.
The sky is not falling.
This article is
What is the duplicate article?
Why is this article offensive?
Where is this article plagiarized from?
Why is this article poorly edited?

Duke Basketball: Like this team?