NFL Wild Card Picks: Spread, Straight and Over/Under
January 6, 2012
Wesley Hitt/Getty Images
The 2011 NFL regular season has finally come to a close, and it went out with a bang in Week 17.  
The Giants solidified a division championship by sending home the Cowboys. The Bengals backed into the playoffs (exactly how I called it, by the way), and the Lions and Packers provided a shootout even though both had already locked up postseason slots. 
A solid week of projections gave me a very respectable turnout of 11-5 straight up, 12-4 against the spread and 7-9 versus the over/under. With these final numbers, my yearly totals came out to a more than respectable:
Straight: 177-79 (69 percent)
Spread: 147-109 (57 percent)
Over/Under: 142-114 (55 percent)
People pay good money for picks like that, but those of you who have followed me since I started have been getting good information for free.  
Back-to-back solid weeks have launched me into first place in my 30-man pick 'em league, with a three-game lead heading into the playoffs. I made a serious comeback to get to this position, and I don't intend to blow it in the postseason.
This is how I see this week's Wild Card Games playing out.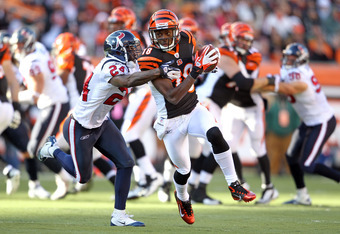 Andy Lyons/Getty Images
Cincinnati Bengals (+3) at Houston Texans (O/U = 38.5)
It is somewhat unusual to see a playoff matchup featuring two teams who are both coming off a loss in the final week of the regular season, but that is precisely what this matchup provides.  Despite losing to Baltimore at home, the Bengals snuck into the sixth seed because of losses by the Jets and Raiders. 
As I said last week, when I correctly called those exact results, Marvin Lewis' group likely would have preferred to build some momentum coming into this one, but they will take the playoff appearance all the same. Luckily for them, they are matched up against the coldest team of all heading into the playoffs—the Houston Texans. 
Since clinching the AFC South, the Texans have looked marginal at best and enter this contest on a three-game losing streak. Their quarterback situation is about as bad as one could imagine. Their top option is an unproven rookie T.J. Yates, and their first backup is Jake Delhomme. In case you don't remember, Delhomme's last playoff appearance was not good. Not good at all. 
The Bengals have been consistent enough down the stretch to expect an upset on the road here without much of a surprise. If they do emerge victorious in this one, they will have to travel what will feel like light years to Foxborough to face an infinitely more formidable Pats squad. First things first as they take this one in a defensive battle.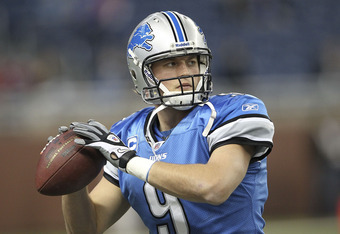 Leon Halip/Getty Images
Straight: Cincinnati
Spread: Cincinnati
O/U: Under
Detroit Lions (+10.5) at New Orleans Saints (O/U = 59)
The once laughable Lions have finally found the resurgence they have been searching for since losing all-time great Barry Sanders. By putting together their first winning season in over a decade, Detroit was able to snag the last NFC Wild Card spot with a respectable 10-6 record.  Unfortunately for Jim Schwartz and company, they run up against arguably the hottest team in the league right now in the Saints. 
Drew Brees broke Dan Marino's all-time, single-season passing yardage record by almost 400 yards and hasn't looked back since. The New Orleans offense has been firing on all cylinders for pretty much the entire season, and the Lions will have to put together an astounding defensive performance to slow them down. 
The good news for Detroit is that when these teams met in early December the game was actually competitive. It could have been close had the boys from Motown not shot themselves in the foot with needless penalties. The team has shown increased composure since that 14-point loss in NO, and they are surely headed back to the Superdome with revenge in mind.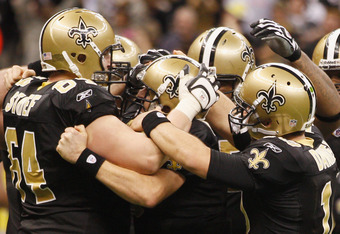 Chris Graythen/Getty Images
Things do not bode well though for the Lions, seeing as how they just gave up record highs in passing yards and touchdowns to Packer backup Matt Flynn in Week 17. Flynn sliced and diced the Lions' secondary, and it's hard to imagine Brees not doing the same this week. 
Straight: New Orleans
Spread: Detroit
O/U: Over
Pittsburgh Steelers (-8.5) at Denver Broncos (O/U = 34)
Despite taking an ugly loss at the hands of exiled QB Kyle Orton and the Kansas City Chiefs in Week 17, the Broncos found themselves atop the AFC West at season's end. You know what that means—Tebow-mania continues! 
The rookie starter will have a lot to prove when the seasoned Steelers head to Mile High on Sunday, and it goes without saying that all eyes will be on him. Having failed to score a touchdown on a pitiful Chiefs D last week, the offense, and Tebow in particular, will need to ratchet up the intensity to put up any sort of a fight against an always-stingy defense headed by Troy Polamalu and James Harrison. 
The Steelers will limp into Denver, quite literally, with hobbled QB Ben Roethlisberger surely below 100 percent and starting RB Rashard Mendenhall freshly diagnosed with a torn ACL. The Denver defense must capitalize and hold the Steelers' weakened offense to a low number if they want to give their struggling offense a chance.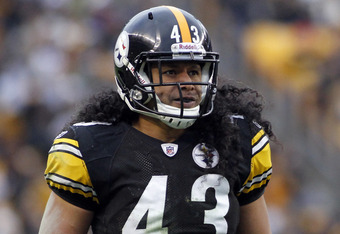 Justin K. Aller/Getty Images
If the Steelers are able to move the ball while Tebow flounders in a sea of black and yellow, then this one could get ugly for the home fans. The whole Tim Tebow saga has been entertaining and unbelievably hyped by the media, but it ends here.
Straight: Pittsburgh
Spread: Pittsburgh
O/U: Under
Atlanta Falcons (+3) at New York Giants (O/U = 47)
The Falcons finished off their regular season with a bang, lighting up the lowly Tampa Bay Bucs defense for 42 points in the first half. The Giants also come in energized, after triumphing in a must-win game at the Meadowlands against rival Dallas. 
Atlanta has lost in the first round of their last two playoff appearances ('08 and '10) and are hungry to get past this preliminary playoff picture. The Giants have improved throughout the year and will be looking for their first playoff victory since their Super Bowl title in 2007. 
The N.Y. offense has been formidable behind the steady hand of Eli Manning and the unexpected emergence of speedy wideout Victor Cruz. The newly crowned Giants single-season receiving leader has proved his worth against the best the NFL has to offer, and he has done so in style.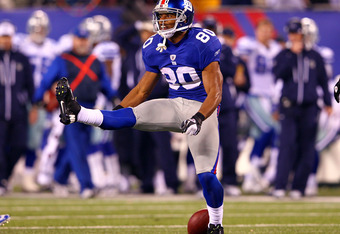 Al Bello/Getty Images
The Falcons must slow down Cruz, or they could find themselves in the unenviable position of playing from behind on the road in the playoffs. 
The Atlanta offense has shown flashes of brilliance as well with rookie WR Julio Jones at the forefront. The first-year starter out of Alabama has made countless remarkable plays, and he will surely blossom into one of the league's best over the next few seasons. 
Both teams show an excellent balance between run and pass, but with Ahmad Bradshaw healthy, the G-Men have a bit more depth in the backfield, which could prove important if they do manage to strike first. 
This game is a very tough one to call on paper, so the de facto edge goes to the Giants at home with the support of a raucous crowd on Sunday afternoon.
Straight: New York
Spread: New York
O/U: Over
After wading through weeks of mediocrity and meaningless contests, we have finally reached the time of year when every game, every play, every step matters and is taken with careful deliberation. This is playoff football boys and girls, and this is what we have been waiting for. 
Four of the league's best teams will be shown the door this week as we progress to the Divisional Rounds, and eventually Super Bowl XLVI.