NBA All Star Game 2012: Joel Anthony Plays Jester in King James' Court
January 5, 2012
Mike Ehrmann/Getty Images
If you want buzzer-beaters, dunks and highlight-reel plays, you go see LeBron James or Dwyane Wade. If you want laughs, go see Joel Anthony. 
The Miami Heat center could very well have Miami Heat fifth-fiddle next to his name in the team roster. Fans may cheer him like a little brother they feel needs a little coaxing. 
Well, something funny happened on the way to Anthony becoming the most forgettable member of the basketball Beatles: He was put on the All-Star ballot. 
That fact has a basketball nation chuckling, even Anthony himself. It's not hard to see why; the man is averaging 3.7 points and 4.4 rebounds per game. On top of that, he would have to climb a Dwight Howard mountain if he were to make into the game. 
It's almost as if the NBA wanted to include his name to offer a polarizing chasm between the true celebrities and those also-rans that are better as extras.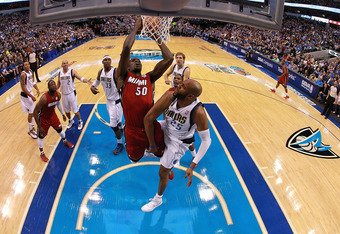 Ronald Martinez/Getty Images
Anthony has a great humor about the whole thing. Anthony spoke with The Palm Beach Post about the ballot inclusion that he thought was actually an error:
"I didn't think they were serious. I don't know what to say. I definitely appreciate it, that they would take me into consideration."
Anthony is just doing his job as a player that needs to pick up the trash left by a team of superstars. There is no hope for 20-point games that usually come with All-Star consideration. After the big three, there is only room left for scraps. 
Anthony does that and then some. He has become something of a fan favorite. The report issues that chants of "MVP" come when Anthony gets to the foul line. 
The chiding he gets from teammates over the ballot is all in good fun, and Anthony is accepting it as such. And why shouldn't he?
This is a player that could have been cut years ago. Instead, he keeps his head down and works his butt off to make a difference, no matter how minuscule. 
Anthony has no hope to make the All-Statr team, but his inclusion on the ballot has been one hell of a good time.