Pittsburgh Steelers: Keys to Earn Wild-Card Victory over Denver Broncos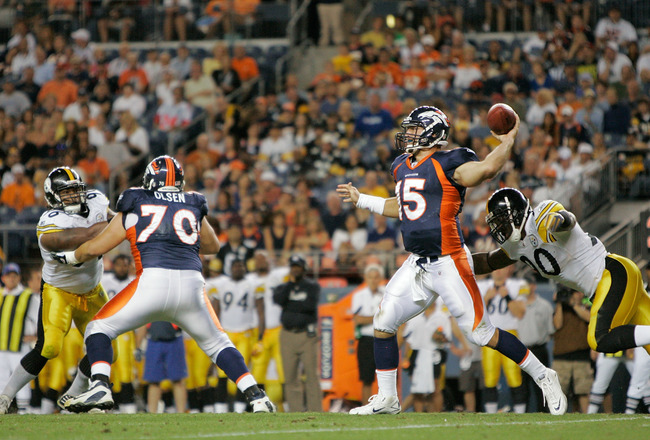 Justin Edmonds/Getty Images
They are battered and bruised, but the Pittsburgh Steelers are still entering the playoffs as one of the three favorites to win the AFC.
Already playing without Ryan Clark and Rashard Mendenahll, the Steelers may also be without their Pro Bowl center, Maurkice Pouncey, as they travel to Denver for the Wild-Card matchup with the Broncos.
"I practiced the other day and toward the end I got sore," Pouncey told the Pittsburgh Post-Gazette after practice Thursday.
"Today, I came in and my ankle was real sore, so I don't know what the turnout is going to be. Right now, I'm not practicing."
If Pouncey does not play, Doug Legursky, who missed the Steelers' regular season finale with an injury, will start at center.
Despite the injuries, Pittsburgh remains an 8.5 favorite over the Broncos. The major reason why is the poor quarterback play of Tim Tebow.
After an amazing display of fourth quarter magic which put the Broncos in playoff position, Tebow has faded over the past three weeks and will have to rely on a strong ground game to have a chance against the Steelers.
Here are the keys for the Steelers to get a playoff win over the Broncos.
Tame Tebow, McGahee
Doug Pensinger/Getty Images
The foundation of Pittsburgh's defense has been two-fold: stopping the run and preventing the big play.
Before they even stop on the field Sunday, the Steelers should not have to worry much about allowing Tebow to beat their defense deep. He just has not reached that point of his development, and he certainly does not sound prepared to beat the NFL's top defense with his arm.
"Especially the more you get into tighter games, playoff games, you've got to be aggressive," Tebow said.
"You've also got to be smart, but you've got to be aggressive and pull the trigger at times and it's something that we'll have to do."
That is something that Tebow and the Broncos may want to do, but let's be real. He has completed only 41 percent of his passes during Denver's three-game losing streak and has thrown one touchdown to four interceptions.
For this reason, Denver will have to rely on their top-ranked run offense to beat Pittsburgh.
The Steelers are beatable on the ground, as we saw earlier this season when a one-dimensional St. Louis Rams ran all over the Steelers. This may not have to be the case Sunday.
Steven Jackson is an elite running back, and not to knock McGahee, but he is not quite at that level, and Pittsburgh's defenders are too athletic to get beat by Tebow on the ground. The Steelers should have better success.
The key will be for Casey Hampton to have a big game up front to free up room for the linebackers.
All too often this season, we have seen huge holes for opposing backs because Hampton and the rest of the line has not won the battles up front. However, even when linebackers have been there to make plays, they have just missed the tackles.
Playing fundamental defense and not being overly aggressive will help the Steelers shut down Denver's rushing attack.
Keep Elvis out of the Building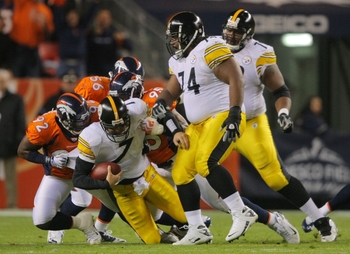 Doug Pensinger/Getty Images
Pittsburgh's offense line may take a hit if Pouncey cannot play, but it is the tackles that need to be on alert this weekend.
Ben Roethlisberger's mobility has been an issue lately with his high ankle sprain, and according to Bruce Arians, he is having some problems.
In the meantime, Roethlisberger returned to practice on his own high ankle sprain, and Arians was a little more encouraged about that.
"He's moving around okay, not as good as he was, but okay," Arians told the Pittsburgh Post-Gazette.
That puts a lot of pressure on the Steelers tackles to hold their ground against outstanding rookie linebacker Von Miller and Elvis Dumervil.
Miller has not been the same player since having surgery on his thumb in Week 13, gathering only one sack in his final three games.
The greater concern will be Dumervil, who has been hot with 9.5 sacks over the final nine games of the season.
Max Starks and Marcus Gilbert have both played well this season, but their play has slipped some in recent weeks, particularly Gilbert's.
Given Roethlisberger's condition and the ability of Denver's pass rushers, the Steelers will likely use their tight ends to help with the outside rushers.
Though they should, it is hard to say that Arians will design a quick passing attack to get the ball out of Roethlisberger's hands.
The goal is to prevent against further injury to Roethlisberger and also against the turnover, which would provide a huge boost to the underdog Broncos.
Pittsburgh can also use a power running attack to beat up the Broncos defensive front and wear down the undersized Dumervil, as well as Miller, who has struggled against the run.
The one-cut style of Isaac Redman and straight line running of John Clay means that the Steelers have two power backs to run against the Denver defense.
Build Early Lead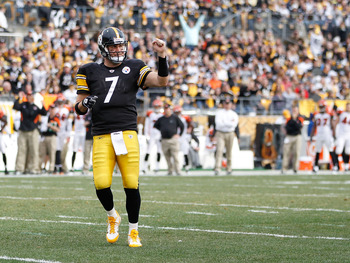 Gregory Shamus/Getty Images
Quick strikes early in the game would put the Broncos out of it. Whether it is the offense, defense or special teams, a 14-0 lead would likely be enough for the Steelers.
Denver is not built to come back from a large deficit, and Pittsburgh's defense is not designed to allow a big comeback.
The best case scenario for the Steelers would be to get an early lead with their passing game and then ground and pound the Broncos as they let their defense take over.
The though of Tebow having to line up and throw the ball to come back on the Steelers should be the goal because as much heart as he has, he just does not have the ability to win a game with his arm, especially against the Steelers defense.
Spotlight Player: Offense
Justin Edmonds/Getty Images
It is playoff time, and the Steelers need their best players to perform given all of the adversity they face on the injury front.
Roethlisberger needs to step up his game and lead the Steelers to the end zone.
In the two games he has started since he injured his ankle, Roethlisberger has thrown no touchdowns and three interceptions as the Steelers offense has scored a total of 16 points.
By leading the Steelers to a couple of early scores, Roethlisberger would put the team in a perfect position to win, as Denver's offense is unlikely to produce a lot of points against the Steelers defense.
Spotlight Player: Defense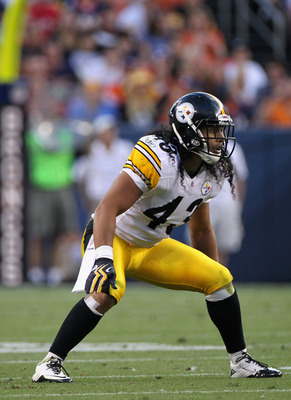 Doug Pensinger/Getty Images
You can just feel big plays coming from Troy Polamalu right now. He was outstanding last week with a take down of Seneca Wallace, who was trying to hand the ball off, and an interception.
While Polamalu may not be able to freelance quite as much with Ryan Clark out, he will still be an important player near the line of scrimmage and should be making plays all of the field.
Polamalu's closing speed will be huge when Tebow is throwing the ball. He has a knack for knowing where the ball is going, and Tebow tends to telegraph his throws and has a long delivery.
Expect a huge game from Polamalu.
Game Notes
Pittsburgh is 3-3 all time against Denver in the playoffs.
Pittsburgh won the AFC Championship in Denver, 34-17, on Jan. 22, 2005.
The Steelers are 33-21 all-time in the postseason.
The Steelers have won nine of their past 11 postseason games and have gone 5-2 under Mike Tomlin.
With 139 passing yards, Roethlisberger will join Terry Bradshaw as the only quarterback in team history with at least 3,000 passing yards in the postseason.
Roethlisberger has gone 9-2 in the playoffs.
Hines Ward needs one reception to surpass John Stallworth with receptions in 18 consecutive postseason games.
LaMarr Woodley has a sack in an NFL record seven consecutive postseason games.
Follow me on Twitter @ChrisG_FC
Keep Reading

Pittsburgh Steelers: Like this team?