Mike Martz: 3 Quarterbacks That Could Handle Martz's Offense and Attitude
January 5, 2012
Jonathan Daniel/Getty Images
The biggest news out of Chicago today is that Jay Cutler reportedly wanted to start the 2012 NFL season without Mike Martz. Thankfully, Martz left without a fuss on his own accord.
Cutler was adept at pulling the levers on Martz's complex offense, but it seems he grew tired of the attitude that came with the package. 
Martz's offense is the NFL's equivalent of a Lamborghini Gallardo. There are only a handful of people in the world that really know how to get the most out a supercar, and there are only a few quarterbacks that can handle Martz's offense and attitude.
Martz has been in the coaching circuit since 1973, when he started out as an assistant coach for the Bullard Knights, a high school in Fresno, California. He toiled away for the next 18 years as an assistant for seven different colleges. 
Martz finally made it to the NFL in 1992 as a quarterbacks coach for the Los Angeles Rams. His real big break came in 1999, though, when he was hired by head coach Dick Vermeil to become the St. Louis Rams' offensive coordinator. 
1999 was the year that Kurt Warner was introduced to the NFL, and he and Martz had a fantastic working relationship that led to Super Bowl XXXIV and Warner's introduction as one of the NFL's greatest quarterbacks of all time.
Martz was named the Rams' head coach the following year, and he led the Rams to a second Super Bowl in 2001, losing to the New England Patriots. 
2003 was the start of a new era, as Mark Bulger became the Rams' starting quarterback, replacing Warner, who was demoted after the first game of the season.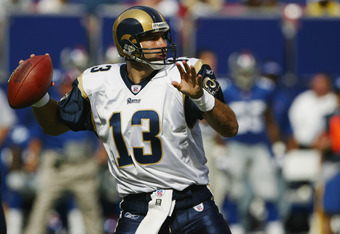 Doug Pensinger/Getty Images
Bulger and Martz got along for one season, but their relationship, along with the success of the Rams, began to wane until Martz ultimately was fired after a Week 5 loss in the 2005 NFL season.
Since then, Martz has spent two years in Detroit as the Lions' offensive coordinator with minor success, one disastrous year as the offensive coordinator for the San Francisco 49ers and two tumultuous years with the Chicago Bears.
No offense to the quarterbacks that tried to run his offense, but they were a far cry from Warner. Jon Kitna, J.T. O'Sullivan and Shaun Hill are among the bottom feeders as far as quarterback talent goes, and none of them were suited to handle Martz's offense.
So, are there any quarterbacks that could handle the Martz offense in 2012?
I can name three.
1. Matt Moore
I know this probably wasn't your first thought, right? Matt Moore isn't an elite quarterback like Warner of Cutler.
Moore does possess the qualities Martz likes in his quarterbacks, though. He shows an ability to move well in the pocket, and he can roll either way out of the pocket to pass the ball. Moore has a decent arm as well, and he isn't afraid to try and fit the ball into tight windows when he has to.
Winslow Townson/Getty Images
The Dolphins are built for a Martz offense, as well. Reggie Bush could occupy the Marshall Faulk role to perfection, and Brandon Marshall and Davon Best are terrific receivers that run precise routes.
2. Andy Dalton
Jay Gruden, the Cincinnati Bengals' current offensive coordinator, will likely be gone after this year as he pursues his dream of becoming a head coach. 
Andy Dalton and the Bengals offense would be a perfect playground for Martz's offense to flourish. Dalton reminds me of a young Dan Marino, and his ability to push the ball down the field with accuracy and timing are absolute musts in Martz's system.
A.J. Green is like a taller, more athletic version of Isaac Bruce, Martz's former student, and Jermaine Gresham is an athletic tight end that would also be a perfect fit in this offense.
The one thing Dalton and the Bengals lack right now is a stud running back, but that is easily amenable in the 2012 NFL draft.
3. Tony Romo
Romo is the dark horse in this race, because the likelihood of this pairing ever happening is as close to zero as you could ever have in the NFL.
Romo would be the perfect Martz disciple, though. He is a gunslinger, he can make all the throws and he has developed the kind of thick skin required to deal with Martz and his way of doing things.
The Dallas Cowboys have all the other pieces in place for Martz's offense, too. DeMarco Murray and Felix Jones are perfect, as they both can catch the ball well in addition to their exceptional running ability.
Then there are the three wide receivers: Dez Bryant, Miles Austin and Laurent Robinson. These men would thrive in Martz's offense, and so would Romo.
Feel free to throw in your ideas, and thanks for reading.