Luis Suárez Incident: EPL and Liverpool Both Fail to Handle Situation Properly
January 8, 2012
Scott Heavey/Getty Images
Liverpool's Luis Suarez and the alleged comments towards Manchester United captain, Patrice Evra, have quickly become a headache for the EPL as the racism debate takes front stage just as the January transfer windows opens.  
This debacle has quickly turned sour, as both the EPL and Liverpool have handled the situation inappropriately. Suarez has been given an eight-game ban and a £40,000 fine for racially abusing Patrice Evra in an EPL match this season.
This decision has been made after a hearing in front of the FA's three-man independent commission, where evidence has been proven to suggest Suarez and Evra had an altercation that led the Liverpool striker to make racist comments towards the Manchester United captain.
Suarez has always denied such accusations claiming that words were exchanged, but none of a racist variety. Most of the Liverpool brass have been behind Suarez, claiming that the Football Association has deliberately set out to punish the player and that Evra has blown the comments out of proportion.
Taking a look into the comments, it seems like Evra had started the exchange of words referring to Suarez as a "South American", and Suarez in response referred to Evra as "black" or "blackie" in Spanish. Now, in Spanish the word is something along the lines of "negro", which obviously in English is inappropriate.
But, if you were to take it for what he meant it as—I think referring to someone as a South American or a Black is of the same offensive stature. It was all in a competitive nature during a stand-off. The Spanish use of the word had clearly bugged Evra, so much so that he has blown it up into the issue it is today.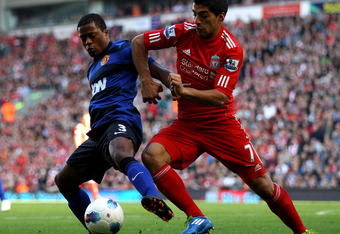 Clive Brunskill/Getty Images
The EPL was made aware of the events and took action to get the truth. Racism needs to be taken seriously and any acts of racism should be punished. Harshly. 
Suarez should have known better and needed to be reserved when it came to using Spanish as surely a miscommunication like this happens each and every day in a diverse football world. He screwed up there. But, it can clearly be seen as no malicious racism attempt by Suarez, which means the punishment of rascal abuse is ridiculous. Suarez deserves a two-four game ban, not eight! 
The hearing started out with positive opening statements—Evra stating that Suarez was not a racist and talking about how Suarez is from a mixed family (he has a black grandfather) and has been deeply involved in anti-racism charities. But none of this mattered as the hearing quickly came to the conclusions that Suarez was responsible for everything claimed and that he deserved a harsh penalty.
I have spent many hours looking into all the info surround the event(probably too much time), as well as I have seen the final ruling documentation and accounts. With all the info I will break it down into what I think about the ruling.
Suarez made comments in Spanish toward Evra in an altercation. These comments, as far as I'm concerned, were not of a malicious nature, but rather were a defensive response in the heat of the moment.
From everything I have seen and heard, it was not a racist comment made by Suarez. Any translations that have come across as racist need to be forgotten as translations do not encompass slang and common terminology. 
They were made in Spanish and came across as very racist. He should have known better and it is his responsibility to adapt to properly English cultural expectations. 
Suarez should be aware of English standards. He makes big bucks and is a big time player, so he needs to be aware of what is alright to say in an English culture. This is what he failed to do. He failed to realize the difference between his background and where he was playing, and for this failure he deserves a punishment.
This then sends the proper message for all incoming players to be aware of the transition (What ever happened with Terry's racial comments?). This punishment is not an eight game suspension though. He used inappropriate conduct, so calling it a racial slur is very extreme. 
Eight games is an insane number. This was not an act of racism. Evra was just as wrong as him as Evra pointed him out as a South American. Why does it matter where he is from and what is origin is? It could easily been taken as a negative comment directed toward the continent from a European player.
Suarez has been wronged. He would have apologized and not been so rough about the situation had he not felt screwed. Liverpool manager Dalglish has gone on record defending Suarez and making these claims. This has been counteracted with reports against Liverpool for supporting racism. Dalglish needs to come out and make the clarification, that Suarez has done wrong, but that he is not a monster.
All Liverpool has done has made embarrassing t-shirts that have only escalated the events. 
Nevermind an eight game suspension, but what about his reputation? Luis Suarez is not a racist, but from now on he will be treated as such.
I guess the EPL wants to send a message—racism will not be accepted and that Luis Suarez was just a pawn who they made an example of.