How LeBron James and the Miami Heat Can Beat a Zone Defense
January 6, 2012
Gregory Shamus/Getty Images
They're not starting the season 9-8. There's no trade talk, nor is there talk of the head coach being fired. There hasn't even been the extraneous analyzing of a player bumping into a coach.
Instead, the Miami Heat are starting off how they wanted to start off. They staved off two elite opponents in Dallas and Boston in their first two games, won close ones against Charlotte and Minnesota, and won a few blowouts against Charlotte and Indiana. Even with Dwyane Wade currently ailing from a foot injury, the Heat are looking like the elite team that we suspected them to be.
Of course, we can't give them complete credit for being the league's best team. We have to find some way to criticize them and sure enough we did. In their 100-92 loss to the Atlanta Hawks, the Heat found themselves being heavily controlled by a zone defense. The Hawks utilized it in a fourth quarter that they would use to comeback and defeat Miami.
Forget that Wade could barely get off the ground because of his foot, somebody sound the panic button because the Heat lost one out of seven games. Give credit to the Atlanta Hawks as well. By limiting their turnovers, they limited the amount of fastbreaks that the Heat usually rely on for their offensive firepower. Once they got them into a half-court setting and broke out the zone, it became easier.
It also helped that Larry Drew used the reanimated corpse of Tracy McGrady to make a couple three-pointers down the stretch.
Once again, though, it was that dreaded zone that put a damper on a possible Heat victory. Miami most remembers this defense from their NBA Finals loss to the Dallas Mavericks. The Heat were in cruise control for the first few games, but once the Mavericks broke out the 2-3 zone it was all over as LeBron James struggled to average 17 points per game.
In the NBA, it's a rare occurrence to see a team actually utilize a zone defense. Instead, you'll see the more popular man-to-man defense, which is basically having one player guard his assignment for the night. Zone defense requires two guards up top, two forwards on opposite sides of the paint, and a center in the middle.
Instead of having a player restrict his attention to one player, they'll focus strictly on their zone. Say you're located at the top left of the court on defense, that means your defensive assignment is to defend anyone that comes into your zone. It hurts defenses because it allows jump shooters to get open, but it's primarily used to restrict players from slashing.
Take for instance, a team like the Miami Heat who has two high-octane scorers that rely on driving, finishing at the rim or getting fouled on their way to a drive. If you place two quick guards up top, that immediately restricts the driving ability of the offensive threat as they make it extremely difficult to break through and enter the paint.
If you pass it off to your teammate, who also happens to be at the perimeter, a player from the front court will then rotate and restrict the drive as well. Rather than the every player for himself man-to-man defense, zone defense encourages teammates to help each other out.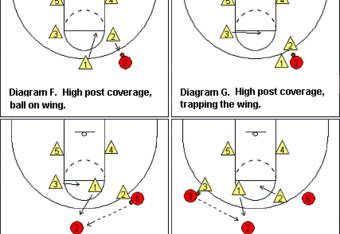 It's a great stepping stone for college players to learn how to play team defense, but you rarely see it in the NBA because of how ineffective it is against jump shooters.
The talent levels of NBA players are too good to be contained by a zone defense, that's why you only see it at the NCAA level.
Not only does it give college kids a fundamental look into playing defense, but it's also the smartest way to play on that end of the floor. At that level of play, the zone defense is accepted because there aren't any Ray Allen's out there. Aside from the occasional Jimmer Fredette or Stephen Curry, NCAA defenses will use the zone defense to restrict slashing.
Jump shooting isn't exactly the forte of many NCAA players. Sure they can shoot, but no college defense is going to be run so that they can specifically restrict three-point threats. The majority of the players in the NCAA are multidimensional and versatile, so you won't see a specialist that stays on the perimeter too often.
In the NBA, it's a different story. There are players out there who do nothing but shoot three-pointers. It's not like in college where you have to remain active and keep moving the entire offensive possession. The NBA has a myriad of players who set up camp at the three-point line and kill teams with three or four three-pointers per game.
A perfect example would be the Heat's James Jones. He can't play a lick of defense, never passes the ball, can't dribble and can't drive, yet he's one of the most integral parts of the team because of his ability to consistently hit the three ball. That 40 percent three-point shooting percentage is enough for him to earn a paycheck.
Once in awhile, you run into a team like the Miami Heat. They're by far the best team in the league and they have three of the league's top players to show for it. Their downfall, however, is that their games overlap since LeBron James and Dwyane Wade have extremely similar traits in the way they play the game.
Both like to attack at all costs. Jump shooting is for the birds and dunking over someone is the only way to go. While this is an effective way to play basketball, since you can drive at will when you're as fast and powerful as those two, it also makes your team one dimensional and gives defenses an easier chance to prevent it from happening.
Thus the reason for the zone defense being played. Rather than having one man get consistently beat by Wade or James, an opponent would decide to risk giving up three-pointers in order to limit the drives of the league's top two players. This concept could easily work and it has many times in the past.
Why do you think the Mavericks had so much success against the Heat when they ran a zone? Miami had absolutely zero perimeter threats on the floor outside of Mario Chalmers. Miller was there, but he was so banged up from all of the injuries he was dealing with that he became ineffective. Jones didn't take part due to a mystery foot injury.
The Heat were the better team, but the Mavericks knew how to defend them. They did it earlier in the year in a regular season win against the Heat and they used it throughout the Finals. It works because you're restricting the team's two best scorers from being as prolific and efficient as they usually are.
Most NBA teams would have at least one or two three-point threats in their starting lineup. The Miami Heat don't have that benefit. While it's nice to see Mario Chalmers finally performing admirably and hitting his shots, it's still too early in the season to decide on whether or not he finally 'gets it'. He's consistent at being inconsistent, and teams will usually sag off of him to go defend James or Wade.
Among the other perimeter threats on the Heat include Jones, Shane Battier and Mike Miller. While Jones may be the best three-point threat the team possesses, he's also a tremendous defensive liability. On a team that prides itself so much on defense, having a defensive stopper out on the court outweighs having a three-point threat.
Battier could be the player to break the zone, because not only can he shoot from beyond the arc, but is also arguably the best individual defender on the team. However, the fact that he's currently shooting 24 percent from beyond the arc isn't helping. He's struggling with his shot at the moment, it will come back, but the team could still use a perimeter threat.
Miller was intended to be that player. He was given $30 million by the Heat last offseason to be the player to thrive off of the driving of LeBron James and Dwyane Wade. The organization knew that those two, as well as Chris Bosh, would receive double-teams. With those three attracting so much attention in the middle, that obviously meant that there would be a lack of focus on the perimeter when defending guys like Miller.
Unfortunately for the Heat, Miller was hurt all of last season, and is still recovering from a sports hernia surgery. Word is that he'll be returning soon and he recently saw a doctor to give him clearance to play full-contact in practice.
Eventually, Battier will get into a rhythm and Miller will return with healthy hands. This injury that he's recovering from isn't as significant as the ailments he was dealing with last year. Miller was dealing with injuries to his fingers, obviously the most significant component of being an elite shooter. Without your thumbs, you're useless and that's what happened to Miller unfortunately.
Still, you can't rely on those two players alone. You still need other ways to break the zone. Opponents will figure out that a zone defense is the most efficient way to play the Heat, and they'll continue to use it until Miami eventually busts it. It could definitely be achieved by getting some consistent three-point threats to attract some attention off of the big three, but it could also be solved by the big three themselves.
Zone defenses are utilized to restrict driving and keeping players away from the net. For the Heat to continue thriving off of their big three, they need to find ways to score near the rim without having to drive. Luckily for them, LeBron James is quickly turning into a lethal post player, while Dwyane Wade has already been well known as an effective post up player.
If you want to score near the rim, posting up is going to be the way to go in order to beat a zone defense. LeBron and Dwyane must get themselves in the low post and force their opponent to recognize that they're still a threat under the rim, even when they're not driving. The Heat can't let this become a jump shooting game.
They need to dictate the tempo, not their opponents attempting to slow it down. Once they allow their opponent to force them into half-court sets for a large majority of the night, their chances of winning are immediately reduced. This is a team that wants to run as much as possible, and they can't let a college defense beat them at the game they want to play.
It doesn't take much to break a zone, that's why no NBA team uses it. It's too easy to break when there are shooting specialists and post threats that can score a bunch of points and make you look silly for attempting to use a defense that's primarily used for teenagers to learn how to play the right team defense.
Miami is well on their way to a championship. They have the pieces and the chemistry to back it up. LeBron, Dwyane and Chris showed a greater understanding of each other in six games than we saw all of last year, and even the role players are getting into it. By getting Udonis Haslem back, adding Shane Battier and Norris Cole, and even seeing some consistency out of Mario Chalmers, the Heat become an even more dangerous team than ever before.
Breaking a zone defense should be the least of their worries. Implement a few shooters once in awhile and post up more often and that gimmick is over and done with. Even if James Jones is a defensive liability, it sure beats watching LeBron James pound the ball beyond the perimeter for 20 seconds before jacking up a 25 foot shot.
Also, does it matter if Jones is that bad of a defender? You can still have Wade, James and Joel Anthony/Udonis Haslem on the floor at the same time to help keep the defense in check. As much emphasis as there is on athleticism and defense, it really would not hurt to add a shooter just to break the zone and force their opponents back into playing one-on-one defense.
Like I said before, teams utilize the zone defense so that they can slow the Heat down and force them to play the way they want to. Miami needs to force their opponents to play how they want to, which is fast and with reckless abandon. If they allow a zone defense to beat them, they give their opponents a chance to catch their breath and utilize their energy on the other side of the floor.
It's exactly what happened against Atlanta and Dallas. Both teams didn't have to work too hard on defense, and it resulted in them having extra energy later on. The Heat like to tire out their opponents for the first 36 minutes, so by the time the fourth quarter rolls around the opponent is lacking the energy they previously had to defend the slashing of Wade and James.
This year, it's going to take more than a zone defense to beat the Heat. They've become a much more well-rounded and multidimensional team compared to the squad from last year, and they're not going to allow a gimmick defensive set to defeat them at the highest level.
No excuses this time. Not even blaming it on the zone will fly this time.