San Francisco 49ers: Is Alex Smith the Answer at Quarterback?
January 5, 2012
Christian Petersen/Getty Images
For the entirety of of his first six seasons in the NFL, Alex Smith was nothing more than a question mark as the starting quarterback for the San Francisco 49ers.
Is he now the answer?
His coach thinks so. 
In Monday's press conference, head coach Jim Harbaugh vocalized all of our assumptions: The 49ers want quarterback Alex Smith back next season. 
It's also something he has shared with his quarterback, who is set to be a free agent after signing a one-year, $4.9 million contract with the team in July. 
"I've told Alex that," Harbaugh said. "I wouldn't tell you (the media) something I wouldn't tell Alex.
"I told Alex, 'Hey, we're going to want you to come back here next year.' He's focused on the season, and that's where his mindset wants to be. And I totally respect that, and we'll talk about it and address it once the season is over. That's the way I understand it right now."
Sounds like The Return of Alex Smith Part 8 will be coming to a stadium near you. 
A familiar storyline for Niners fans who have closely followed Smith's career—one filled with a revolving door of offensive coordinators and coaches, inconsistent supporting casts, inaccurate throws and costly fumbles. 
Only this time around, the majority of fans are supporting the decision to bring back No. 11. The quarterback formerly known as a bust has enjoyed a breakout year while helping his team to a 13-3 record and return to the playoffs. He has limited mistakes, completed clutch throws, led comebacks and compiled an impressive 90-plus rating along the way.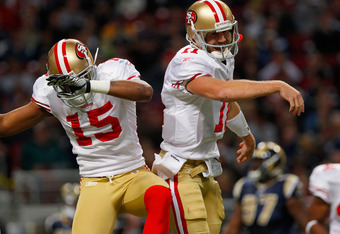 Whitney Curtis/Getty Images
He is busting out. 
The fairytale began once upon a time when Harbaugh was hired—or the day former coach Mike Singletary was fired, depending on how you look at it. 
From day one, Harbaugh showed public support of Smith and tossed heaps of compliments upon him. He even went as far as giving Smith a copy of the playbook before the then-free agent was signed to his current deal. It was a bold move that paid off immediate dividends as Smith gathered his teammates to work on plays, define terminology and build team chemistry. 
The playbook was their textbook. 
Their exams were regular-season games, and their 13-3 record was a passing grade. 
In a game now dominated by astronomical statistics, Smith and the 49ers have been a breath of nostalgic air. They are winning games using an old-school recipe: defense, establishing the run, smart play from the quarterback position and a perfect amount of special teams. 
It's not very sexy, but they're not auditioning to be on the cover of the Sports Illustrated swimsuit edition. Just the Super Bowl one. 
So, looking ahead, is Alex Smith the team's quarterback of the future?
Or is it the raw, yet talented Colin Kaepernick, a rookie Harbaugh and his staff traded up in the draft to select?
Or could it be someone else?
My money is on the 27-year-old Smith, a young veteran fresh off a career year with his new head coach. 
Makes sense; the Harbaugh-Smith relationship has been a Cinderella and glass slipper fit. Only time will determine if the fairytale ends happily ever after.