Bengals vs Texans: Will Andy Dalton or T.J. Yates Prevail in Rookie Battle?
January 6, 2012
Jared Wickerham/Getty Images
When the Cincinnati Bengals and Houston Texans met in Week 14 of the regular season, NFL followers nationwide were introduced to T.J. Yates.
Houston's rookie quarterback, who took the reins following injuries to both Matt Schaub and Matt Leinart, turned heads in just his second NFL start, throwing for 300 yards and two touchdowns en route to a last minute victory over the Bengals.
As for Cincinnati? They've got a pretty decent rookie under center as well.
While he was just the fifth quarterback selected in the 2011 draft, Andy Dalton has emerged as not only one of the class's best QBs, but as one of the best young players in the entire league.
So, the stage is set. With the Bengals and Texans scheduled to do battle once again this Saturday, which rookie quarterback will lead his team to a W?
Here's the breakdown:
T.J. Yates
Yates and the Texans took care of business last time they faced Cincinnati, but they haven't won a single game since, falling to Carolina, Indianapolis, and Tennessee in consecutive weeks.
Over that span, Houston has failed to score through the air and has allowed Yates to be sacked seven times.
Yates will be thankful to have Andre Johnson back on the field this week, but the two haven't had much time to work together and could be on different pages at times.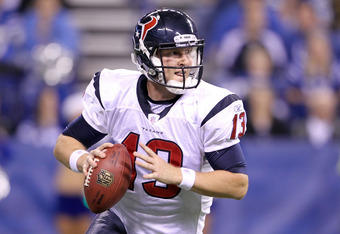 Andy Lyons/Getty Images
Cincinnati can rush the passer as well as anyone in the league, and if they can get to Yates as they did in Week 14, sacking him five times, the Texans could be in for some serious trouble offensively.
Yates will make his share of big plays, but he'll also make his share of mistakes.
Projected Stats: 220 Passing Yards, One Passing Touchdown, Two Interceptions
Andy Dalton
While Dalton didn't put up overly impressive numbers in his first go against the Texans, Saturday could be a different story. 
The rookie out of TCU has been at his best as of late, throwing for five touchdowns and just one interception over the Bengals' past six contests. Look for him to carry that solid play on into the playoffs.
He now has a full regular season under his belt, and that little bit of extra experience could put him a notch above T.J. Yates in this one.
Projected Stats: 232 Passing Yards, Two Passing Touchdowns, One Interception.
Projected Final Score: 27-19 Cincinnati