Dallas Mavericks Report Card: Early Grades for the Team's New Additions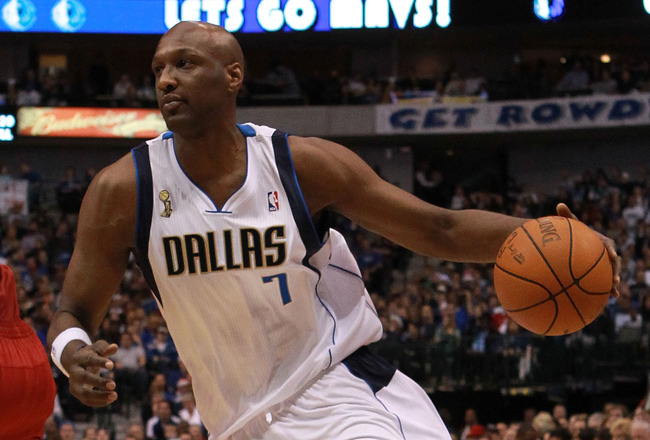 Ronald Martinez/Getty Images
After beginning their season just 4-5 through their first nine games of the regular season, the Dallas Mavericks don't seem to be the team that the whole world watched in last season's NBA playoffs.
Much of this could be due to this year's shortened preseason, but the Mavericks are definitely feeling the losses of their recently-departed stars Tyson Chandler, Jose Barea and Caron Butler.
Despite losing a handful of key players during the offseason, Dallas also made a few intriguing acquisitions in an attempt to make up for their loses.
Let's take a look at how the five newest Mavericks have fared through the first nine games of the 2011-12 season.
Brandan Wright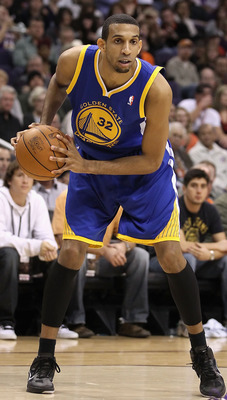 Christian Petersen/Getty Images
Grade: F
The former three-time Tennessee "Mr. Basketball" Award-winner and North Carolina Tar Heel standout hasn't had nearly the amount of success in the NBA that he enjoyed as an amateur.
Wright left UNC after just one season in Chapel Hill. The more I watch him, the more I realize that he was by no means ready to succeed at the professional level.
Selected way too high at eighth overall in the 2007 NBA Draft, it's about time to call Wright a bust. After burdening both the Golden State Warriors and New Jersey Nets in his first four pro seasons, Wright joined the Dallas Mavericks as a free agent in the offseason.
Dallas picked him up in an attempt to bolster their weakening backcourt after Tyson Chandler left to join the New York Knicks. Yet so far with the Mavericks, he's only played in 23 minutes through three games, in which he only averaged 3.7 PPG and one rebound.
That's about as bad of a start as you can have in the NBA without suffering some kind of season-ending injury.
Delonte West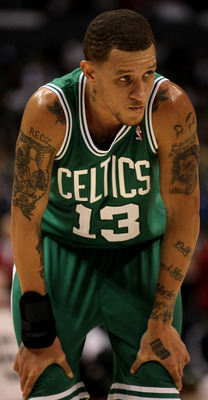 Stephen Dunn/Getty Images
Grade: B-
Journeyman Delonte West has been all around the league in his nine NBA seasons, and he's played pretty consistently everywhere he's gone.
On any given night, one can expect around eight points and three assists from the 6'3'' combo guard, and so far that's what the Dallas Mavericks have gotten from him this season.
West is never going to put up ridiculous numbers, but he's been an excellent role player everywhere he's played.
West is more than capable of playing both guard positions, but then again so is every other guard on Dallas' roster. It was a surprise that the Mavericks pursued West instead of a true point to backup the aging Jason Kidd, but he's played well since his arrival in Texas, so nobody's complaining.
Through nine games, West is shooting .456 from the floor and has yet to miss a free throw, which definitely has fans smiling. Coach Rick Carlisle also said that he considers West as one of the team's best defenders.
Throughout West's career, he always seems to be getting press for the wrong reasons. Due to a 2009 weapons charge, West will not accompany his new teammates to the White House to meet with President Obama to celebrate their championship.
Luckily, West has kept the drama to a minimum since coming to Dallas, which is arguably his best contribution to his new team so far.
Kidd is going to miss the next couple of games with a back injury, so fans will be seeing a lot more of West, who will be the replacement in the staring lineup.
Sean Williams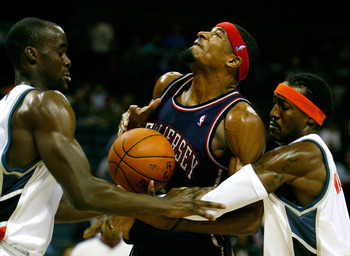 Kevin C. Cox/Getty Images
Grade: D-
Sean Williams just belongs in the NBA D-League.
After three mediocre seasons for the underachieving New Jersey Nets, Williams joined the Texas Legends, the D-League affiliate of the Dallas Mavericks.
He put together a spectacular 2010-11 campaign for the Legends, selected to the D-League All-Star game and finishing second in the voting for Defensive Player of the Year.
Due to his impressive stint with the Legends, the Mavericks picked him up following the end of the NBA lockout, hoping to provide their weakening frontcourt some extra depth.
Five days after his signing, the 6'10'' Williams suited up against the Denver Nuggets in his first game for the Mavericks. He put on an impressive performance, going 4-4 from both the field and the free-throw line and blocking a shot along the way.
Not bad for just 11 minutes of floor time, but his glory soon faded upon his departure from the court, when he threw up on his team's bench due to exhaustion.
He played two more games for Dallas, but on January 6th he was sent back to the Texas Legends.
Vince Carter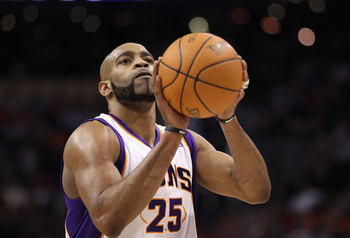 Christian Petersen/Getty Images
Grade: C
When Mavs fans heard that their team was about to sign veteran swingman Vince Carter, many probably had flashbacks to the early 2000s, when "Vinsanity" and his Nets teammate Jason Kidd were one of the league's best duos.
Unfortunately for Dallas, that Vince is long gone, but that doesn't mean that he can't be good with a 39-year-old Kidd for the 2011-12 Mavericks.
Carter was in Dallas' starting rotation on opening day against Miami, but after putting up just five points in that game, he lost his starting job almost as soon as he got it.
He's been coming off of the bench since then and has shown obvious improvement. He's reached double figures in four of Dallas' last eight games and even hit a clutch last-second three to give the Mavericks a late lead over the Oklahoma City Thunder (which was soon canceled out by the same shot by Kevin Durant).
It's safe to say that Carter has lost a step over the years, but he's still a viable scoring threat at any given time during a game. He can score inside and out and will still throw down a few of those nasty dunks of his from time to time.
Expect Carter's numbers to improve a bit, but not much. As of today, he's averaging just nine points per contest, which is downright unacceptable from him.
It will be interesting to see if he can regain his spot in the starting five anytime soon. He got his first chance to earn the spot back in last night's win against New Orleans in which he scored 13 points and pulled in a few rebounds.
Lamar Odom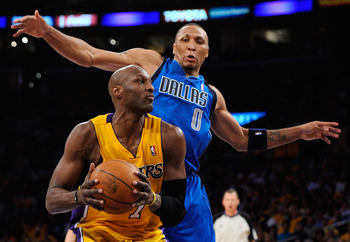 Kevork Djansezian/Getty Images
Grade: C-
Odom was easily the biggest acquisition for Dallas this offseason, but so far he's failed to live up to the hype.
The 2011 NBA Sixth Man of the Year averaged 14.4 points per game last season with the Lakers. Now, he's an even better gig in Big D, but he's only averaging around seven points per game.
He's only reached double figures once through the Mavericks' first nine games, and on opening day against Miami, Odom was ejected from his first game as a Mav after earning two technical fouls.
Yes, the transition to a new team is difficult, but with the many different scoring capabilities that Odom possesses, seven points per game is downright unacceptable.
Dallas head coach Rick Carlisle has also complained about Odom's conditioning, which has led to a reduction in his minutes.
Odom has also consistently averaged around eight or nine rebounds per game throughout his career, but so far with Dallas he's only been bringing in about four or five boards a night.
Obviously Odom has a lot he needs to improve on, but he needs to get better quickly because the Mavericks aren't going anywhere until he becomes an impact player for them on a nightly basis.
Yi Jianlian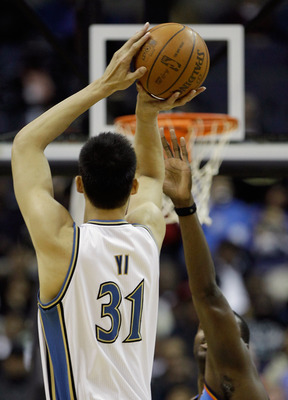 Rob Carr/Getty Images
Grade: N/A
Yi signed with the Mavericks on January 6th but will play for the Texas Legends alongside Williams for the time being.
Keep Reading

Dallas Mavericks: Like this team?