Greg Monroe: NBA's Next Star Big Man from Georgetown?
January 15, 2012

Kevin C. Cox/Getty Images
Things haven't gone so great for the Detroit Pistons over the past few years.
One bright spot, however, has been the play of young center Greg Monroe. 
Following two seasons at Georgetown University, Monroe was selected by the Pistons with the seventh-overall pick in the 2010 NBA draft. 
During his first season in Detroit, the 6'11" Louisiana native would produce 9.4 points, 7.5 rebounds and 1.3 assists per game, and earned a spot on the All-Rookie Second Team.
So far this season, Monroe is averaging a much-improved 16.6 PPG, 9.2 RPG and three APG, and ranks fifth in the league in field-goal percentage.
If he continues to improve, Monroe could turn into an All-Star in the near future, causing his name to be mentioned in the same sentence as fellow former Georgetown big men Patrick Ewing, Dikembe Mutombo and Alonzo Mourning.
After leading the Hoyas to a national championship, Ewing went to have a phenomenal 17-year NBA career, mostly with the New York Knicks. The 12-time All-Star was a member of the Original Dream Team, named one of the 50 Greatest Players in NBA history and inducted into the Hall of Fame in 2008.
College teammates Mutumbo and Mourning are two of the NBA's most intimidating defenders of all time. Mutombo was named the league's Defensive Player of the Year four times, while Mourning received the honor twice during his career.  
Also, Mutombo was an eight-time All-Star, while 'Zo made the midseason classic seven times.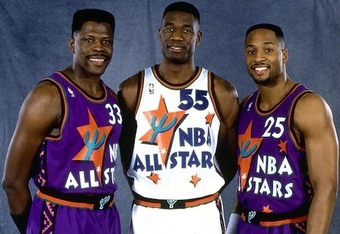 Monroe may never match the accomplishments of that well-known trio before him, but look for him to develop into one of the game's top players here shortly.   
On Thursday night, Monroe showed a flash of greatness, scoring a career-high 32 points and grabbing 16 rebounds (one shy of a career-high) against the Milwaukee Bucks. He connected on 12 of his 16 shots from the field and was also a perfect 8-for-8 from the charity stripe.  
He became only the third player in Pistons history to record at least 32 points and 16 boards in a game. Dennis Rodman and Grant Hill were the first to do so.  
Monroe is a superb passer, he can rebound with the best of them and his mid-range shot is getting better by the day. And, his .805 percent from the free-throw line this season looks pretty good as well. 
His shot blocking could use a little work, though, seeing that he's averaging just 0.5 BPG this year.
But at the extremely young age of 21, Monroe has all the time in the work to improve his weaknesses on the court.
One day, the Georgetown "Big Three" of Ewing, Mutombo and Mourning might be referred to as the Big Four instead.