Detroit Pistons: Loss to Chicago Highlights Their Weaknesses and NBA Status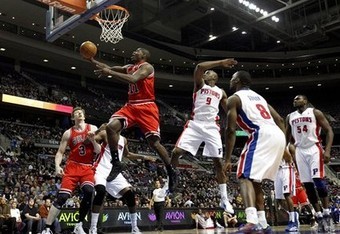 The Chicago Bulls recreated Pamplona at the Palace of Auburn Hills Wednesday, trampling the Detroit Pistons, 91-83. The loss should really come as no surprise to anyone though.
The Pistons are a young team that is rebuilding and the Bulls are bona fide championship contenders. They also have a player by the name of Derrick Rose who will likely be an MVP candidate for the next decade.
Unfortunately the Pistons have no such player. They are a team searching for a star and an identity. They are just trying to make a name for themselves in the NBA.
The loss on Wednesday shone a white-hot spotlight on Detroit's status as little fish in the big NBA pond.
I think this idea was generally accepted by most people. The problem is that Detroit just beat the Orlando Magic two nights earlier. This is a perennial playoff team with an MVP candidate—Dwight Howard—of their own.
The Pistons beat them convincingly, smothering Howard defensively and dominating the glass. Ben Gordon had his best game of the early season—leading all scorers with 26 points—and all the starters had solid performances.
This was the type of win that raises expectations.
Do the Pistons have a chance of squeaking into the Playoffs?
That is why the loss to Chicago stings more than it should. Not because they lost, but because they were thoroughly dominated.
Just when you think maybe the Pistons are ahead of schedule—possible playoff contenders?—their performance on Wednesday sends you crashing back to reality.
The Bulls were able to effectively take Ben Gordon out of the game. He only had seven points on 2-10 shooting. Without Gordon the Pistons were not able to get into any kind of offensive rhythm.
Pistons teams of the past had two, three or even four legitimate scoring options. Any one of those players could put up 20 on any given night.
Detroit has no such consistent threat, other than Gordon. So when he's ineffective, the Pistons' chances are not good.
Every team needs a player on offense that is capable of carrying the load when called upon. Detroit has not had anyone step up to that role yet.
Greg Monroe and Jonas Jerebko had nice games. Particularly Monroe's performance stood out (19 points and 13 rebounds). But those performances were just that—nice. They can't carry a team night in and night out.
Kevin C. Cox/Getty Images
The fact that Chicago beat them at their own game—defense—was perhaps the most demoralizing aspect of the game.
The Pistons did hold their opponent under 100 points for the fourth straight night. However, allowing a team to consistently score in the 90's won't work if your team is only able to score in the 80's.
It doesn't add up.
Even more frustrating was Detroit had an off day. Chicago was busy defeating Atlanta in a hard fought contest Tuesday night. The Pistons should have been the ones with the fresh legs.
Instead it was the Bulls running circles around the addled Pistons.
In a shortened season, with a lot of games crammed into a short period of time, the Pistons need to take advantage of whatever edge they have. They failed to do this against Chicago.
The season is young, and so are the Pistons, so one game doesn't mean much now.
But treating games against the best in the NBA is a good measuring stick to evaluate where your team is at.
Today, I'm sure the Pistons are not pleased with that evaluation.
This article is
What is the duplicate article?
Why is this article offensive?
Where is this article plagiarized from?
Why is this article poorly edited?

Detroit Pistons: Like this team?