NFL Playoff Schedule 2012: Picking the MVP from Each Wild-Card Game
January 5, 2012
Chris Graythen/Getty Images
It's almost playoffs time, baby!
Even if one of your teams isn't involved in the playoffs this year, I know you'll be tuning into the NFL playoffs this weekend. And I know you'll be sitting around with the boys (or girls), talking about the game and shooting off predictions about who will win, what players are going to have big games and how many wings your Buddy Steve will consume over the weekend.
I can't help you with your Steve prediction, but I can give you an idea of which players I think will be the key to their team's victory this weekend.
Pittsburgh Steelers at Denver Broncos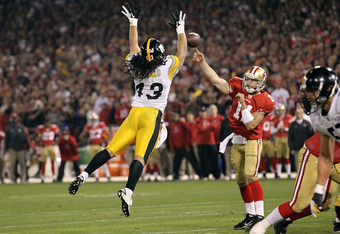 Karl Walter/Getty Images
Date and Time: Sunday, Jan. 8 (4:30 p.m. EST on CBS)

The MVP: Troy Polamalu

Analysis: With Ryan Clark out this week, Polamalu's role becomes all the more important. With priority No. 1 for Pittsburgh likely being to shut down Denver's running attack and forcing Tim Tebow to take to the air, I would expect Polamalu to spend much of the game inside the box, helping to contain the run game.
And on obvious passing downs, well, who knows where Polamalu will end up? He might be used as a blitzer on Tebow, or he might roam around in coverage and look to pick off several of Tebow's passes.
When Denver has the ball, look for the guy with the crazy hair. I expect he will be where the ball is for most of the game and lead the Steelers to an easy victory.
Cincinnati Bengals at Houston Texans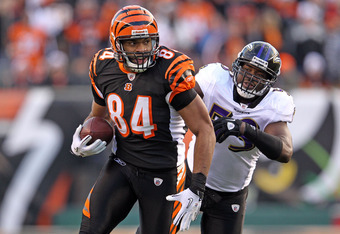 Andy Lyons/Getty Images
Date and Time: Saturday, Jan. 7 (4:30 p.m. EST on NBC) 
The MVP: Jermaine Gresham

Analysis: With talented cornerback Jonathan Joseph likley shadowing A.J. Green all day long—he held the rookie to five catches for 59 yards when the teams met in Week 14—and the Texans' fourth-ranked run defense holding Cedric Benson in check, someone else is going to have to pick up the slack for the Bengals offense.
That man is Jermaine Gresham. Gresham's combination of size and speed makes him difficult to defend, and the Bengals rely on him to perform multiple roles in order to keep their offense clicking. In a low-scoring game, it will be the contributions of the Bengals' tight end that will propel them to victory.
Atlanta Falcons and New York Giants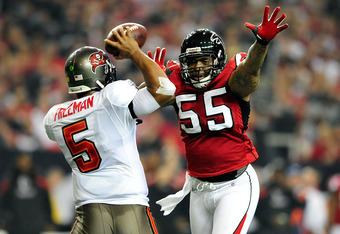 Grant Halverson/Getty Images
Date and Time: Sunday, Jan. 8 (1 p.m. EST on FOX)

The MVP: John Abraham

Analysis: I fully believe this will be a shootout, with two prolific offenses taking advantage of two rather porous defenses.
In such a game, turnovers become a key, and I believe Abraham will be in Eli Manning's face the entire game, finishing with multiple sacks and perhaps causing Manning to fumble or force poor throws that result in interceptions.
Abraham can be a force when he gets going—in Week 15, he had 3.5 sacks against the Jaguars—and finished the year with 9.5. If Abraham gives Eli fits, the Falcons should be headed to the divisional round.
Detroit Lions at New Orleans Saints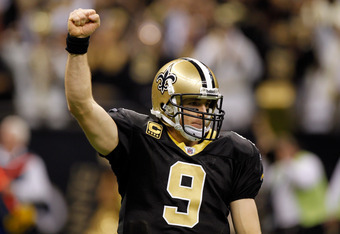 Chris Graythen/Getty Images
Date and Time: Saturday, Jan. 7 (8 p.m. EST on NBC)

The MVP: Drew Brees

Analysis: Sometimes, you have to go with the obvious choice. And let's be honest here—does anyone think the Lions' 22nd-ranked pass defense can slow down Brees?
No, of course not. Brees will throw the Saints into the next round.
Hit me up on the Twitter—all the cool kids are doing it.