Cotton Bowl 2012: Bold Predictions for Kansas State vs. Arkansas
January 5, 2012
Wesley Hitt/Getty Images
For all intents and purposes, Friday's Cotton Bowl Classic game is a BCS bowl in my opinion, considering you have two top-10 teams—Arkansas is ranked sixth and Kansas State is ranked eighth—squaring off. And this one promises to be another high-scoring and exciting affair, with Arkansas outscoring Kansas State in the end.
But that's not really a bold prediction. You came here for some bold predictions, so let's get to it.
In a game marked by excellent special teams play, Arkansas punt returner Joe Adams will be the game's MVP.
Kansas State will block a field goal at a key moment in the game (defensive tackle Raphael Guidry blocked four kicks this year), but it will be the electrifying Adams who will steal the show, returning two punts for touchdowns.
Special teams will be a huge factor in this game, and the team that gains the advantage through them will probably win this contest.
Guess what? Both teams are going to score 40 or more points in the game.
Consider that Kansas State's strength as a team is running the ball behind quarterback Collin Klein, who rushed for 1,099 yards and 26 touchdowns this season, and Arkansas surrenders 174 rushing yards per game.
Kansas State should be able to move the ball.
Meanwhile, Arkansas was 13th in the nation in passing yards, averaging 308 yards per game, while Kansas State struggled against the pass, allowing 24 passing touchdowns and 267 yards per game (104th in the nation).
Arkansas won't have any problem carving up Kansas State's secondary.
Final score? Arkansas 49, Kansas State 41.
Kansas State cornerback Nigel Malone will keep it close with a huge night.
The Big 12's leader in interceptions with seven this season will certainly get his opportunities against pass-happy Arkansas and he'll deliver, finishing the game with two interceptions, one of which he'll return for a touchdown.
Arkansas will win because they will maintain offensive balance with the running game.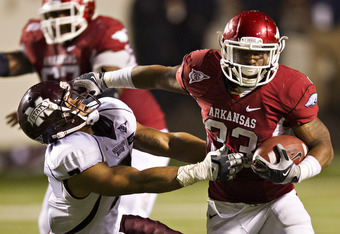 Wesley Hitt/Getty Images
In a game that pits two prolific offenses with varying styles, the team that can maintain balance offensively will ultimately have the edge.
Arkansas—which averages 138 yards per game on the ground—is more likely to keep Kansas State's defense off-balance. Consider that Kansas State finished last in the Big 12 with only 149.8 passing yards per game.
Ultimately, Kansas State's predictability will hamper them on key third downs, leading the Wildcats to kick two field goals and allowing Arkansas to sprint past them for the win.
Hit me up on the Twitter—all the cool kids are doing it.