Jason Garrison Holding His Own in with Florida Panthers
January 5, 2012
Joel Auerbach/Getty Images
His cannon of a shot has helped put him on the top of the scoring list among NHL defencemen, but Jason Garrison's top priority isn't seeing the red light come on whenever he winds one up from the blue line.
He's netted 11 goals to date, the only big-league defenceman to have reached double digits in goals in 2011-12. And while the man behind the booming blasts is thrilled to be contributing to the Florida Panthers' success story, it's another side of his game that takes top priority.
"For me, it's all about defence," Garrison recently told NHLPA.com. "The first order of business is to do what I have to do in my end. If I can move the puck out of our zone by delivering a solid pass or being physical down low, then I feel as though I'm doing my job."
Undrafted, the native of White Rock, British Columbia, has been one of the league's top two-way defencemen this season; a player capable of making his presence known both offensively and defensively.
In 2010-11, Garrison had 18 points, including five goals, for the Panthers. This year, the 27-year-old has put more faith in his offensive abilities.
Teammate and fellow blueliner Brian Campbell, battling for the league lead in points by a defenceman, has rave reviews for Garrison, a player who played collegiate hockey with the University of Minnesota-Duluth of the WCHA before signing a two-year, entry-level contract with the Panthers on April 2, 2008.
"We've really clicked well together, and that's only gotten stronger as the season has gone on," said Campbell, who was dealt to Florida in exchange for Rostislav Olesz during the 2011 NHL Entry Draft. "He has a fantastic shot, and he's very strong in his own end."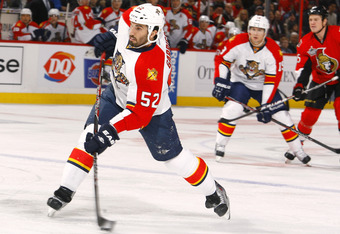 Phillip MacCallum/Getty Images
Garrison, who turned professional in the 2008–09 season with the Panthers' AHL affiliate, the Rochester Americans and scoring 35 points and earning a solitary recall to make his NHL debut against the St. Louis Blues on October 25, 2008, likes what he sees in Florida, a team that has missed the postseason for a record 10 campaigns.
"We had a so-so exhibition season, but by the first game of the year, we felt that we could be competitive with anyone," said Garrison, who split the 2009–10 season between the Panthers and the Americans, scoring his first NHL goal in a 7-4 victory over the Philadelphia Flyers on March 3, 2010. "We brought in new players, but everyone gets along. We're very tight. Everyone is happy coming to the rink and everyone wants to win."
What makes the Panthers a tough team to play against? 
"We have a lot of speed which is always a good thing to have," said the 6'2", 220-pounder. "Our forwards do an excellent job hanging on to the puck down low. Our strong puck possession is something that's also helped us be successful."
Even though he's only played in slightly more than 150 NHL regular season games, Garrison is happy with how his game has progressed since he took his very first big-league shift.
"Your first game is always a blur, but I remember on one shift Keith Tkachuk coming in hard, driving to the net, and I was able to hold my own," recalled Garrison, who points to team leaders Ed Jovanovski and Tomas Kopecky as two key veteran presences. "And as you go on, all you look to do is get better and hopefully, that leads to team success."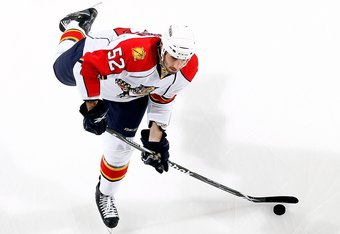 Jim McIsaac/Getty Images
Garrison also sees things getting better for the Southeast squad, who have finished fifth and last in their division the past two seasons, winning 30 games, along with 72 points, in 2010-11.
Currently leading the Southeast and holding down a playoff spot, the Panthers know what to expect as the mid-point of the season draws ever closer.
"It's only going to get tougher from here on in," said Garrison. "We know that, and we know we have to be even better as the season goes on. We haven't lost sight on what it takes to make the playoffs."
And Garrison's teammates haven't lost sight of that either. "He comes to play every night, and he has a great personality and attitude," praised Campbell. "He's an ideal guy to have on your team."
A player that always seems to take his best shot regardless of where he is on the ice.
Visit NHLPA.com for more player news and videos.
Unless otherwise noted, all quotes were obtained firsthand.