2012 Orange Bowl: 5 Things West Virginia Needs to Improve on in 2012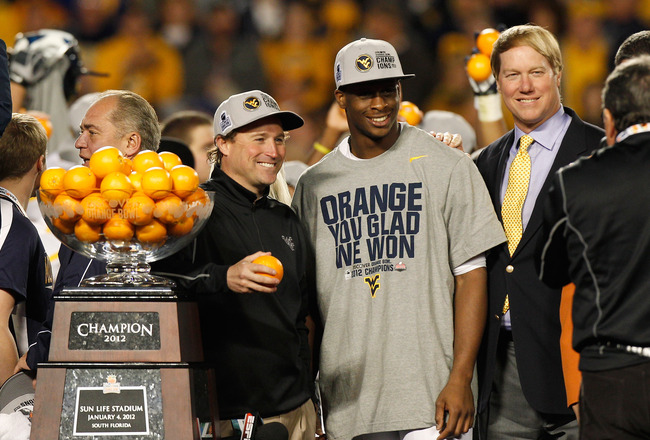 J. Meric/Getty Images
After absolutely pummeling Clemson by a magnitude that's literally off the charts, it's difficult to make an argument that the newly crowned Orange Bowl champion Mountaineers are currently in need of a bunch of improvements.
But despite the very real aura of good feelings, West Virginia is still a team that lost three games in 2011, and though things ended on a very high note, they're far from bulletproof.
Yes, a season must be reviewed in light of all the games—not just the last one.
And so, upon this foundation of logic and goodwill, following are five areas where West Virginia needs to make improvements coming into the 2012 season.
Turnovers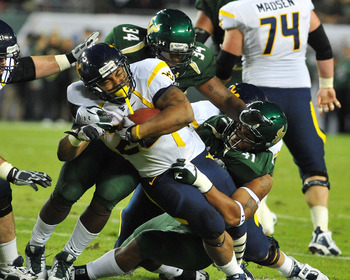 Al Messerschmidt/Getty Images
Even though the Mountaineers suffered only a single turnover in their 70-33 manhandling of Clemson (and it came via an interception by backup QB Paul Millard) fumbles/interceptions were a problem in the bigger picture of 2011.
From an overall standpoint, West Virginia had 21 turnovers this season, earning the No. 56 ranking nationally. Dissecting the number further we see that it suffered 13 fumbles, which earned them a No. 90 ranking nationwide.
Even more significant than the total number or breakdown is when the turnovers occurred and their subsequent negative effect in specific games.
The Mountaineers had two or more turnovers in each of their three losses, which is certainly no coincidence.
In the LSU loss, a season-high four turnovers were committed, and two lost balls were suffered in the Syracuse and Louisville defeats.
It's important to note that West Virginia also managed wins in games against Maryland, Pittsburgh and USF where they suffered three turnovers each, but the total margin of victory in these three contests was 10 points, and the foes combined for six turnovers of their own.
There is no doubt that if the Mountaineers are looking for the level beyond a BCS bowl win then minimization of turnovers will be essential in 2012.
Offensive Balance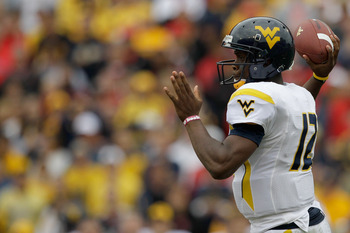 Rob Carr/Getty Images
The Mountaineers rushed for 188 yards in the Orange Bowl which marked their third-highest output on the ground in 2011, which is even more impressive given the loss of leading rusher Dustin Garrison to injury.
That said, from an overall standpoint West Virginia was imbalanced offensively in 2011, and moving forward it will be important to continue to establish a consistent running game to keep defenses guessing.
To illustrate the disparity, the Mountaineers were ranked No. 8 nationally in passing yards in 2011 with 341.8 yards per game and No. 100 in rushing yards with only 117.8 yards per game.
Penalties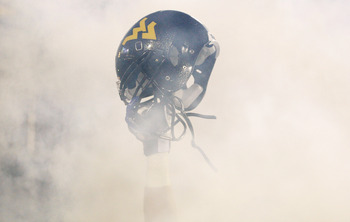 Jared Wickerham/Getty Images
Penalties are another key area where West Virginia achieved an above average performance in its Orange Bowl triumph.
In the 2011 regular season, the Mountaineers averaged 54.8 yards in penalties per game, while in the win over Clemson they lost only 40 yards to infractions.
Those numbers might not seem significant, but West Virginia ranked No. 78 out of the 120 FBS teams in penalty yards per game, which is a number that must be limited to maintain a conference championship level and higher.
Takeaways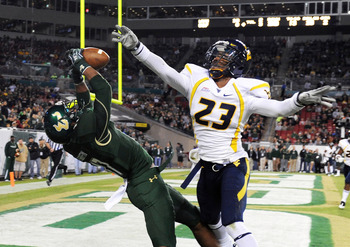 Al Messerschmidt/Getty Images
The Mountaineers scored four takeaways in the Orange Bowl, which obviously had a lot to do with changing the tide in the game and then ultimately leading them to whip Clemson 70-33 in a record-setting performance.
It's interesting to note that while the two fumbles and two picks against Clemson were thrilling, they represent a whopping 21 percent of the total takeaways West Virginia scored in the 2011 regular season.
In all, the Mountaineers took 19 balls from foes during the 12 regular season games, which ranked a lowly No. 75 nationally.
Here is another area where there is room for improvement and yet another area where improvement in the bowl game spawned the tangible results of a huge win.
Kick Coverage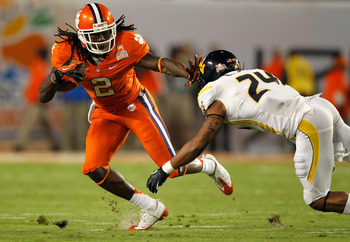 Streeter Lecka/Getty Images
In a bit of an intriguing statistic from what was a lopsided win of monumental proportions, West Virginia gave up 179 yards on kick returns in the 2012 Orange Bowl.
And kick coverage is an area that the Mountaineers have struggled with all season long.
West Virginia ranked No. 100 in opponent punt returns with 11.27 average yards per return and No. 108 in kick returns with an average of 24.52 yards allowed per game.
Kick and punt coverage will be critical areas of concern for the Mountaineers in 2012 if they hope to build on the very positive ending to the 2011 campaign.
Keep Reading

WVU Football: Like this team?