Elin Nordegren: Tiger Woods' Ex-Wife Plays Role of Home Wrecker, Levels Mansion
January 5, 2012
Harry How/Getty Images
After receiving roughly $100 million from ex-husband and golf icon Tiger Woods in a divorce settlement, Elin Nordegren can pretty much do whatever she wants. That much is now apparent as she ordered the demolition of a brand new $12 million Florida mansion.
According to TMZ, Nordegren had the home leveled and will now hire an architect to build her dream home. The move is an ironic twist of fate as she came to fortune thanks to the home wreckers Tiger was hooking up with and now she is, in effect, a home wrecker in her own right.
Say what you will about Elin being wasteful in this instance, but it's also fair to say that she has earned the right to be. Woods made the mistake of cheating on her with a veritable laundry list of women, so it's her prerogative to do whatever she wants with his money.
Although you have to wonder why a six-bedroom, eight-bathroom mansion wasn't good enough for Nordegren, few of us will ever understand the thought processes of those who are filthy rich. If I had $100 million I would probably order for random houses to be destroyed as well, just because I could.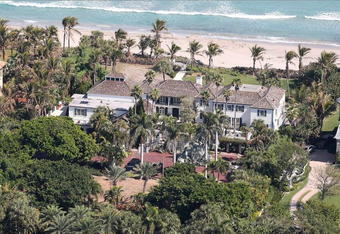 In some ways the demolition of the house could be looked at as a metaphor for the way Tiger destroyed his marriage. For whatever reason having a beautiful wife and children simply wasn't enough, so he had to get some side action. That parallels Elin's feelings about the mansion she just destroyed in favor of a fancy new trollop.
Whatever the case it's nice to see that Nordegren is doing well. Even though she came out of the deal looking great and $100 million richer, you had to feel for her because of the way she was played. Now she's out of a toxic relationship and funding multi-million-dollar construction projects. I'd say she ultimately made out pretty well in the ordeal.
As for Tiger his personal life has been very much under wraps since the whirlwind that revealed his "transgressions." He also ended a two-year win drought by coming out on top in the Chevron World Challenge a couple months ago.
When Tiger's infidelities came to light his character and his golf game both took a major hit. When it's all said and done, though, both he and Elin will probably be better for it.