UFC 145: Building out the Rest of the Event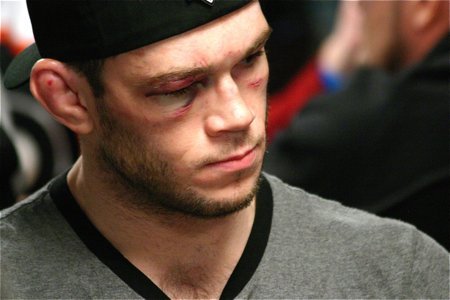 The world's leading premier mixed martial arts organization is set to return to the Bell Centre on March 24 for UFC 145.
The event marks the first time that the promotion will be venturing to Canada this year, just a few months after a light heavyweight tilt between Jon Jones and Lyoto Machida graced the Air Canada Centre in Toronto.
Several bouts have already been rumored for the pay-per-view event, though a concrete card with a suitable main event has still been lacking.
Begin Slideshow

»
mmajunkie.com
A battle between two of the division's most explosive strikers could be just what the doctor asked for.
While Wineland, the former WEC champion, wields crushing knockout power, the Canadian in Jabouin is a fast and wily opponent, making this an intriguing fight.
mmajunkie.com
Canadian middleweights Carmont and MacDonald are in two different points in their career.
"The Athlete" is nearing the end of his run in the sport, having lost two of his last three bouts inside the Octagon while Carmont recently earned a win in his Octagon debut when he bested The Ultimate Fighter vet Chris Camozzi by decision.
"The Polish Experiment" quietly retired from the sport after his recent knockout at the hands of Igor Pokrajac last December, even though the Canadian has looked to be one of the consistently strong competitors in the light heavyweight class.
Should he continue to fight, a battle with the equally physically gifted Kyle Kingsbury could be in order as both men look to reestablish themselves in the 205-pound division after their recent setbacks, with the AKA star dropping a lopsided decision to Stephan Bonnar in his last bout.
combatlifestyle.com
"The Huntington Beach Bad Boy" followed a career resurgent victory over Ryan Bader with consecutive losses to Rashad Evans and Antonio Rogerio Nogueira.
Now, Ortiz has stated that only one more fight is all he has left and the former champion now seeks a final encounter with that of rival Forrest Griffin, whom has also expressed interest in leaving the sport in the near future.
mmajunkie.com
Junior dos Santos is fresh off the mend from injury so don't expect the heavyweight title to be up for grabs too soon.
Jon Jones fought four times in 2011, defending his belt twice in September and December, so you can anticipate the light heavyweight champion returning mid-year.
Jose Aldo will be defending his belt later this month and an immediate return is unlikely.
Middleweight champion Anderson Silva is still out with injury and the next challenger to his title will take place in January.
Georges St-Pierre recently suffered a devastating knee injury which has since required invasive surgery and will have him out of the cage for the better part of a year, while the would be interim champion will be decided in February.
Lightweight stud Frankie Edgar will be defending his belt in the UFC's return to Japan this February against powerhouse Benson Henderson.
This long tangent was only used to illustrate the competitive nature of each division and their mending champions and while a quick return to the cage for flyweight potential flyweight tournament finalists in Joseph Benavidez, Demetrious Johnson, Yasuhiro Urushitani or Ian McCall; it would help create a sense of continuity that will keep fans interested in their inevitable championship encounter should they produce a quick turn around.