LSU vs. Alabama: BCS National Championship Game Guarantees and Predictions
January 5, 2012
Kevin C. Cox/Getty Images
For at least a little while, I've decided to take LSU/Bama II, the 2012 BCS title game, seriously. Believe me, I haven't turned a corner in thinking that Monday's rerun is any more attractive, but hey, it's the last college football we'll get until Aug. 30 and I'm already feeling nostalgic about the season. On to the guarantees and predictions!
• Brent Musburger will use the word "folks" within the first five sentences he utters during the opening aerial shot of the Superdome. If he doesn't, you know he's been compromised. I can't be more specific at this time.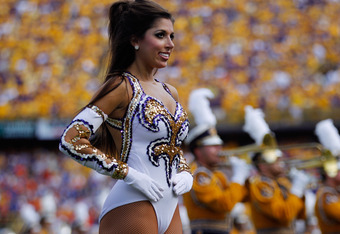 Chris Graythen/Getty Images
• LSU's Golden Girls will make everyone opposed to an all-SEC rerun in the title game forget about what they were even upset about in the first place. This isn't actually that brave a prediction, I just wanted an excuse to Google "LSU Golden Girls."
• As per usual, Les Miles will run onto the field with the team, but in a dizzying upset, he won't be trampled or inexplicably splinter off from the group in the direction of the wrong sideline. Let's call it a New Year's resolution.
• LSU QB Jordan Jefferson will throw a first-quarter TD of longer than 15 yards. It will immediately prompt everyone to think we might be in for an evening of points and offense. This will prove to be false.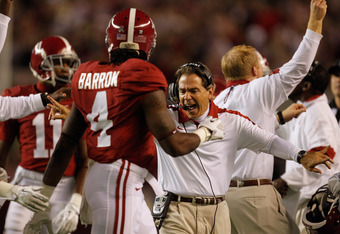 Streeter Lecka/Getty Images
• Nick Saban will become uncharacteristically excited after a big Alabama special teams play before pulling the scholarship from whoever made said play. Nobody's safe.
• Alabama will score a goal-line touchdown on a late release route run by TE Michael Williams. It never ceases to be a thing of beauty.
• LSU DE Sam Montgomery will unanimously win Monday night's Wait, He's a Sophomore???? award after spending more of the night in Alabama's backfield than on his own team's line. Yes, he takes it home over Tyrann Mathieu.
• Speaking of which, predicting Mathieu forcing a fumble is like predicting Nick Saban wearing khakis a couple of sizes too big, but it must be said: Mathieu is forcing a fumble. Not from Trent Richardson, mind you, but the Honey Badger's jarring something loose early in the third quarter.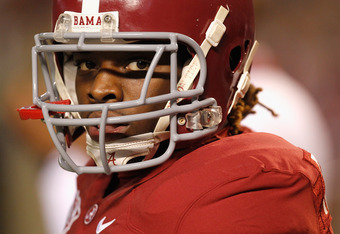 Streeter Lecka/Getty Images
• Trent Richardson's not getting to 100 yards on the ground, but he'll still have a momentum-shifting run at some point on a screen pass. If possible, he may leave an LSU linebacker cross-eyed. He's a fun one.
• Outgoing Alabama offensive coordinator and new Colorado State head coach Jim McElwain will savor his final opportunity to call plays like Trent Richardson Right and Trent Richardson Left. Crafty!
• LSU WR Rueben Randle will, at some point, win a jump ball in the back of the end zone. Across the many fine counties in Alabama, bangs will grabbed in horror, male and female alike.
• An ongoing storyline will be whether or not the defensive stylings of these two teams makes for games as exciting/entertaining as the Rose Bowl or Fiesta Bowl. Members of the broadcast booth and 16 percent (!) of the country will contend defensive battles are indeed just as entertaining as balanced games.
• Win or lose, there's no way the LSU equipment staff is getting any of the Courtney Upshaw out of Jordan Jefferson's jersey on the first wash.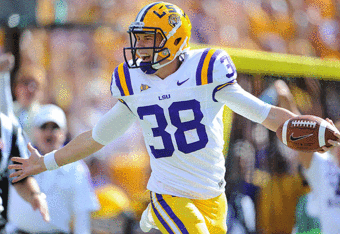 •  Star Alabama WR Marquis Maze will amass fewer receiving yards than the game's over/under (40), but 17 of those will come on a touchdown reception over Morris Claiborne.
• LSU P Brad Wing will execute a perfect fake punt and save the taunting for the sideline. You've earned it, big boy.
• Because it's been the theme of the week (and of the last game these two teams played), the game will come down to feet—not the measurement, but the steel toes of special teams. Like last time, though, Alabama will miss too many, and LSU will find 7s in the red zone more often than it'll find 3s. It'll be good enough for another Tiger national championship in New Orleans.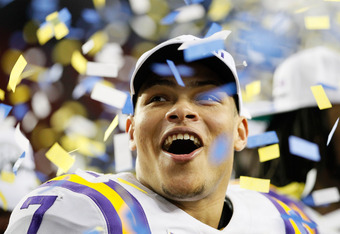 Kevin C. Cox/Getty Images
• LSU wins 17-13 and Les Miles will say things in the postgame press conference that most reporters either take to mean Miles is overwhelmed with emotion or that there's a good chance he's been coaching these past few years with a crayon shoved deep into his brain. Either way, it worked.