Cleveland Browns 2011 Season Post Mortem: Not as Bad as You Think
January 6, 2012
Rob Carr/Getty Images
It's safe to say that a 4-12 season was not what we all were hoping for from the Cleveland Browns' 2011 season. It may have been what some were expecting, but I think even those people were still disappointed.
In my season preview column I said that I thought the Browns had a very good chance to start the season 7-0. That mostly just conjecture and who wants to read about the team middling all the time?
I looked at the schedule and felt that if the Browns improved like we thought they had after several strong showings in the preseason, then they could jump out to a great start.
I looked at the roster and saw improvements enough to think that this team could be in the mix for the playoffs at the end of the year. Basically, I thought they could have the season that the Bengals had.
And as crazy as this might sound, I don't think they were that far off.
I do not believe that this Browns team is quite as devoid of talent as many would have you to believe. Is there room for improvement in all aspects of the game? Sure. But every team in the NFL will tell you that.
Let's start with the defense that finished 10th in the NFL in total defense and fifth in points per game. The Browns had a very good defense this year. With a few exceptions, they kept the team in every game.
There are several playoff teams who would love to have the Browns' defense right now instead of their own. You don't think that Green Bay (32nd), New England (31st), the Giants (27th), New Orleans (24th), or Detroit (23rd) wouldn't love to switch defensive units with the Browns for the next month?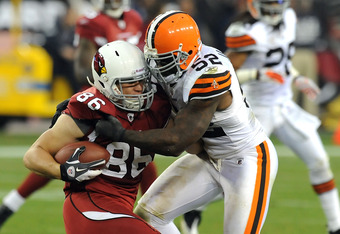 Norm Hall/Getty Images
The Browns may have finished 30th in total defense against the run, but did you know that on a yards per carry basis they still were ahead of each of those playoff teams listed above (Cleveland was 21st at 4.4 YPC)?
And for as much as Browns fans have complained about Sheldon Brown getting torched all the time (which isn't true) he was still a starter on the No. 2 pass defense in the NFL (fifth in YPA).
And I could go right back to that same list of playoff teams and say with certainty that Sheldon Brown would be a starter on every team except probably Green Bay.
With that said, it should go without saying that every team looks to improve every aspect of their team.
The Browns could upgrade at right defensive end opposite Jabaal Sheard. They could upgrade corner over Brown. They could upgrade at safety.
And I think they could definitely use an upgrade at outside linebacker, though I really liked how Chris Gocong played after Scott Fujita (who needs to go) went down for the season.
Is the defense perfect? No. Even the Steelers and Ravens try to improve their defenses every year.
But is the Browns defense a potential championship defense? You bet it is! In a league where half of the teams in the playoffs are terrible on defense, let alone mediocre, the Browns can win with what they have.
The offense on the other hand, ehhhhhhhhhhhhhh...not so much.
Equally as important to point out that teams (outside of the AFC North) aren't playing any defense in the NFL anymore is that big-time offense is what wins. And that usually comes through the air.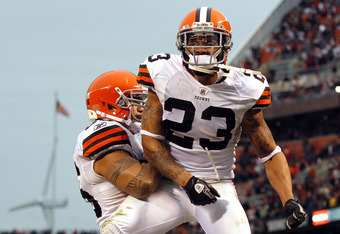 Matt Sullivan/Getty Images
Of the playoff teams, really only the 49ers, Ravens, and Broncos are built primarily on the run. And those teams rank 26th, 15th, and 23rd in total offense respectively meaning they have great defenses or play in crappy divisions. (The Bengals and Texans are fairly balanced between run and pass.)
If you ask most pundits, the favorites to reach the Super Bowl are Saints, Patriots, and Packers who incidentally rank one, two, and three in total offense. The other team that gets a lot of love is the Steelers who are 12th but also have the top defense in the league.
I bring all of this up to accentuate the point that the Browns aren't going to get where we need to be with an offense that ranks in bottom five of the league every year.
That might work for San Fransisco and Denver, but unfortunately for us we don't play in the NFC or AFC West, and a .500 record is never going to win our division.
That is why upgrading the offense is priority No. 1 this offseason.
If you watched the Browns this year I don't need to tell you that they finished 29th in total offense, 24th in passing offense, 28th in rushing offense, and 30th in points (a cool 21.4 points per game off the league-leading Packers). If you watched them, you know they stink.
But the question is "Why?" And that may not be as easy to explain as you might think.
As maligned as the offensive line was at times, I don't think they were the crux of the problem. Other than Tony Pashos, who should have been cut about halfway through the season, the rest of the line progressed well I thought and wasn't half bad by the end of the year.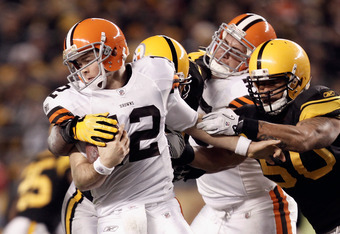 Jared Wickerham/Getty Images
Add that to the fact that there are several teams with far worse offensive-line issues than the Browns. Take our division rivals the Steelers. They consistently have what seems like two to three guys on their line out with injury every year and yet they seem to be producing just fine.
The Patriots and Packers have also had tons of injury problems on the line and poor blocking, but they're the best offenses in the league.
I would welcome new guys on the line, but you still have to two Pro Bowl-caliber players there, and as a whole they can get the job done just fine (especially with a healthy Eric Steinbach).
Some people clamor about our lack of a running game. Why they bring this up in today's NFL is beyond me. It's true you can have a winning team with a good running game. But the best teams are winning with passing.
Of the top five offenses in the league, only two (Philadelphia at No. 5 and New Orleans at No. 6) have top ten running games. Of the other three, New England is highest at No. 20. Green Bay is sitting at 27th and Detroit is 29th.
What's interesting about that is the Browns are right smack dab in between those two teams at No. 28.
I am here to tell you that in 2011 the Cleveland Browns had a running game that was on par with two top five offenses. Just typing that and looking back over that statement seems ludicrous. But it's true.
And with a healthy Peyton Hillis (who I think should be back, but we won't get into that) and more Chris Ogbonnaya (who should have gotten more reps) the Browns will be fine at running back.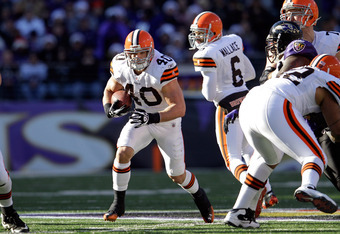 Rob Carr/Getty Images
What's the difference then between the Browns and those other great offenses? The answer is simple, and I've been hinting at it this whole time: no passing game.
We've all heard the statement "The National Football League is a passing league now" a thousand times. But it's true.
If the Browns want to win, they need to get the quarterback and receiver problem fixed.
I think this should be the sole focus of the offseason. Everyone can talk about how "the Browns have so many needs they need to take what they can get and wait on a QB" but I think that's a load of crap.
There are no perfect teams in the NFL. They all have flaws and they will all always have flaws. But what I do know is that if you can get a quarterback and a couple decent receivers with at least one stud, you can win it all in this league.
I'm not going to break down what I think the Browns should do in this column. I'm going to save that for a little series over the next couple months.
But I firmly believe that if the Browns can get a QB (and you know what I'm talking about) and a great receiver, then they will be a playoff team.
I'm not saying it will happen in one year like it did for the Bengals but it won't take long. Look at the Lions. They went from a winless season to the playoffs in a couple years because they have Matthew Stafford and Calvin Johnson.
I know those guys don't grow on trees and you can't walk down to the corner deli and pick up a franchise QB, but that's the only solution.
Don't talk to me about drafting a running back or defensive back and think that's going to solve anything.
The Browns won't go anywhere as long as the passing game is as bad as it is.
A 4-12 record might look pretty bad right now. But 4-12 is only a QB and a WR away from the playoffs.
Believeland.
You can follow Benjamin Flack on Twitter @ClevelandFlack.