Manning Brothers in New York? Peyton Manning a Possibility for New York Jets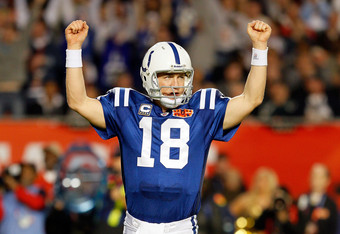 Andy Lyons/Getty Images
Last season, the New York Jets ended Peyton Manning's Super Bowl hopes when they beat the Indianapolis Colts in the first round of the playoffs.
Next year, Peyton Manning and the Jets might make their way through the playoffs together.
The New York Jets fell short of the playoffs this season, which has lead to the calling for Sanchez to be out of New York. I think it is much too early for a decision to be made on Sanchez, but it is apparent that he is a part of the problem in the city.
The Colts locked up the No. 1 pick, and will presumably draft Stanford's Andrew Luck in this season's NFL Draft. These events might leave some to speculate a couple of different scenarios.
One of those scenarios would start a buzz in the city like few have before, which is two Mannings in one city. That sure would make headlines.
Judging by the turmoil in the Colts' organization with the firing of Vice Chairman Bill Polian and General Manager Chris Polian, Manning might be wanting out sooner than later.
The New York Jets could be contenders when it comes to acquiring Peyton. It is not impossible for Peyton to end up in New York before the start of next season.
I think the Jets will weigh their options, if they want to make an offer to the Indianapolis Colts, or if they are content with sticking with Mark Sanchez.
In terms of playing time, most agree that Peyton definitely has a few more years left. Sanchez has regressed this year, even according to members of the Jets hierarchy. The way the Jets have been doing lately, it will be hard to say which path they will take.
Who do you want behind center for the Jets next season?
As of late, the Jets have enjoyed making splashes and shaking things up. Why not make the ultimate move and sign one of the best quarterbacks to ever play in the NFL?
It seems like they have to chase every free agent that becomes available, as well as to dismiss the playmakers that make the Jets who they are (Brad Smith, Jerricho Cotchery). The Jets went after a big name quarterback not so long ago when they signed Brett Favre.
It would be nothing new for them. To sign a man that has what Manning brings to the table might be good for the Jets image. It might actually begin to reverse the negative images of the Jets.
Rex Ryan has always spoken highly of Peyton, and a guy like Peyton might be able to turn this team around. There needs to be a balance in the locker room.
As it is now, Rex Ryan does not have the ears of his players like he used to. If the Jets bring in Peyton Manning, players would start listening again. Peyton Manning is what the New York Jets need for a better team on the field, and a better team in the locker room.
The stage would then be set: Peyton Manning on the New York Jets and Eli Manning exploding into his prime for the New York Giants. Also, Super Bowl XLVIII in 2014 looming a couple years down the road at MetLife Stadium.
How much more perfect could it get? Could you imagine New York with a Manning on each team? I'd sign up for that.
It is all speculation but there is a chance that it all can happen. The way things are now in Indy, I think it is unlikely that Manning stays. It is just a matter of which team will be able to sign him, and offer enough in a deal to the Colts.
This article is
What is the duplicate article?
Why is this article offensive?
Where is this article plagiarized from?
Why is this article poorly edited?

New York Jets: Like this team?