Baltimore Orioles: If I Were General Manager Dan Duquette...
January 5, 2012
Rob Carr/Getty Images
This just in: The Baltimore Orioles' offseason shopping has been fairly boring and uneventful, save for a few minor moves to bolster the depth of the team and the bench.
I think the most exciting thing to have happened so far were those Coco Crisp to Baltimore rumors that swirled around late Monday night. And I wasn't even a fan of that move, you know, before it was debunked.
Yeah, it's been that kind of a couple months.
Everyone who even has the faintest idea that the game of baseball exists know that the Baltimore Orioles need some extreme work to make their on-field product a competitive one, and with just over a month until players start reporting to camp for spring training, the front office really needs to start swinging some moves.
But with all this down time from the O's front office, I got to thinking about what I may do if I were running the baseball operations of the franchise, as Dan Duquette is. And I think I made a few decisions.
Obviously, the Orioles' farm system is about as bare as a team with 14 straight seasons of high draft picks can get. As is their major-league ready depth. So, I think I've finally come to terms with the fact that big changes need to be made to the roster, and big names to Baltimore Orioles fans need to go.
Yes, that means center fielder Adam Jones and starting pitcher Jeremy Guthrie, as much as I hate typing that. It actually caused me a slight chest pain from the anxiety it gives me.
I love those two players. They're some of my favorites. But with the state the organization is, they need to give up something to get something, and really outside of catcher Matt Wieters, Jones and Guthrie are all they've got to give, as shortstop prospect Manny Machado and pitching prospect Dylan Bundy aren't going anywhere.
Then, of course, there's the rumors and fear that Jones may not want to stay in Baltimore when he hits free agency in two years. And with Guthrie's contract expiring at the end of this season, he may want to skip town as well, and I couldn't blame him for that. Plus, there are absolutely no reports of the Orioles approaching him about a contract extension, something he has asked for. He could get upset that he hasn't been approached, and decide that the O's don't want him as much as he wants them and move on, much like Albert Pujols did this winter.
At this point, I think you have to actively shop Guthrie and be more willing to listen to offers on Jones if you're the GM of the Orioles, though Jones only leaves Baltimore for the perfect package. He's got to bring back a similar amount of talent that he came over with from Seattle when he and four other players were traded to the O's for starting pitcher Erik Bedard.
I like the Atlanta Braves talks in terms of Jones. They're so deep in young pitching, it'd be hard to miss in terms of what they get back, though leave it to the O's to figure out a way to do that.
Jair Jurrjens would be a nice piece for the rotation, and Martin Prado would fix the second base issue. Plus, if Brian Roberts can play second, Prado can move around the diamond as needed. Prado is an amazing team guy, so even just his presence would be nice to have.
But if you're the O's, you have to get back at least one of the Braves' many top pitching prospects as well, and maybe even two. And if Tommy Hanson is somehow included, pull the trigger. I'd go Hanson and Prado for Jones straight-up.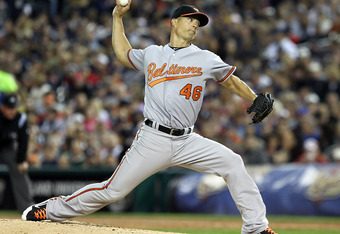 Dave Reginek/Getty Images
More realistically, the best the O's could get from the Braves would be Jurrjens, Prado, an MLB-ready pitching prospect, and a generic reliever or low-level prospect of sorts.
Then, call up the Los Angeles Angels of Anaheim and offer them Guthrie for first baseman Kendrys Morales. After nearly two seasons lost to injury, Morales shouldn't cost much to get, especially since the Angels just signed Pujols to a mammoth contract.
One note, though: Only deal Guthrie away if other starters are signed. In my opinion, it'd take two other pitcher signings to do so. Any of the following would do: Joe Saunders, Paul Maholm, Edwin Jackson (for the right price), an/or the handful of Asian pitchers the O's have been eying.
Getting Guthrie would only improve the Angels rotation, one that is already one of the best in baseball, if not the best. He'd slot in as the fifth starter, automatically making himself the best fifth starter in the game today. I'd say that's a fair trade for both sides, as Kendrys Morales has already proven he can reach his amazing potential, but just needs to stay healthy. If anything, the Angels can throw in a mid-level prospect to even out the how unsure Morales would be.
At that point, it's time to pony up some money for Cuban outfielder Yoennis Cespedes. Make a legitimate run at the man, not one of those poser, Mark Teixeira-type contract offers that say "Well, we kind of tried, but we kind of didn't care at the same time." If you land him, then awesome, but have the sense to back out if the price gets to be too ridiculous. That way, there's an automatic replacement for Jones in center field if Cespedes signed with the O's.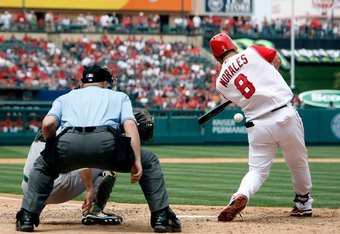 Jeff Gross/Getty Images
With these moves, the rotation becomes much deeper (which is the real problem), frees up some money to grab a solid reliever as well as for future free agents, and, if worse comes to worse, give you a few more trade pieces in Jurrjens, Prado and any other starting pitcher who would be signed.
There's no quick fix to the Orioles, and there's no one right way to do it. I'm not even convinced myself that any of my suggestions would work. I'll probably change my stance in a week, because that's what I tend to do. There's just so much screwed up with this organization, it's hard to know where to begin in fixing the mess.
In fact, I'm already not completely positive I agree with what I just wrote, but as I said, it's hard to know where to begin. If anything, this can just be some food for thought.
Only one thing can be known for certain: Change is needed. What kind? Who knows.
Just something. Anything.