Denver Broncos: Tim Tebow, Von Miller, Brian Dawkins Must Spark Team to Victory
January 5, 2012
Justin Edmonds/Getty Images
After a 1-4 start to the season, everyone wrote off the Denver Broncos. The team went into "rebuilding" mode, shifting gears to Tim Tebow at quarterback relieving Kyle Orton. And most fans, excited for a change, rooted for the Tebow era to finally begin in the Mile High City.
Just like that, Tebow was thrust into the lineup, and the coaching staff cut out most of the playbook and started Tebow off with some plays he was comfortable with. The Broncos started running the read-option, and lots of plays came out of the shotgun formation.
Tebow was a novelty in the NFL with limited tape on his style of play and a passion and emotional lift the Broncos never had in Orton. He wore his heart on his sleeve. He got behind players and spurred them on. He lit a fire under guys who'd essentially slept through the first quarter of the season.
That spark, that competitive edge changed this team.
Other players rallied around Tebow and endorsed him as the leader that they would follow, especially as the unbelievable started happening. The Broncos rattled off several wins. They were beating teams that they had no business beating.
The defense started to show some backbone and signs of life led by team captain Brian Dawkins and the fiery Von Miller. In this stretch, Miller was racking up sacks and wreaking havoc in the backfield. He rarely, if ever, missed any tackles and seemed to always be around the ball.
Dawkins was coming up with huge, bone-crushing tackles against wide receivers and running backs that would electrify the team.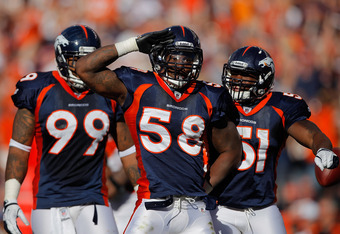 Justin Edmonds/Getty Images
However, in one of Miller's best games as a pro against the San Diego Chargers—where a tackle for a loss in overtime pushed San Diego out of kicker Nick Novak's range and gave the Broncos the chance to make a couple plays and kick the game-winning field goal as time was expiring—he injured ligaments in his hand and required surgery.
Since that amazing game, he hasn't been the same. He's had only seven tackles and one sack in four games played since that overtime thriller. Not only has his production steeply declined, but he has yet to bring the same passion and fire that fueled his performances and the team to the next level.
In the Broncos' three-game losing skid, they have also missed the intensity and prowess of all-pro safety Brian Dawkins, who sat out the game against the New England Patriots and the season finale against the Kansas City Chiefs.
His absence was definitely felt, as the Broncos were left to make due with rookie safeties Rahim Moore and Quinton Carter as well as the third-year backup David Bruton, who have looked lost out there for much of the time trying to fill Dawkins' shoes.
Probably the most disheartening aspect of the late-season tumble has been Tebow's loss of confidence, his fear of turning the ball over and the fire in his game. His stats have never been very impressive, but his ability to make plays and find an open receiver late in games when the Broncos had to have it marked something special that many believed would only continue with the experience.
Instead of making strides, Tebow appears to have taken a step backwards. In back-to-back games against quality teams, Tebow turned the ball over a total of five times.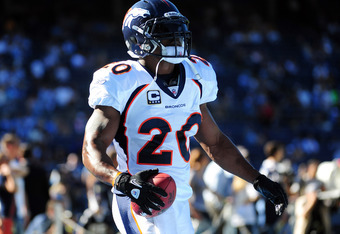 Harry How/Getty Images
Defenses have adapted to Tebow and capitalized on his weaknesses. They've forced him to beat them passing the football, bringing eight guys in the box more often than not and playing tight man coverage on his receivers. They've been disciplined at holding the edge and forcing him to stay in the pocket.
Part of it has been the play-calling that hasn't adapted to the defensive schemes, but Tebow has lost his passion and confidence out there. At times, he looks overmatched by defenses, and on designed passing plays, he barely gets through his reads before he tucks the ball and runs for a handful of yards.
It's hard to watch.
This whole team needs to stop feeling sorry for themselves and making excuses, and they need to go out and look inside at who they really are.
They need to get back that fire. They need to go out there with passion and a will to win.
Last week in the season finale, a game in which they could have claimed the AFC West crown outright—one that VP of football operations John Elway said they were treating like a playoff game—they laid a big goose egg. They were outplayed and looked dead.
The Kansas City Chiefs treated the game like a playoff game. They had the passion and intensity even though they had absolutely nothing to play for but their pride and for each other.
Amidst the thrilling seven-game winning steak, over and over, the players went on and on about believing. They believed in each other. They believed that they could do it. They believed anything was possible.
Nowadays, they look like they are full of doubt. They doubt themselves and each other.
This Broncos fan believes. And he humbly asks, "Where has the passion gone?"