NFL Playoff Predictions: Denver Broncos and Tim Tebow Might Not Be Done
January 5, 2012
Doug Pensinger/Getty Images
Tim Tebow and his Denver Broncos enter the 2012 NFL Playoffs on a three-game losing streak.
New England ran all over them.
Buffalo pushed past them with ease.
Kansas City just managed to not be as bad as them.
Regardless of how they lost, the Broncos have still managed to drop three in a row and are on the wrong end of momentum as they head into a wild-card matchup with the Pittsburgh Steelers this Sunday.
The crazy thing about this Denver Broncos team is that there's no way to count them out entirely even after their terrible finish.
This team had already been dismissed after starting 1-4 to open this season, but turned it around and stole the division with some help from the rest of the AFC West.
Now they come into this week's game with odds of 120:1 to win the Super Bowl.
Those odds, accurate as they may be, may prove to be false by mid-February. But I'm not going to predict a Denver Broncos world championship just yet.
However, I do believe this team has a good shot against the Steelers to turn this run around and face the franchise back in the right direction.
Ben Roethlisberger suffered a minor setback to his ankle injury during their season finale against the Cleveland Browns.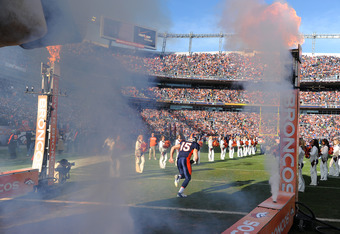 Garrett Ellwood/Getty Images
Ryan Clark won't make the trip due to a disease that affects his blood at Denver's altitude.
Rashard Mendenhall has been added to the injured reserve, and Mewelde Moore hasn't practiced this week.
The Steelers are banged up.
But the Broncos are facing injury troubles as well.
They've lost Chris Kuper for the remainder of the season with a broken leg against Kansas City, and veteran Brian Dawkins is struggling with a neck injury. He'll likely miss this game.
The factor that remains the one most talked about, as in every other week for Denver, is the Tebow factor.
Unfortunately, Tebow has been less than effective for weeks. Frankly, he's been flat out terrible.
Tebow's lost a fumble in each of his last five games. He's thrown five interceptions in his last three. And he hasn't won a game since Marion Barber gift-wrapped one for him in Week 14.
If anything can be said about this week's game for Denver, it's that it's completely up for grabs. They're certainly the underdogs at 8-8, but they face an injury-riddled team that could let one slip.
My prediction, for the sake of remaining an unwavering Broncos fan, is Denver by three in true Tebow fourth-quarter magic fashion.
This wild-card weekend should end with a bang on Sunday afternoon and, with any luck for Denver fans, they'll have another week of being the undeniable underdog to look forward to.