NFL Playoff Injury Report: Can the Steelers Be Last Year's Packers?
January 5, 2012
Doug Pensinger/Getty Images
With the recent season-ending injury to running back Rashard Mendenhall, it's not hard to see how one can compare the 2011 Pittsburgh Steelers to the 2010 Green Bay Packers who defeated the Steelers in the Super Bowl last year after placing a league high 16 players on injured reserve and were without five starters when the biggest game of the year rolled around.
This year, the Steelers will not enjoy an AFC North Champion status, home-field advantage or a first-round bye. The Steelers are the most injury-riddled team hobbling into the playoffs this year.
Starters and notable players who in no way, shape or form will play one game during the postseason include: defensive end and two-time Super Bowl champion Aaron Smith; starting running back Rashard Mendenhall who scored nine TDs this season; defensive tackle Chris Hoke who has an impressive win record when starting for the Steelers; backup running back Jonathan Dwyer.
The team will have no depth at running back and will be forced to rely on Issac Redman to run the show. Punter Dan Sepulveda will not be showing up, despite playing a position where anyone is ever injured. 
Third-down back Mewelde Moore is expected to be out, putting the work load almost entirely on Issac Redman. Seldom-used John Clay could be called in on 3rd downs to provide some relief for a tired Redman. Ryan Clark will miss Sunday's game due to his sickle cell disease.
Ben Roethlisberger will play, but it's anybody's guess if his ankle is in near-perfect condition or is killing him everyday. That's just the way Big Ben is, it doesn't matter to him. He will show up no matter what; the concerns about his health are nothing but talk.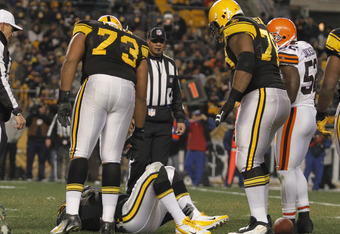 Justin K. Aller/Getty Images
Younger players like Cameron Heyward and Ziggy Hood, both defensive linemen, are going to have to take advantage of increased playing time and pick up the slack. These two are good examples of players who need to step up their game, grow up and play like the first-round picks they were if the Steelers are going to be successful.
What made the 2010-11 Packers so great and successful was their backup players; the younger guys got hot at the right time and caught lightning in a bottle.
What's even more impressive is that these same guys have kept the same high level of play up, resulting in a NFC North Championship, a first-round bye and a very nice 15-1 regular season record. Anywhere the Packers had a hole that needed to be filled, someone stepped up and made plays. Those on offense who were fortunate enough to play with Aaron Rodgers melded to him without missing a beat. 
All eyes will be on Ben Roethlisberger to effectively command his young and impressive receiving corps.
Issac Redman has no choice but to be this year's James Starks. Troy Polamalu and James Harrison are going to have to be in defensive MVP form for four games in a row without taking their feet off the gas even for a second. Lastly, Antonio Brown must supply some much-needed help on special teams to set up field position or even score a home run to give the Steelers seven.