Pac-12 Football Schedule 2012: The Best Conference Matchup for Every Week.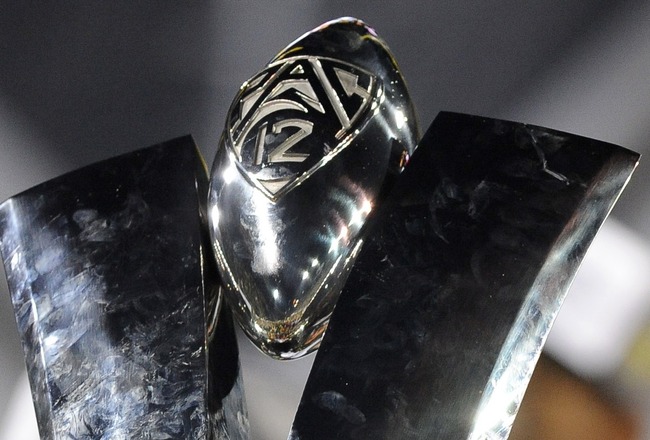 Steve Dykes/Getty Images
Pac-12 football should be back in the national spotlight again in 2012. USC returns to bowl-eligibility, Matt Barkley returns to USC for his senior year and Oregon returns an intimidating offense.
For the first time in Pac-12 history, every single game will be available on national television. As Oregon and LSU proved in 2011, exposure can make the difference between an unsung undefeated and a nationally-respected team.
There is only one Pac-12 conference game on September 15th. Starting with that game and ending with the Pac-12 Championship Game on November 30, here are the most watchable in-conference games every week.
Picks are based on how close the games should be, or how important the outcome is.
Saturday, September 15, 2012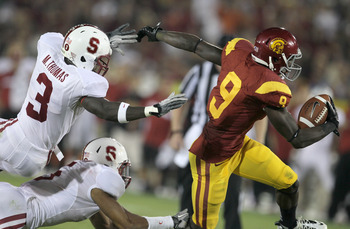 Stephen Dunn/Getty Images
USC at Stanford, the game that came down to three overtimes in 2011, will be the Pac-12 opener.
I don't need to give you a whole bunch of reasons to watch this game, but I think a couple wouldn't hurt anything.
1) Stanford returns David Shaw, but loses key players on offense. His coaching will be under national scrutiny, and this game will be heralded as "Shaw's first real test."
2) USC's Matt Barkley returns for his final year at USC in an attempt to finish his college career on a high note. (Hopefully a BCS bowl and/or a Heisman.)
Saturday, September 22, 2012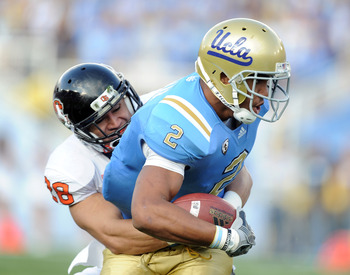 Harry How/Getty Images
Oregon State at UCLA.
Out of the five Pac-12 games kicking off on this date, this one stands to be the closest victory. None of the other games stand to be this interesting.
USC hosts Cal, and Oregon hosts Arizona. Those games will likely be over at halftime.
Beavers vs. Bruins should be a game well into the fourth quarter, and that's a great game.
Thursday, September 27, 2012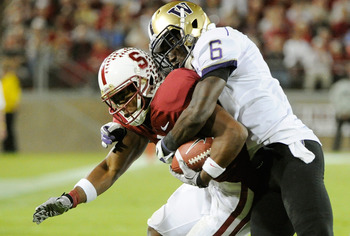 Thearon W. Henderson/Getty Images
Another week without headliners squaring off leaves Stanford at Washington as the most interesting game. I will be tuning in, as David Shaw will be looking to do what he did last year without the best of his inheritance.
I'm very interested in David Shaw as a coach. Without Andrew Luck calling audibles, Shaw's strengths and weaknesses will start to come to light.
Washington has the ability to win this game. If Stanford is walking into it half-heartedly, Stanford's high expectations could be missed as early as this game.
Saturday, October 6, 2012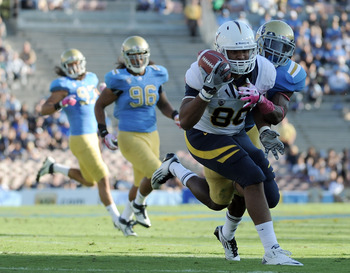 Harry How/Getty Images
Classic in-state rivalries are always entertaining: Alabama vs. Auburn, Clemson vs. South Carolina, the list goes on longer than I have space to write here.
UCLA and California square off on the Golden Bears' home field in 2012, and the result should be a close game. UCLA won at home in 2011 by 17 points. I fully expect to be entertained for most of this game.
Saturday, October 13, 2012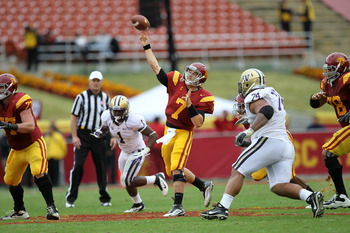 Stephen Dunn/Getty Images
Since this is about in-conference battles, Stanford is disqualified. Oregon has a bye week here. USC faces off against Washington.
Although it should be a commanding victory for the Trojans, it's still the most watchable game this Saturday as far as the Pac-12 is concerned.
By this time in 2012, Matt Barkley should be in weekly Heisman discussions. I'm always interested in keeping up with the candidates as much as possible.
Saturday, October 20, 2012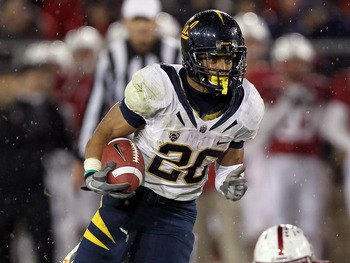 Ezra Shaw/Getty Images
California hosts Stanford in 2012, and I'm sure they are looking forward to the game. Stanford only won by three points in 2011, and home-field advantage plus Stanford's losses to the NFL should tip the scales in Cal's favor.
If for nothing else, I like watching an upset. If Stanford hasn't had one yet, this could be a huge trap in the path to a BCS bowl.
Saturday, October 27, 2012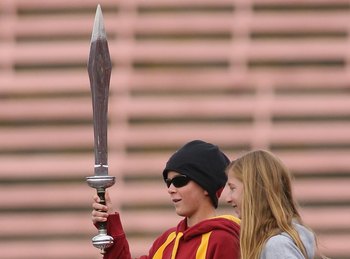 Jeff Golden/Getty Images
Arizona hosts USC in late October. This should be the weekend that leads to the release of the third 2012 BCS rankings.
If USC isn't in the top five at this point, they'll be looking for some style points against Arizona. Matt Barkley, if he's going to win the Heisman, should have made his case strongly by this point in time.
If not, style points all over Arizona couldn't hurt.
Saturday, November 3, 2012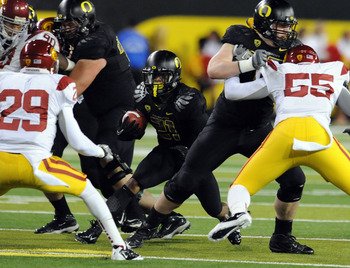 Steve Dykes/Getty Images
The rematch of the Oregon three-point loss in 2011 will take place on the Trojans' turf. This Saturday could very well see the demolition of the entire BCS top four.
LSU hosts Alabama in a possible clash of undefeated teams, and USC hosts Oregon in what could be a battle of undefeated teams in the Pac-12.
This will not only be one of the most-watched games of the season, the winner could be in prime position for the BCS National Championship Game. It should go to the fourth quarter, and I won't be missing any of it.
Saturday, November 17, 2012.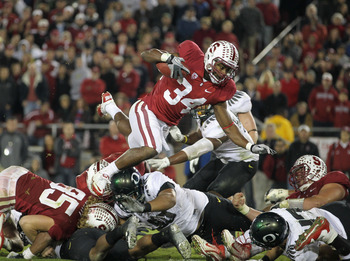 Ezra Shaw/Getty Images
Oregon hosts Stanford this Saturday, and Stanford will be looking to derail whatever season Oregon has managed to put together at this point, just like Oregon did to them in 2011.
This could be the most interesting game on television in the country, not just the Pac-12. I'll be tuned in, watching intently as the Cardinal try to find a way to stop the Ducks from owning the Pac-12 title for the second year in a row.
Saturday, November 24, 2012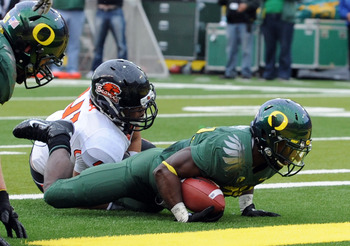 Steve Dykes/Getty Images
Oregon State will host Oregon on rivalry weekend, and USC will be fighting a non-conference battle.
Oregon and USC should be on a collision course for a rematch in the Pac-12 title game on November 30. Oregon State will be the last hurdle on the track to the conference championship for the Oregon Ducks.
At this point in the season, Oregon will be honing their offensive weaponry in preparation for a postseason that could very well contain the initials "BCS." Oregon State should be good target practice.
Friday, November 30, 2012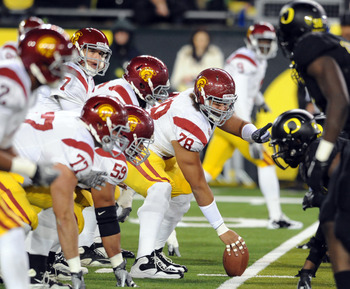 Steve Dykes/Getty Images
The 2012 Pac-12 Championship Game will probably be USC vs. Oregon. (What it would have been in 2011, if not for NCAA sanctions against USC.)
Stanford may have something to say about the Pac-12 North representative, but they will have their chance on the 17th of November.
No-brainer: the championship game is the best Pac-12 game this week.
Keep Reading