Orlando Magic: Keys to Making Noise in the Competitive Eastern Conference
Brett Deering/Getty Images
Magic players, not name Howard, will need to step it up to make some noise in the East
In recent years, the Orlando Magic were an Eastern Conference powerhouse. With the Big Three coming together in Miami, the Chicago Bulls and the talent of the Atlanta Hawks, Orlando has their work cut out for them.
The Magic can remain towards the top of the Eastern Conference standings, but other players need to step up. The Magic have the players to get it done. It may not be a single player every night or like a duo in New York. However, with a smart and methodical rotation, the Magic can contend.
In order for Orlando to seriously compete in the East, they will need four things to happen. Let's break them down:
Begin Slideshow

»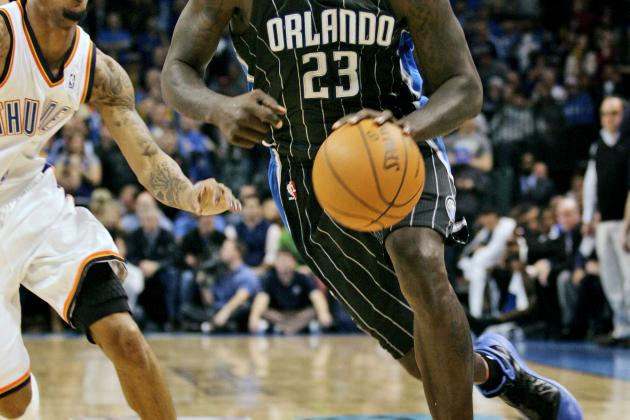 Brett Deering/Getty Images
The Magic need to see "J-Rich"
The first step in Orlando making a run at the Eastern Conference crown is Jason Richardson. He needs to become the scorer that got him into the league. He needs to attack the rim on a consistent basis. We need to see "J-Rich."
In attacking the rim, it will not only open up his game, but open the entire Magic offense. Defenses will need to rotate to him, if he consistently can beat his man. This can lead to an easy dish to Dwight, finding a cutter, or lead to a swing pass or two for an open three. Richardson has the skill set to be a triple threat.
The only concern would be Richardson's age, 31. The Magic need Richardson to perform consistently night in and night out. He also needs to have the physical stamina to endure the short, yet compounded season. That is where J.J. Redick and the rotation will come in with preserving Richardson for the post-season.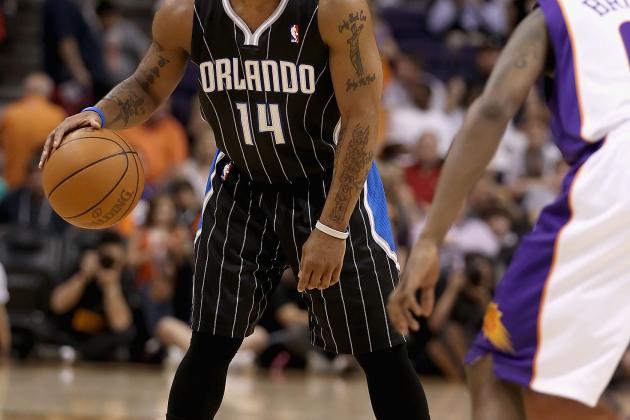 Christian Petersen/Getty Images
Nelson has all-star pedigree
When Jameer Nelson plays well, the Magic typically win. His ability to penetrate the paint helps in breaking down a defense and allowing Dwight to crash the glass for easy lobs. But while Nelson has these skills, he does not seem to consistently perform. That is one thing the Magic need now more than ever, consistency.
Nelson's season thus far has not been one to get excited about. He is currently only averaging 8.3 points a game, while playing 30 minutes a night. That is not the production Orlando needs. The Magic need the Jameer Nelson that made the All-Star team back in 2009, when he averaged 16.7 points a game and 5.4 assists. The only slight on that season was that he only played 42 games that year.
For the Magic to get to the next level, Jameer Nelson needs to be playing at an All-Star level. While there no question of his talent level, as we have seen flashes in the pan, his level of consistency needs to take a step up. On nights were Jameer is properly seeing the floor, attacking and running the pick n' roll with Dwight, he takes this team to the championship level it needs to be.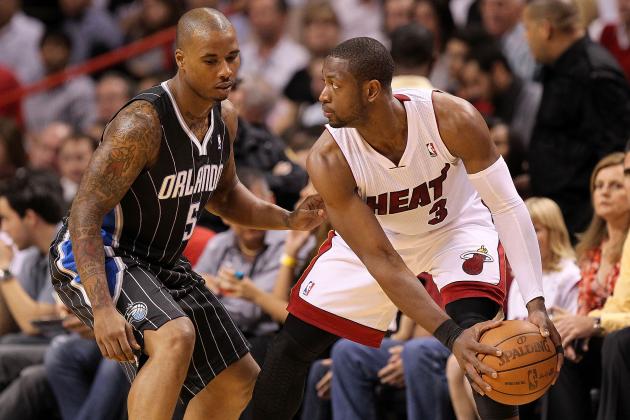 Mike Ehrmann/Getty Images
Magic Bench will need to have big moments
In order for any team to be considered a true contender, it must have a quality bench. There will be situations in which primary players will be on the bench, whether it is due to injury or foul trouble. A team must be able to maintain consistency to remain a contender.
The Magic have a few players on the bench who can fill this role, with certain specialty traits. Quentin Richardson will be called upon for his defensive prowess. Richardson can come off the bench to solidify the defense while primary scoring options are resting. He also has the ability to hit the three from time to time.
J.J. Redick will be quite important for the magic's success. Redick will serve as a starter in some games where there is an injury at the shooting guard or small forward position. There is no question about his shooting ability, his defensive effort and heart. He just does not have the athleticism that most starting two guards have in the league and that's not his fault. J.J. Redick will play a very important role in this season's success.
Big Baby Davis will help in the defensive area and serving as a offensive spark every now and then. He plays tenacious defense and is extremely active on the glass.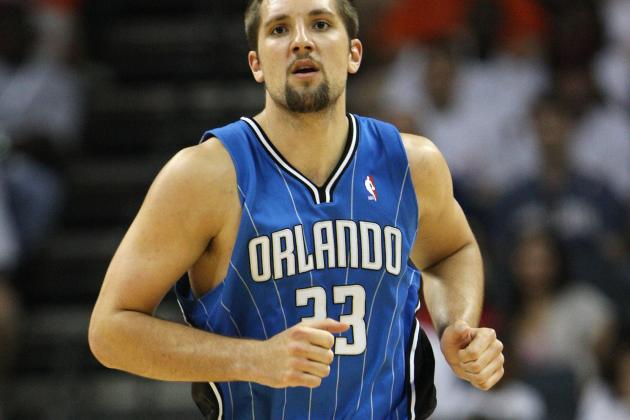 Mike Zarrilli/Getty Images
Ryan Anderson needs to show his play is for real
Ryan Anderson has been tremendous in this early 2012 season. He leads the NBA in three point attempts and made. He is shooting 41 percent from beyond the arc and 44 percent from the field. Anderson is currently second in the team in both points (17.8) and rebounds (7.2) per game.
He has finally shown the ability to play the role Rashard Lewis used to play. While Lewis is a little more athletic, Anderson has shown he can stretch the defense. His three point shooting is allowing more room for Dwight Howard to operate down low. Teams must think twice before doubling Dwight with their big men.
Anderson's rebounds per game is currently at a career high. By him helping out on the glass, Howard can help on defense even more, since he will not have to worry about being in position to grab every board.