Chelsea's Transfer Plans: The Times, They Are A-Changin'
January 4, 2012
Gareth Copley/Getty Images
Chelsea find themselves in a position they're not accustomed to finding themselves in: staring down the prospect of missing out on a Champions League place. Or worse, Europe all together.
Just past the midway point of the season, Chelsea hold the final Champions League qualification place with 37 points. That haul puts them five behind Tottenham (who have a game in hand) and just one ahead of Arsenal and three in front of Liverpool.
Had any manager other than Andre Villas-Boas found himself in charge of Chelsea teetering on the brink of missing out on the Champions League, bookies would have likely stopped taking bets on his being sacked. But Villas-Boas is different: He's been charged with revitalizing one of the oldest squads in the Premier League by owner Roman Abramovich.
Villas-Boas, it could be said, is the reason Chelsea find themselves in such a precarious position. His phasing out of the over-30s and implementing his high-line defense and attack, fueled by pressure and speed, has been the round peg in the square hole that is Chelsea.
But his leadership that has seen Chelsea drop point after point will be the same philosophy that returns Chelsea to the head table of European football. In fact, his progress can be seen after a mere six months on the job in the forms of Juan Mata and Oriol Romeu.
Mata has proven to be an automatic selection in AVB's Chelsea with trickery and creativity from the flanks matched in the Premier League only by David Silva. Former Barcelona B-sider Romeu has emerged as the man with the ball-winning, play-breaking and distribution abilities Chelsea's midfield has ached for since the first of Michael Essien's many knee injuries and departure of Claude Makelele.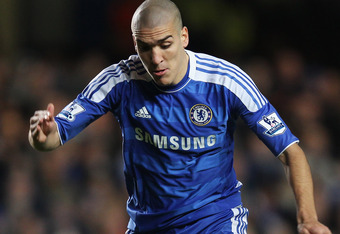 Clive Rose/Getty Images
With that said, Villas-Boas will continue with his strategy in this January transfer window and into this summer's marketplace.
There's some discussion as to just how different Chelsea will look come February, and more importantly, September. Nicolas Anelka has already left the club for Chinese side Shanghai Shenhua, Alex has been transfer listed and is expected to move to Queens Park Rangers, Juventus or Santos, while Florent Malouda, Didier Drogba, Salomon Kalou and John Obi Mikel are expected to leave now or in the summer. There are even whispers of Petr Cech, Frank Lampard and John Terry being out by the time the 2012-13 season kicks off.
Regardless of how many of Jose Mourinho's "Untouchables" hang around after January, Villas-Boas has a glaring need for a right back, a creative midfielder and a winger with pace. Without improvements at those positions, Chelsea could well find themselves in the Europa League.
The issue of Chelsea's right-back play is rather straightforward. Jose Bosingwa has proven to be an above-average attacking full back, but an overwhelmingly poor defender under four different managers since his arrival. Branislav Ivanovic has been as inconsistent as any Chelsea defender, clearing out at the back and providing world-class crosses one game, ball watching and fearing advancing past the halfway line the next. Meanwhile, Paulo Ferreira has not been a viable option since Mourinho's departure.
Chelsea have been strongly linked with Gregory van der Wiel of Ajax for the past two years, but remained hesitant to make a move considering the Amsterdam club's £25 million price tag. Valencia are presently negotiating to take the Dutchman to the Mestalla, with the player wanting a move away from Holland. With Ajax dramatically lowering their asking price to a mere £10 million, there could be an opportunity for the West London side to finally pull the trigger on a deal for a player they've long wanted.
EuroFootball/Getty Images
Chelsea's creative midfield and quick winger problems will be the most complicated for Villas-Boas to cope with, not for a lack of options on the market or a surplus of options in the first team but because Chelsea have a handful of extremely gifted young players who could conceivably be ready to occupy these positions in the next year or two.
Homegrown 18 year-old Josh McEachran made his first team debut 18 months ago and has featured for the club sporadically ever since. Billed as the next Jack Wilshere, McEachran is a box-to-box midfielder capable of uncanny distribution and elusive runs to dangerous areas—a seemingly ready made replacement for Lampard.
Soon to join McEachran as available for first team selection will be Lucas Piazon, the Brazilian midfielder signed from Sao Paulo in March. Piazon's currently a reserve player, but will be eligible to play for the first team when he turns 18 on January 20. "Who is Lucas Piazon?", some might wonder. If you believe the hype, he's the next Kaka.
Having two ultra-promising teens waiting to inherit the keys to Chelsea's midfield will make Villas-Boas think seriously about spending any amount of money on a playmaker, especially if Luka Modric's price tag of £45 million is an indicator of market value. Playmaker is a need, but only at the right price.
Chelsea already find themselves with a similar embarrassment of riches in their attacking options. Although Drogba seems to be Villas-Boas' preferred target man at the moment, that's subject to change with the Ivorian's attitude, potential departure or Fernando Torres regaining the form that made him the most feared striker in world football.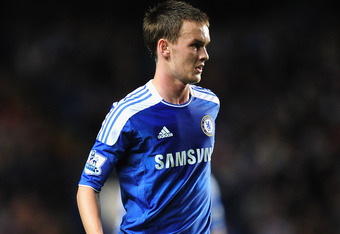 Jamie McDonald/Getty Images
Even with Drogba out of the picture, Villas-Boas will need to find a way to keep Torres, Mata, the club's leading scorer Daniel Sturridge and £18 million 18 year-old Romelu Lukaku happy. Sturridge has become Chelsea's most reliable and dangerous attacker this season, even when stationed on the right flank. The left-footed player prefers a central role but has had to give way to both Drogba and Torres. His versatility could prove hugely beneficial if Villas-Boas can keep him happy on the right, as Lukaku is also a central player.
Despite the options Villas-Boas has in attack, none provide the terrifying pace and width of Arjen Robben. Worsening Chelsea's lack of options in that department is current automatic wide selections Mata and Sturrdge, who both tend to drift inside. Mata is more comfortable in a supporting striker role while Sturridge has a strong preference for cutting inside and shooting.
Adding width would ease the burden on Ashley Cole and whoever happens to be playing right back at any given time. This would also provide Torres with the service he so desperately craves. This hole appears to be much simpler to fill than that of a playmaker, with Juventus' Milos Krasic strongly linked to a move to West London. The biggest problem Villas-Boas will face is keeping all of his attackers happy.
There's little doubt this Chelsea side will undergo major changes in the next two transfer windows. The biggest question is, how fast will it happen and how much faith will Villas-Boas have in the Cobham academy that has so rarely produced players of the quality associated with Chelsea?